SNACK BY INCOME: YOUR PERFECT INSURANCE FIT
GET $20 Petrol Vouchers + $5000 Free Insurance Coverage
Sign up on SNACK and use your deliveries on Lalamove to build your insurance coverage!
* Redeem $1000 Free coverage for each product: Critical Illness, Personal Accident and Term Life.
Receive a $20 Petrol Voucher and an additional $2000 SNACK Coverage when you link your Lalamove Delivery Lifestyle Activity.

Build up insurance coverage with your

Lalamove

deliveries
We know the importance of extra protection Lalamove partners needs especially with you constantly on the road, so we've partnered with SNACK to introduce an insurance platform that fits perfectly with your lifestyle!
Each time you complete a delivery job with Lalamove, you can build up insurance protection for Critical Illness, Term Life, or Personal Accident. This way, you get yourself protected without feeling the financial pinch!
What insurance products does SNACK offer?
SNACK offers these three insurance products that are relevant to Lalamove partners:
Critical Illness – Up to S$200,000 if the insured is diagnosed with any of the 37 covered severe-stage critical illnesses (except angioplasty and other invasive treatment for coronary artery which is limited to 10% of the sum assured under the policy subject to a S$25,000 maximum sum payable).
Term Life – Up to $200,000 in the event of death, total & permanent disability or terminal illness.
Personal Accident
– Up to
$100,000
for accidental death & permanent disability due to an accident.
Why SNACK is a suitable insurance product for

Lalamove

partners
Accessible – Starts from $0.30
Premiums on SNACK start from just $0.30, which makes it easy to build up your insurance protection while you also focus on other important expenses in your life.
Flexible – Start, stop and adjust anytime.`
SNACK is flexible and you can start, stop and adjust your premiums anytime you want without having to worry about lapses in your insurance coverage.
Build insurance coverage as you earn
Each time you complete a delivery job with Lalamove, you will be issued an insurance policy based on the products you have selected. This way, you are building up insurance protection as you earn!
EXAMPLE

For example, if you choose $0.30 premiums, for every delivery you complete with Lalamove, you will accumulate $300* worth of insurance coverage. If you fulfil 10 orders that day (10 x $300) you will be able to accumulate $3,000 worth on insurance which is valid for 360 days.

*Actual coverage is based on your profile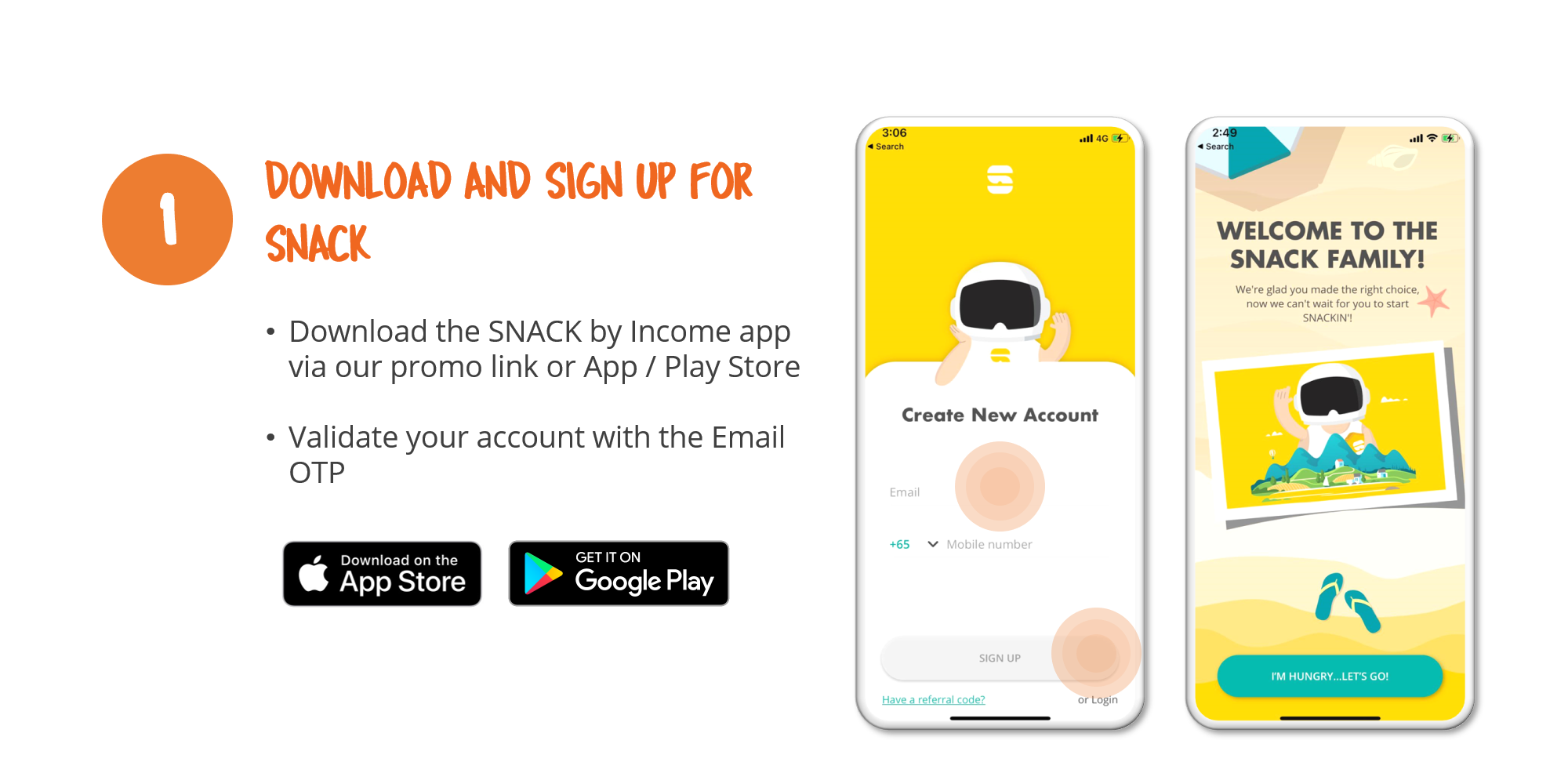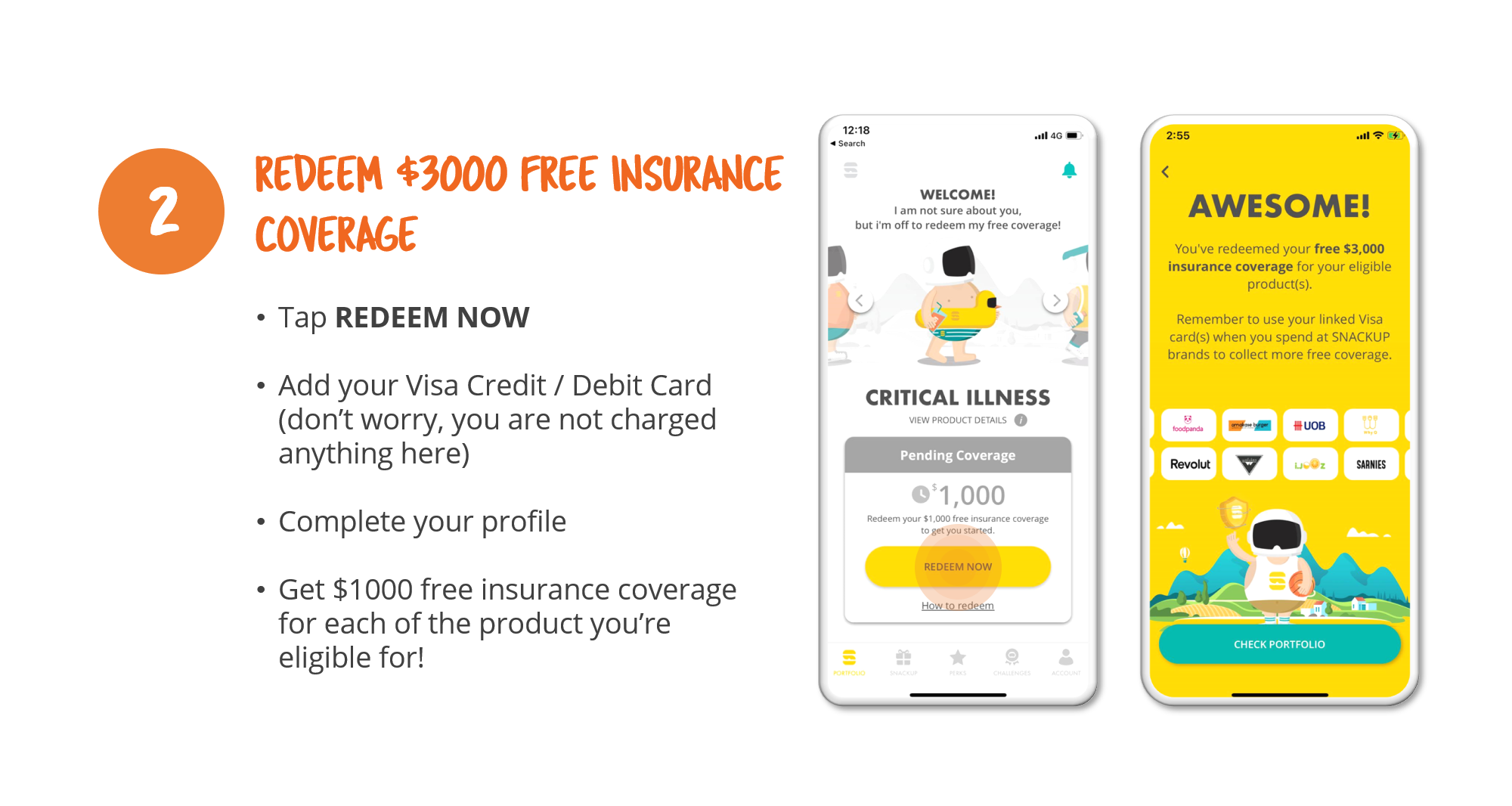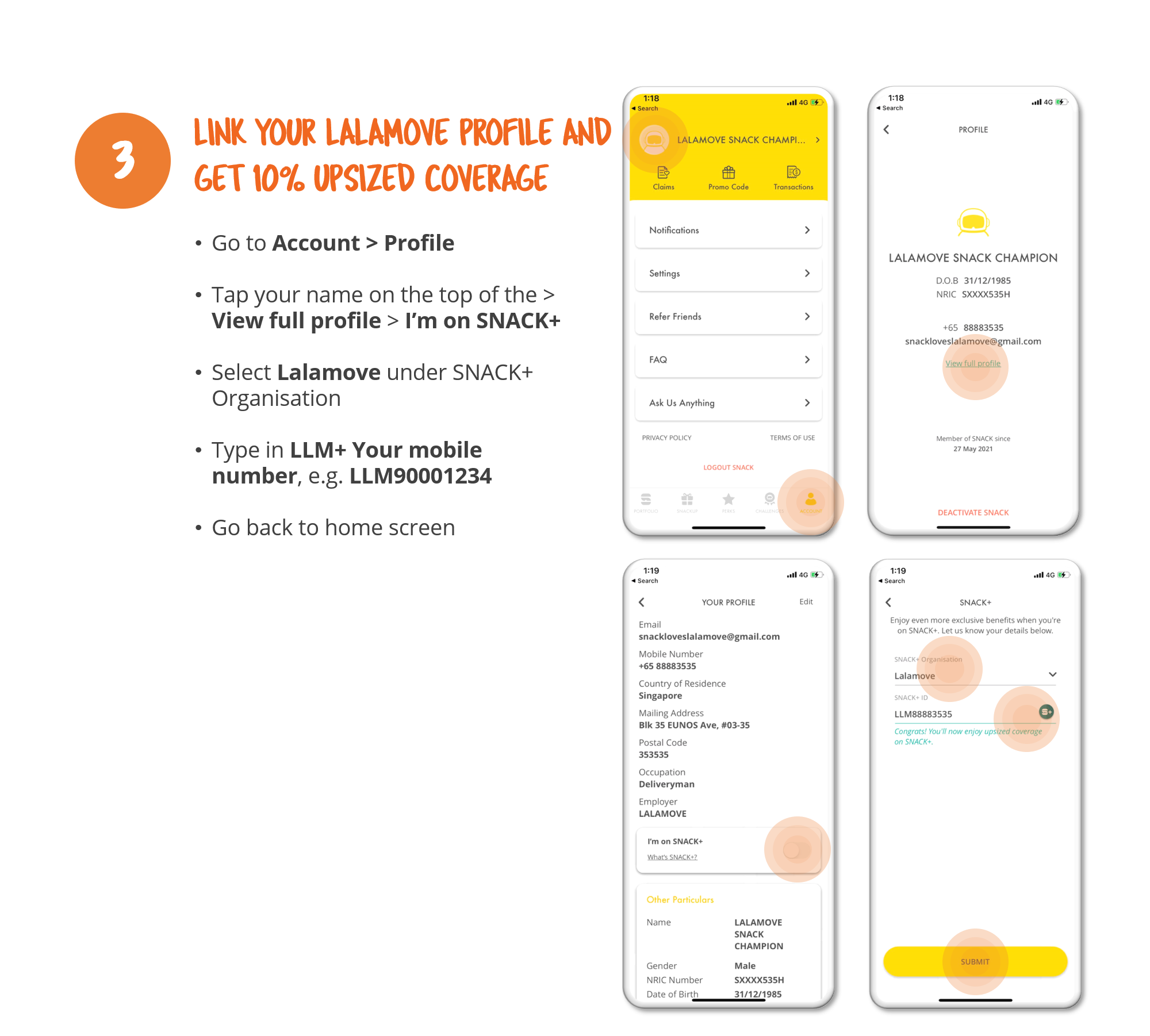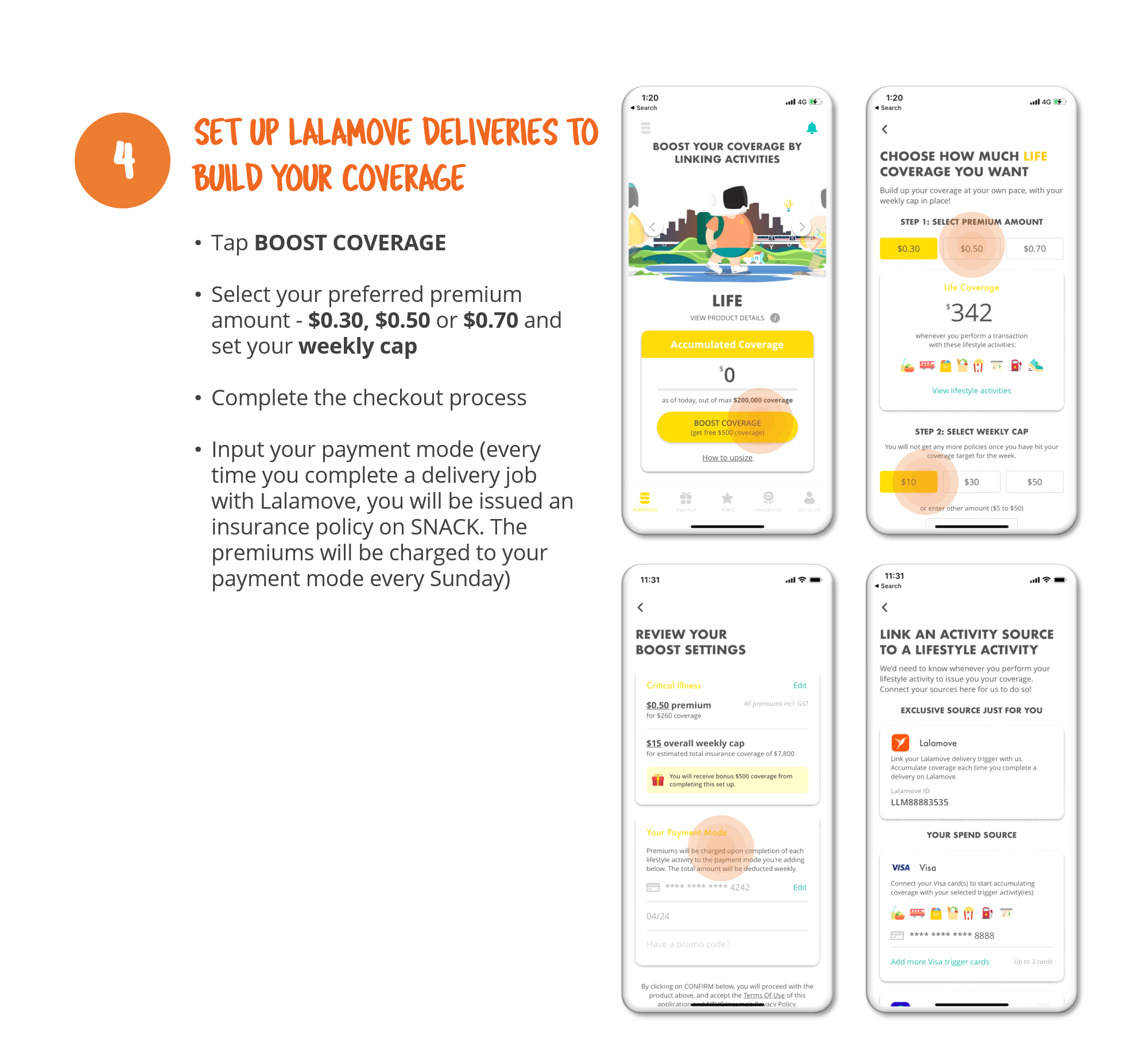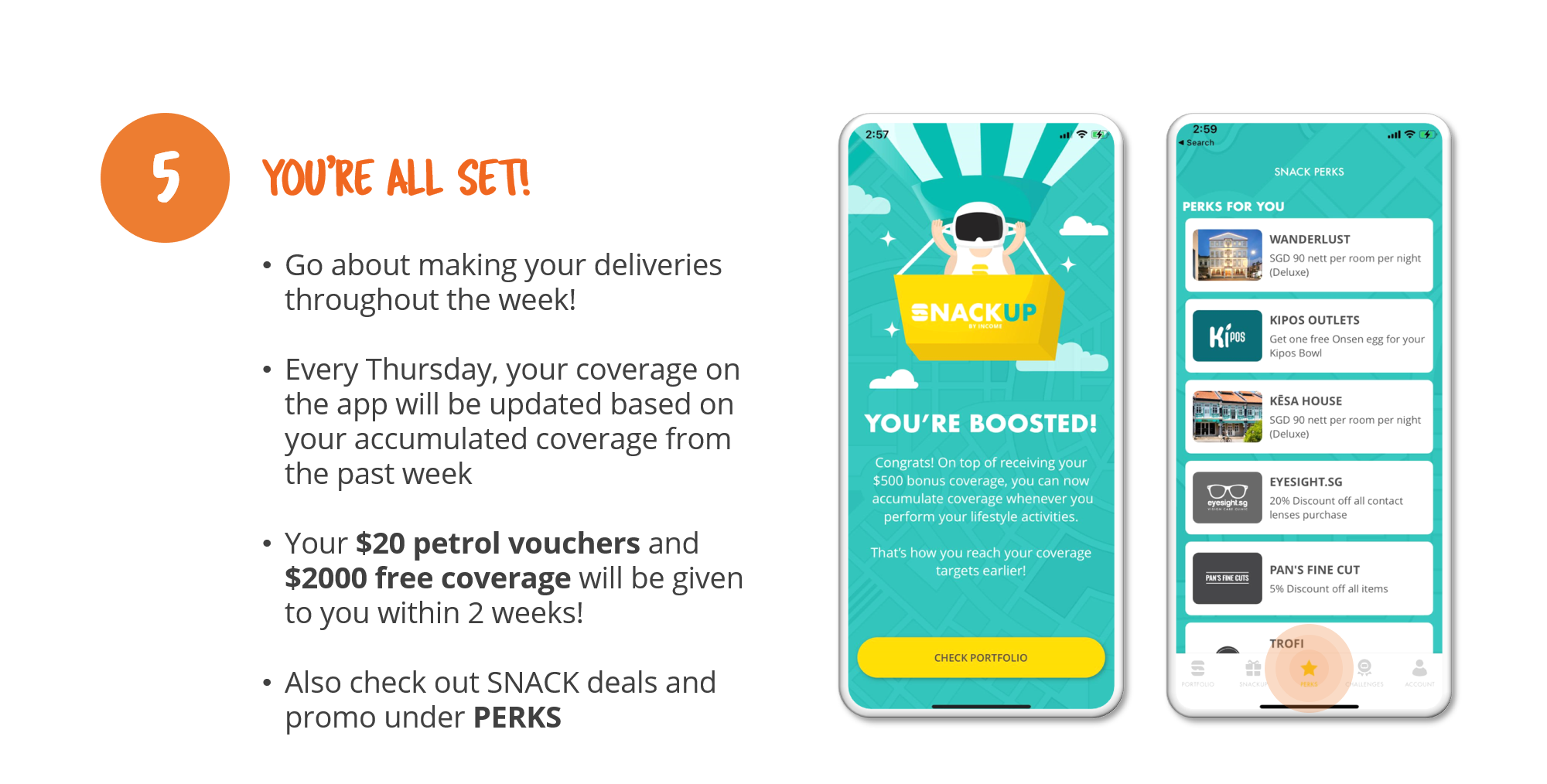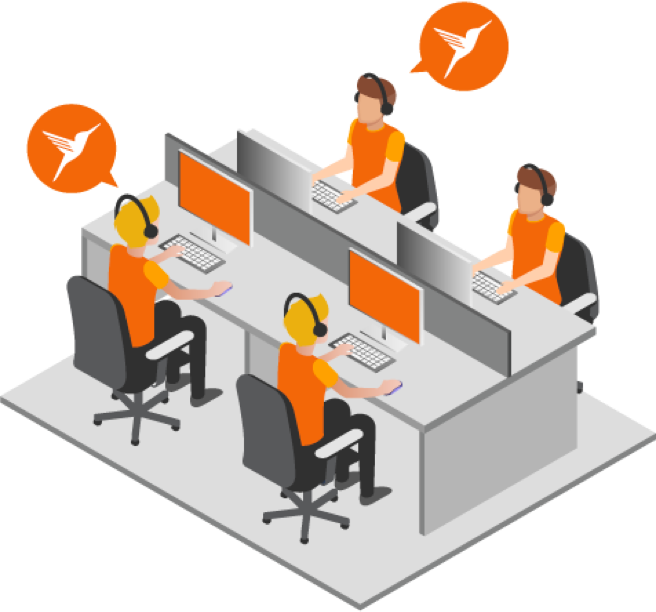 What is SNACK?
SNACK is a mobile app where you can pay bite-sized premiums ($0.30/ $0.50/ $0.70) to purchase insurance coverage every time you perform a lifestyle activity, such as getting a meal with your Visa card, and exclusively for Lalamove partners – whenever you make a delivery with Lalamove!

SNACK is developed by NTUC Income, a Direct Insurer (composite) licensed by the Monetary Authority of Singapore.
What is this partnership with SNACK?
Lalamove has partnered with SNACK to provide you with an insurance platform that suits your lifestyle and earning model. With your variable income streams, we know it is important that you have the flexibility to manage your financial commitments, and so we came up with a way for you to build up insurance coverage flexibly with your delivery jobs.
How does this benefit me?
SNACK gives you the flexibility to adjust how much you want to pay for your insurance based on your own needs, without being tied down to a fixed monthly or yearly premium.
Why do I need this?
It fits well into your lifestyle and earning model – each time you earn from completing a delivery job with Lalamove, you only have to contribute a small premium to build up your insurance coverage.
How do I sign up for this?
You will need to download the SNACK App with this link (http://bit.ly/LalamoveSNACK21) and sign up for an account. Refer to the steps to get started!
What is my insurance premium?
You can choose premiums of $0.30/ $0.50/ $0.70. This means that each time you complete a delivery, the selected premium will be charged to your card and a policy will be issued to you.
How do my Lalamove deliveries build up my coverage?
Each time you complete a delivery job with Lalamove, SNACK will issue you a bite-size insurance coverage based on the premium you have set.
On every Thursday, SNACK will issue you the insurance coverage based on your one week's delivery jobs.
How long does my insurance coverage last?
Each policy lasts for 360 days. All the bite-sized coverage will be stacked together to build up your insurance portfolio. You can check out your total accumulated coverage on the SNACK app anytime.
How do I pay for my insurance? What is a weekly cap?
The total premium will be deducted from your credit or debit card every Sunday. You can also set your preferred weekly cap, where we will stop deducting payments and issuing you policies once you've hit this weekly cap.
For SNACK Claims and Information
SNACK claims, products and information are managed by SNACK and NTUC Income. Please use the following SNACK links to process your claims and for additional SNACK product information.

Lalamove cannot and will not be able to advise on SNACK claims and products. All information on this page is meant to provide our driver-parters with a summary of SNACK products, incentives and promotions.

SNACK Claims | SNACK FAQ