A Packaging Company's Remarkable 4X Growth With Lalamove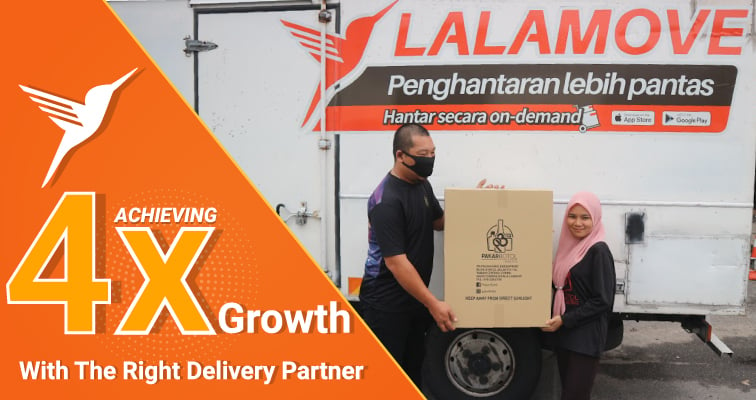 Before the Covid-19 pandemic, hand sanitisers were commonplace in clinical settings and in possession of compulsive hand-washers. However, that all changed with the pandemic. Good practices of hygiene take precedence, and hand sanitisers become a practical substitute for water and soap. The demand for the commodity shot through the roof.
Local hand sanitiser manufacturers faced challenges since they were running out of bottles for the alcohol-based hand rub. As a packaging company with a track record in servicing the healthcare industry, Pakar Botol found itself in overdrive to meet the demands of plastic containers for hand sanitisers.
Since Pakar Botol has a good rapport with their network of manufacturing plants, they had no trouble requesting the plants to ramp up their productions. Once they'd received the final products from the plants, Pakar Botol worked closely with Lalamove to accomplish the last mile delivery to their business clients and independent hand sanitiser distributors.
Since then, Pakar Botol's triple-digit delivery orders per month have remained stable due to their top-notch packaging products and faster delivery fulfilment.
So, how did Lalamove actually support Pakar Botol in their business journey?
From Beverage Business To Packaging Company
Before founding Pakar Botol, Putri Nor Serena had never imagined that her beverage business would expose her to a broader world of packaging.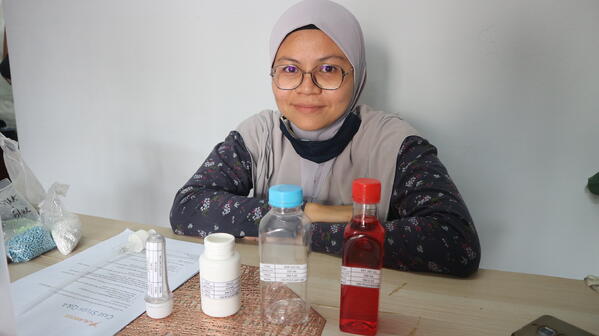 Instead of just catering to thirsty customers, Putri saw the opportunity to serve a diversified customer base in the packaging industry. Coupled with the mushrooming of F&B SMEs and entrepreneurs that operate from their kitchen, the opportunity for the lion's share of the food packaging market was ripe.
This epiphany led to the birth of Pakar Botol in 2014. Together with her husband, Putri founded the packaging company to provide comprehensive solutions for businesses and entrepreneurs. Pakar Botol specialises in guiding their clients from the moment of ideation to the final stages of manufacturing the end product.
Today, Putri and her husband are proud owners of a packaging company with more than 500 clients from the F&B, cosmetics and healthcare verticals.
Transparency And Trust: The Challenges With Freelance Runner
For almost five years, Putri depended on freelance runners to deliver her products to her clients around Klang Valley. Since her business was getting attention from the social media space and referrals, offers from freelance runners to deliver for Pakar Botol was common.
Putri's husband was also not a stranger behind the wheel of their family car if there was a need for urgent deliveries.
However, the delivery end of Pakar Botol back then wasn't without its problems. Putri had to take a leap of faith whenever a stranger offered his services as a freelance runner. Besides entrusting custom-made packaging products in the hands of a stranger, there were issues with delivery punctuality and transparency.
"Acquiring the contact details of the freelance runners was a priority for us. We need to have a safety net in case the delivery goes wrong. Sometimes, our phone calls to the runners went unanswered if our clients were anxious to receive their goods."
"Another layer of complexity to the arrangements with the runners was the absence of transparency. We had no way of telling where our runners were at specific points in time. As such, it wasn't easy to manage the expectations of our clients regarding the delivery timeframe. The runners who cooperated with us were kind enough to share their location through WhatsApp. Even though we fulfilled most of the deliveries, it was exhausting to stay on top of things," said Putri.
A Step To Sustainability With Delivery Digitalisation
Putri first came across the Lalamove brand in early 2019 through a referral from her client. The name Lalamove was catchy to her ears, and yet she had no idea of what Lalamove is all about. Fortunately, it didn't take long for her to familiarise herself with Lalamove's services and its app.
"When I first explored Lalamove's website and the app, I was convinced that Lalamove is the missing piece in the operations of my packaging company. My hunch was proven after I placed my first order on the app. It was a last-minute order since the client requested to bring forward the delivery date. Normally, I'd discuss with the client to give us some room to cater to a last-minute delivery request. Sourcing a freelance runner or relative for an eleventh-hour delivery can be tricky."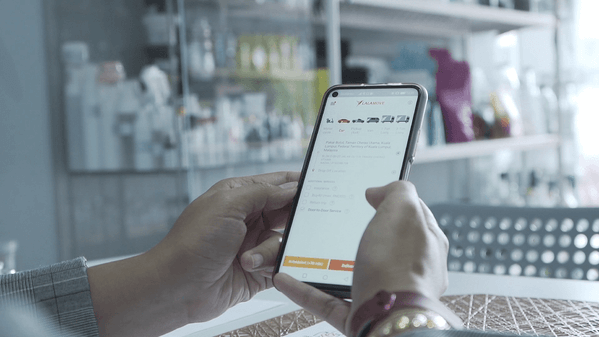 "Surprisingly, Lalamove made quick work of that particular delivery task. Through the app, I managed to secure a delivery driver in less than a minute. The driver showed up at our office's doorstep 15 minutes later. The delivery itself took no more than half an hour. It was a huge improvement in such a short time!" reminisced Putri.
Advantages Of Lalamove's On-Demand Delivery
Besides the faster delivery time, Lalamove's range of vehicle types was another attractive factor for Putri. Some deliveries, especially to pharmacies and FMCG companies, require larger vehicles. These clients typically place bulk orders for packaging goods. As such, these arrangements fit perfectly within the cargo of Lalamove's van and 1-ton lorry.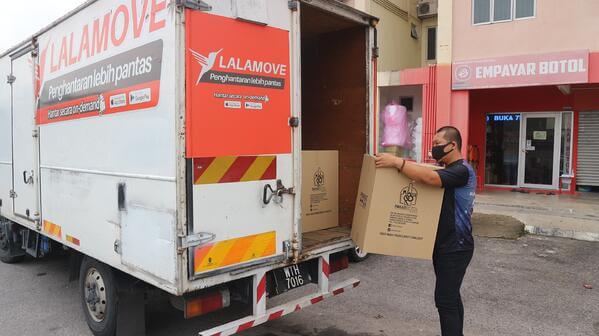 The issue of transparency that plagued Pakar Botol with the freelance runners was relegated to non-issue with Lalamove. The app's integrated real-time tracking allows Putri to manage the expectation of her clients. The drivers' phone numbers are visible according to each order, which makes it easier to communicate at a moment's notice.
No cash to pay a delivery driver? Hardly a problem for Putri, since she only needs to reload the prepaid delivery credits into her Lalamove corporate e-wallet once a month. Lalamove will automatically generate the monthly statement for delivery expenditures at the end of each month for Putri.
And the best part of the corporate account?
Putri gets the privilege of a prioritised line to Lalamove's customer service on top of an account manager. These communication channels are indispensable to voice out her tailored delivery requirements and delivery issues.
Driving Business Sustainability With On-Demand Deliveries
"Besides occupying a favourable position in the supply chain of hand sanitiser business, we credit our business sustainability to a few things - lean business model, diverse network of raw materials suppliers and manufactures, and of course, business digitalisation. Our partnership with Lalamove falls under that last component."
"We found that it's easier to accomplish a resilient business model when we prioritise our clients' needs above everything else. Before Lalamove, we were struggling to break the triple-digit figure in monthly deliveries. Now, we can easily fulfil more than 100 delivery orders per month at a lower cost. Our customer base also has been expanding to the fringes of Klang Valley. We can count on Lalamove for multiple deliveries simultaneously with their 40,000-strong fleet of drivers and multistop feature," commented Putri.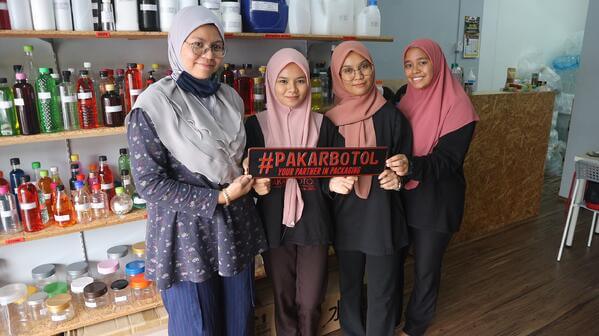 As it stands now, there are at least five Lalamove delivery drivers that stop by at Pakar Botol's office in Cheras daily. It's a routine that Putri embraces since she takes it as a sign of better days to come.
Are you looking forward to having the same upgrade in business deliveries for your business?
We can make it happen for you, just like what we offered with Putri's enterprise - a better, faster and simpler delivery solution.
Talk to our business development representatives today for more details on how you can step up your business deliveries.
Did you know?
We've recently partnered with Maybank's Sama-Sama Lokal to empower the on-demand deliveries on their platform. Read more about our collaboration with Sama-Sama Lokal here:
Sama-Sama Lokal And Lalamove: Delivering A Lifeline For Small Businesses
Besides Pakar Botol, we also play an essential role to facilitate the deliveries of another local brand, Soon Thye Hang. Learn more about our case study with the dried seafood company:
How Soon Thye Hang Nurture Customers' Trust With Lalamove's On-Demand Deliveries