Sama-Sama Lokal & Us: Offering A Lifeline For Businesses | Lalamove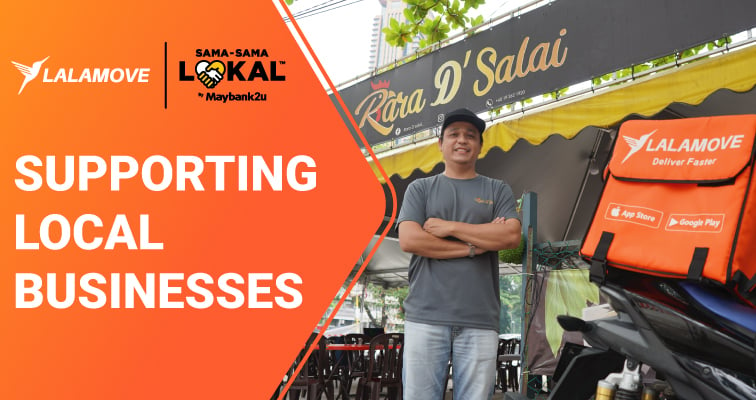 Most of the time, addressing challenges faced by honest, hardworking people who form the foundation of our nation's economy brings forth a simple yet elegant solution. Sama-Sama Lokal, an initiative by Maybank, was born out of this narrative.
18 March 2020 marked a historic moment for Malaysia. The Malaysian government rolled out its first-ever movement control order (MCO) to respond to the Covid-19 pandemic.
Even though the MCO saved lives and improved the rakyat's compliance to standard operating procedures (SOPs), the nation's economy was at the pandemic's mercy.
On a larger scale, the pandemic brought Malaysia's multiple key sectors, exchange rate and stock market to their knees. Closer to the ground, the government ordered business establishments, except those in essential services, to pull down their shutter as long as the MCO was in place.
As a result, small businesses that thrive on foot traffic, such as hawkers, market and sundry shops, felt the MCO's pinch the most.
Enter the Sama-Sama Lokal initiative by Maybank. Simply put, Sama-Sama Lokal is a listing of small businesses on Maybank's online platform.
As an on-demand delivery provider of choice for SMEs, Lalamove is proud to be Sama-Sama Lokal's official delivery partner.
Recently, we were fortunate enough to have a chat with Mr Afrezal, the Head of Maybank's Digital Market Place.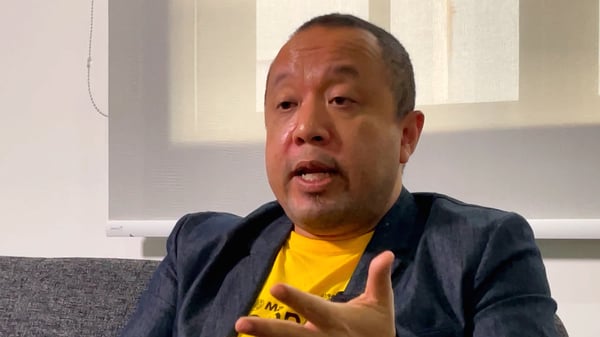 Mr Afrezal is in charge of everything under the sun for Sama-Sama Lokal. In our interview with Mr Afrezal, we spoke about Sama-Sama Lokal, business digitalisation, and how Lalamove is an essential piece in the Sama-Sama Lokal machinery platform.
How critical is the success of small businesses towards a healthy economic climate?
Small businesses, in particular SMEs, make up a sizeable base of registered businesses in Malaysia. Ensuring their survival and success is critical for a healthy economy. They create jobs and generate business activities, which will help the economy to recover from the pandemic.
Every morning when we visit our neighbourhood warung or kopitiam, our signature breakfast are the likes of nasi lemak, roti canai, and kuih-muih. These delicacies are of Malaysian heritage. There's nothing out there that unite us as Malaysian better than our love for local food, isn't it?
Besides our shared responsibility to preserve this Malaysian culinary identity, it's equally important to protect the local merchants' livelihood so that they can keep selling within our community.
What kind of challenges are local businesses facing in this period of uncertainty?
During the MCO, many small businesses saw a significant dip in their sales simply because they depend on walk-in customers as their source of income. To make up for these plunging sales, they need to be accessible to their customers in the digital space.
However, digitalising a business is easier said than done, especially for merchants who aren't tech-savvy or lack access to devices and the internet. For these merchants, the journey of digitalisation can be challenging.
Despite the challenges, there's a silver lining that may motivate the merchants to embrace digitalisation. Now more than ever, Malaysians are up in arms to support local businesses by buying locally through social media and e-commerce platforms.
Why does business digitalisation matter in this new normal?
Pandemic has changed the way how we interact with one another. The new normal is filled with social distancing and various SOPs to reduce the risk of infection.
Due to the limited physical interactivity, Malaysians are warming up to digital touchpoints at an encouraging rate. Online grocery shopping, online food ordering and cashless payment have become a routine for most of us.
For businesses, digitalisation should be at the forefront of survival and success. Adapting to consumers' behavioural change will determine a business's longevity, especially in digital transaction preferences.
What is the origin story of the Sama-Sama Lokal platform?
Sama-Sama Lokal was created during the first MCO. We saw what was happening to the hawkers, neighbourhood grocers and small businesses. They were struggling since there was a considerable drop in foot traffic to their premises during the pandemic. Their only means of reaching out to customers was utterly cut off.
So we asked ourselves – how can we help?
What if we could give the affected merchants a digital presence on our platform and promote them not just only to our M2U customers but to the greater public as well? And thus, Sama-Sama Lokal was born out of this vision in April 2020.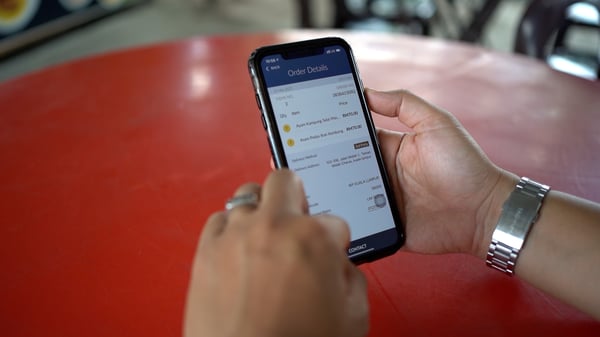 We invested a lot of our time and effort in making the platform as business-friendly as possible. We don't charge any commission or setup fee for interested merchants. This scheme allows the merchants to take 100% of the profits that they generate from Sama-Sama Lokal.
Furthermore, we collaborate with Lalamove as our delivery partner for Sama-Sama Lokal. Lalamove plays an essential role in connecting the merchants with customers. We manage the deliveries for our merchants and subsidise the delivery fee of up to the first 10km so that the merchants can entirely focus on their business with minimal overhead.
Why did Maybank decide to partner with Lalamove for the Sama-Sama Lokal platform?
The primary criterion for our delivery partner is the strength of the delivery coverage since our merchants can be found across Klang Valley. Broad delivery coverage is also essential to help our merchants capture as many customers as possible.
As one of the major on-demand delivery players in the market, Lalamove has a solid footing in the greater Klang Valley.
Besides excellent coverage, it's easy to secure a Lalamove delivery rider anytime when our merchants need to deliver to their customers ASAP. The nature of our merchants' businesses, especially the ones in F&B, rely on faster fulfilment of delivery orders.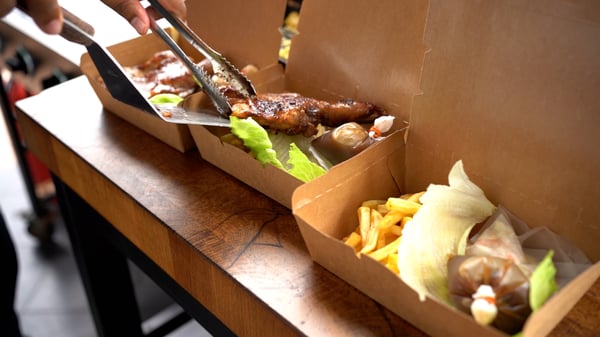 To put it simply, Lalamove has the right formula to meet the need for faster delivery across Klang Valley. That's why we decided to appoint them as the delivery partner for Sama-Sama Lokal.
Do you observe any pattern in the volume of delivery demand among the merchants during the festive season/peak season?
Yes, there were huge spikes in demand, especially during the eve and on the day of Hari Raya, Chinese New Year and Christmas. We were glad that we could address the increased delivery demand during these festive seasons.
What are the feedbacks from your merchants regarding Lalamove's delivery service?
We've received a lot of positive feedbacks. They're very grateful for Lalamove's delivery services since they can extend their reach to more customers beyond their area. It's good for their businesses!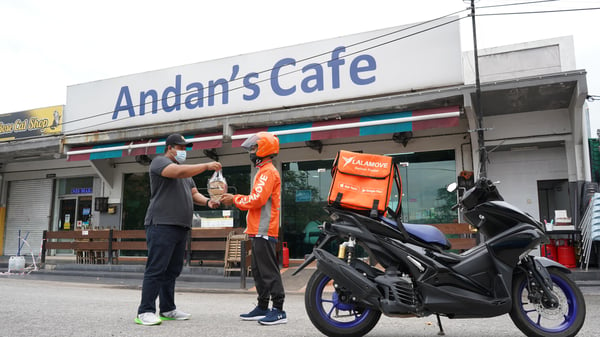 What does the future hold for Sama-Sama Lokal?
We're very excited because we will launch a new feature for the platform. This feature will improve the user experience for our stakeholders.
Regardless of future updates, our objective hasn't changed since day one. We want to give our merchants a simple and seamless onboarding experience. On top of that, we want to help them with tools that can make their business operations as easy as possible.
For the customers, we want to reward them with a delightful experience when they shop from Sama-Sama Lokal's merchants.
Can you describe Lalamove in one word regarding its support to Sama-Sama Lokal?
Collaborative.
Sama-Sama Lokal and Lalamove share the same purpose. Sama-Sama Lokal is helping these hard-hit merchants by connecting them to potential customers digitally. Lalamove supports this initiative by delivering the orders to the merchants' customers physically.
It's a collaborative effort to safeguard our nasi lemak, roti canai, and kuih-muih, which are all Malaysian favourites.
We're grateful to be Sama-Sama Lokal's partner in their journey of empowering small businesses. Our spirit of making on-demand deliveries faster and simpler for businesses continues.
Now, we want to turn it over to you.
Are you looking for an ideal delivery partner for your enterprise? We're here for you! Get in touch with us today to learn more about our corporate delivery solutions.
Besides Sama-Sama Lokal, we're also proud to be the on-demand delivery partner for businesses of all sizes from various verticals. Head on over to other case studies for more details on our business clients' experiences with Lalamove:
On-Demand Business Logistics: Vanli's Optimisation Strategy

A Packaging Company's Remarkable 4X Growth With Lalamove