How Soon Thye Hang Nurture Customers' Trust With Lalamove's On-Demand Deliveries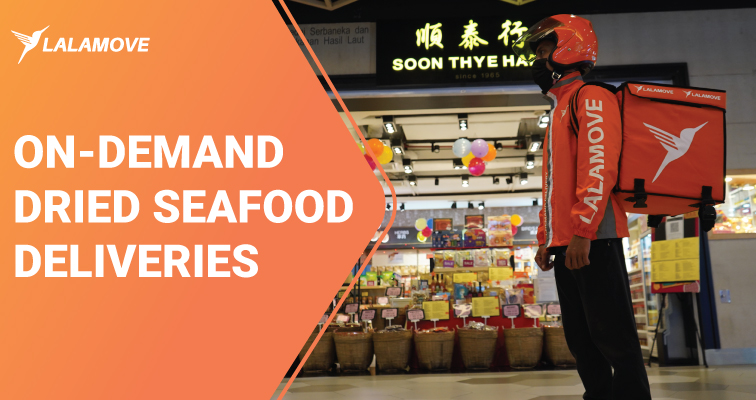 A horizontal line across a business' monthly sales chart is a rarity. Instead, fluctuations in trend are more common as the sales chart moves from January to December. These fluctuations illustrate changes in consumer demand over time. Mr Bobby Chua, who runs the show at Soon Thye Hang as its Chief Operations Officer, is familiar with this business reality all too well.
Mr Chua owes the success of Soon Thye Hang to various factors; high-quality dried seafood products, dedicated employees, and most importantly, the trust between the brand and its legion of loyal customers.
Earning the customers' trust can be a delicate exercise. But when done right, the returns can be rewarding. Soon Thye Hang nurtures trust by delivering promises to its customers at the right time every single time. And Mr Chua has Lalamove to count on to deliver value to his customers.
Soon Thye Hang, The Trusted Name In Dried Seafood
One can trace the history of Soon Thye Hang to the legacy of early 19th century Ipoh's Chinese settlers. The prospects of wealth and prosperity in Ipoh's flourishing tin mining industry attracted Chinese merchants to the thriving Malayan town.
It wasn't until 1965 that Soon Thye Hang's founders, Mr Chuah Chong Chear and Mr Chai Sang Chek, decided to carve a niche in the mining capital by running a dried seafood business. And the rest is history!
Today, Soon Thye Hang is one of the leading importers, exporters and distributors of dried seafood in Malaysia. Besides dried seafood, various traditional Chinese wellness products such as abalone, bird's nest, tea, and ginseng fill their retail shelves.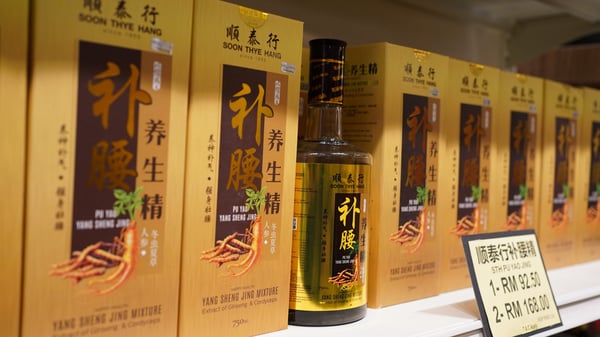 The motto 'Trusted Name In Dried Seafood' demands nothing short of perfection from every corner of the brand's operations and products. As it turns out, Lalamove plays an essential role in honing the company's operations and fulfilling its promises to its customers.
Delivering To The Tune Of Trends
"Soon Thye Hang is a retail-oriented business," Mr Chua began. "However, relying on sales from footfall in our premises alone is not foolproof against the future of digital commerce. That's why we established an online store to remain relevant with the times."
"Relying on sales from footfall in our premises alone is not foolproof against the future of digital commerce."
Giving their customers the convenience of selecting items into an online cart is just one-half of the equation. The other half comes from delivery services. Mr Chua recognises the necessity of deliveries to complement the online shopping experience of Soon Thye Hang's customers.
"The deliveries of our products are seasonal-based," Mr Chua continued. "Normally, we'd need to fulfil up to 200 delivery orders per week when the calendar is void of special occasions or festivities. However, the delivery demand can escalate up to four times the normal figure when we're getting closer to festivities, such as Mother's Day, Father's Day, and Chinese New Year."
And this is where Lalamove comes into the picture!
Meeting Customers' Expectations With Lalamove's On-Demand Deliveries
The decision to enter into a partnership with Lalamove came about after the company had experienced expenditure and flexibility difficulties with a traditional courier company.
"Trust is our most treasured brand value, and yet, trust must be earned. Even though our brand name is at the top of mind in edible wellness products, we're not a delivery-focused company. Hence, we need to partner with a reliable delivery service. We always guarantee our customers that we can deliver to them within 24 hours. This is a big part of operations to nurture trust," said Mr Chua.
Soon Thye Hang's previous partnership with a local courier company ran into a couple of challenges that became apparent during peak seasons. The courier company's fixed terms with payment, vehicle choices and delivery window left Mr Chua with little room to manoeuvre the complexities of fluctuating delivery orders.
Delivery Scalability And Savings
"Our previous arrangement with a courier company gave me headaches. I'm glad that those days are behind me now!" Mr Chua rejoiced.
"We learned about Lalamove from social media and from seeing their riders with the signature orange Lalabag. Everything about Lalamove meets our expectations of flexibility and savings. After signing up for a Lalamove corporate account, our deliveries have taken a 180-degree turn for the better."
"Now, it's easier to scale our deliveries according to seasonal demand. We can also tailor the size of deliveries according to Lalamove's range of vehicles, be it a simple fish maw delivery with a bike or delivery of Chinese New Year hampers with a van."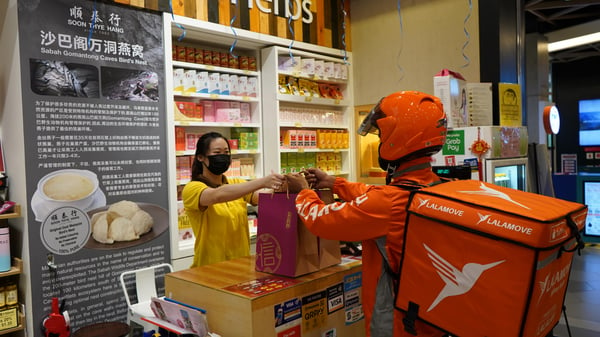 But that's not all.
"Our delivery expenditure follows the volume of Lalamove deliveries. If we deliver less, we'll pay less. The same logic applies to the opposite. The linear relationship between cost and delivery volume makes it easier for us to estimate our annual delivery expenditure. It's a privilege that we didn't get from a fixed contract with a traditional courier company ."
"The linear relationship between cost and delivery volume makes it easier for us to estimate our annual delivery expenditure."
As a result of using Lalamove for deliveries, Mr Chua shared that the company has enjoyed up to 10% in savings compared to the company's previous courier partner!
Future-Proofing Soon Thye Hang With Digital Deliveries
Mr Chua has nothing but optimistic views of Soon Thye Hang's future. This optimism is not baseless. The recent movement control order (MCO) demonstrates Soon Thye Hang's foresight in weathering economic turbulence from their early adoption of digitalised deliveries.
"If it weren't for Lalamove, we would have been severely affected by the MCO due to closure of non-essential sectors. Fortunately, we can still serve our customers with our online store. Lalamove is an important link in our logistics to connect our merchandise with our home-bound customers during the MCO. I can only imagine how things could have gone differently if we were still trapped in the old ways of doing things," concluded Mr Chua.
Trust is a valuable concept for businesses, indeed. Soon Thye Hang's approach of building trust with customers by fulfilling timely deliveries is a practical means to nourish lifelong relationships with their customers.
How about you?
Are you ready to duplicate Soon Thye Hang's means of building trust with customers by offering faster deliveries?
Reach out to our sales team today to learn more about our business delivery solutions and Lalamove corporate account!
PS. Besides Soon Thye Hang, other businesses have their shares of success stories after partnering with Lalamove. Head on over to other case studies for more details on our business clients' experiences with Lalamove:
How A Bundle Clothing Supplier Improve Its Competitiveness With On-Demand Deliveries
Lalamove Food Delivery: Driving Greater Sales For Warung Soho