9 Stunning Mooncakes To Order Online With Delivery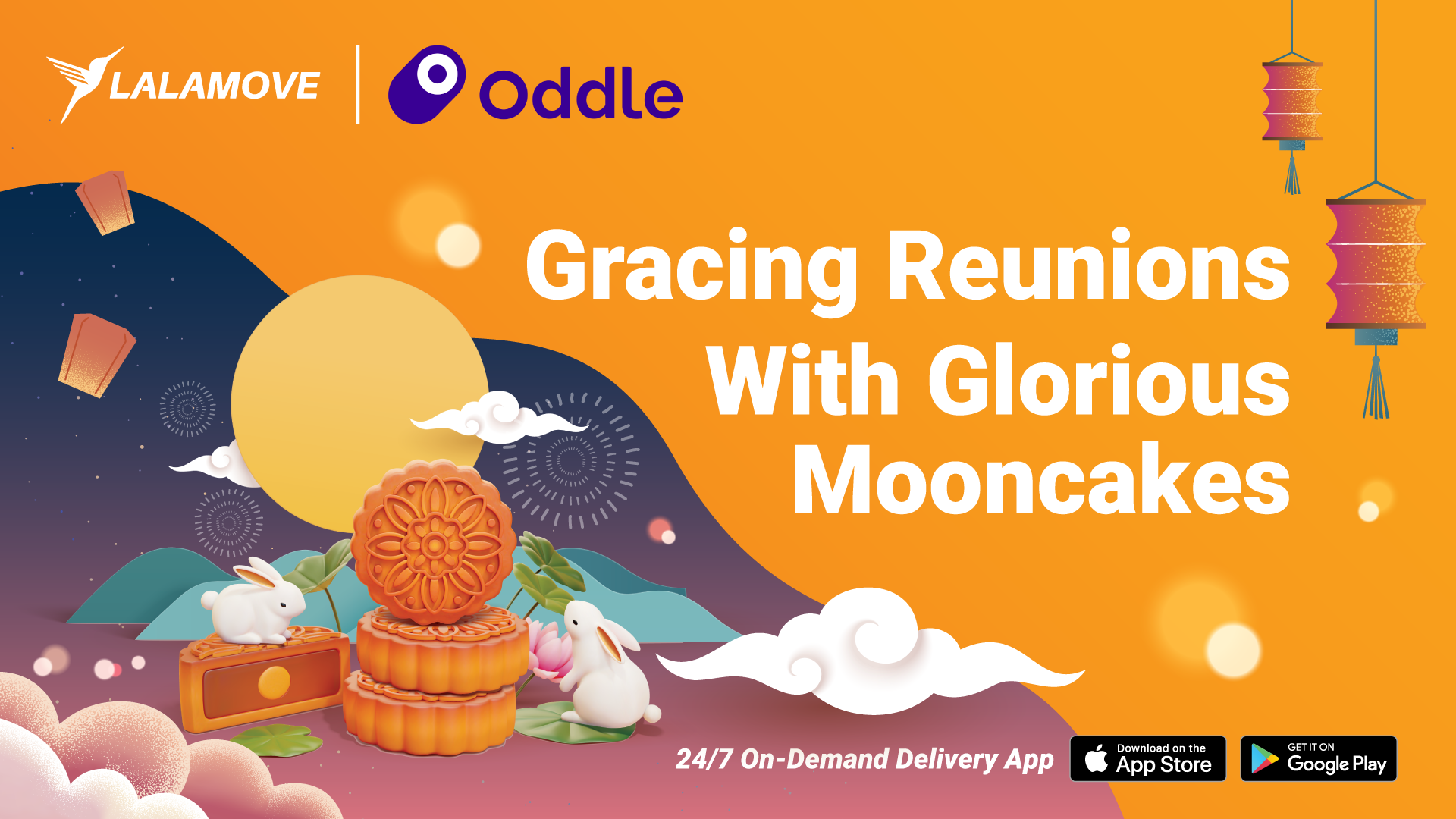 The mooncake season is upon us!
If you're on the quest for the most stunning, unique, aesthetically pleasing mooncake gift sets to brighten someone's Mid-Autumn Festival, you've come to the right place.
This year, we've collaborated with Oddle to compile the best brands that offer online orders for mooncake delivery. Light up your lanterns and let's dive in!
Our Top Picks To Place Online Mooncake Orders, Complete With Delivery By Lalamove
1. St. Regis KL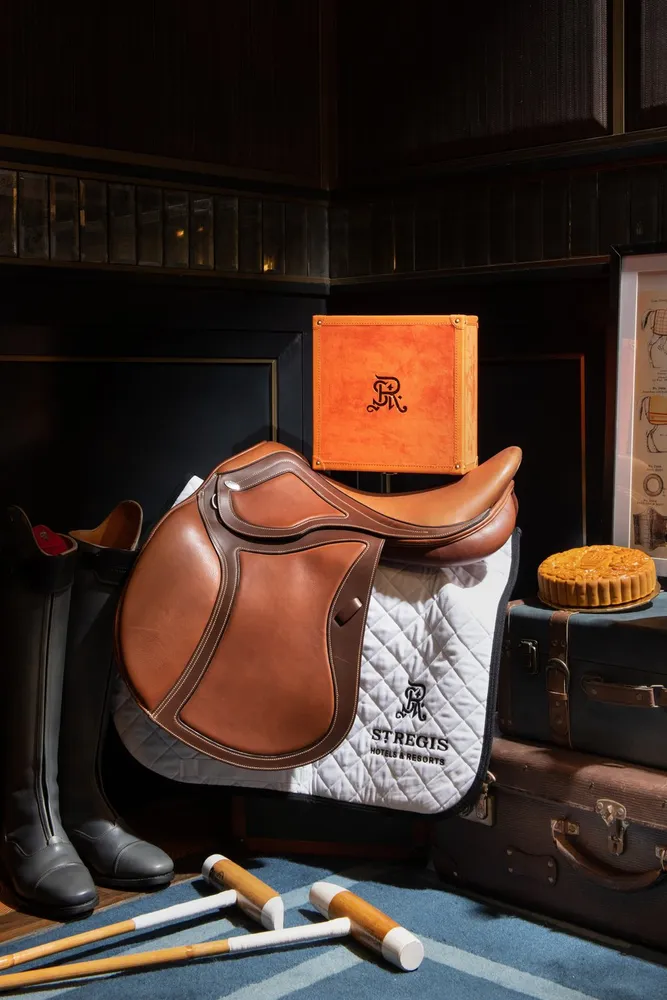 This mooncake set from St. Regis KL is perfect for a luxury impression on the palate.
Inspired by a polo player's saddle, this mooncake trunk is wrapped in an orange leatherette with fine stitching details. The brushed metal hardware studs lend a touch of craftmanship that complements the trunk's finishing.
But this elegant experience isn't limited to their gift box.
The superstar of this set is their Super Mooncake Trunk which comes with a supersized 6.5-inch Lotus Seed Paste mooncake with eight yolks stuffed in the middle!
Add on their Macallan 18-Year Double Case Whiskey to the set and you'll have a splendid Mid-Autumn feast.
Price: RM3,488.67 for Super Mooncake with Macallan Trunk, RM375.47 for Super Mooncake Trunk, RM366.03 for Classic Mooncake Trunk (8 pieces) and RM39.62 for each mooncake
Flavours: 6.5" Prosperity Mooncake with 8 yolks, Lotus Seed Paste with Single Yolk
2. Le Meridien KL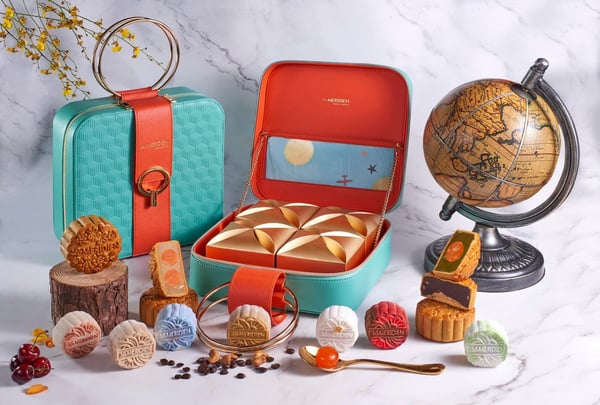 Le Meridien KL's A World of Destinations mooncake set is designed for the wanderers in your life.
Named after major cities such as New York, Kyoto, and Shanghai, their mooncakes are infused with unique flavours that will leave anyone hungry for more.
Packed inside an elegant turquoise carrier, this gift set also functions as a stylish travel bag for future trips.
The best part?
This gastronomic trip will set you back at no more than RM250!
Let these mooncakes take your tastebuds on a journey across the world!
Price: RM228.00 for Premium Gift Set, RM45.00 for every baked mooncake, RM42.00 for snow skin mooncake (without alcohol) and RM58.00 for snowskin mooncake (with alcohol)
Flavours: Espresso illy Coffee with Cashew Nuts, Genuine Japanese Matcha Tea with Lychee, Dark Belgian Chocolate and Dehydrated Raspberries and more
3. Swee Bee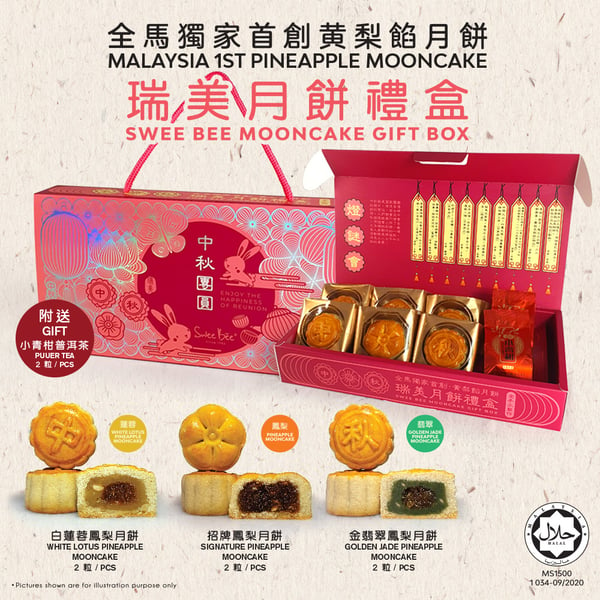 Sometimes, all we need in life is something that reminds us of home.
Luckily, Swee Bee's mooncake is here to evoke your childhood memories with their pineapple tarts mooncake!
This set comes with a gorgeous pink gift box and two pieces of Pu'er tea, which makes it a perfect fare for a family reunion.
If you're on a tight budget, look no further than this authentic mooncake set with a price tag of RM49.90.
Price: RM49.90 for Pineapple Mooncake Gift Box
Flavours: White Lotus Pineapple Mooncake, Signature Pineapple Mooncake, Golden Jade Pineapple Mooncake
4. The Westin KL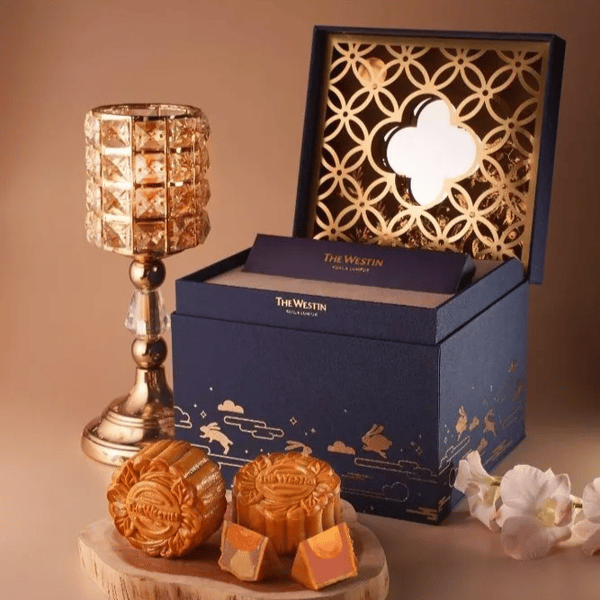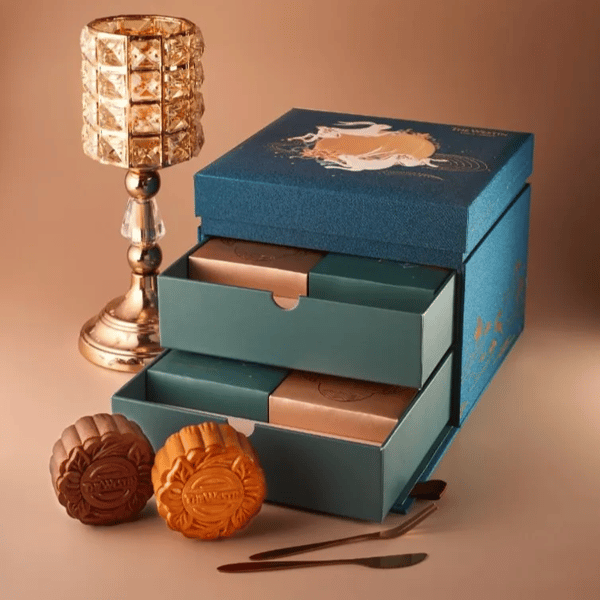 This Mid-Autumn Festival, The Westin KL introduces their charming The Moon Rabbit Treasure Chest that will undoubtedly make a cool unboxing experience.
The 2-tier gift box comes in two colours:
Teal symbolises wishes for relaxation, revitalisation and rejuvenation, while blue radiates calm, peace and tranquillity.
Each box comes with four mooncakes with unique flavours you can choose from such as Golden Emerald, Chocolate, Red Bean, Dragon Fruit and many more.
Price: RM238 per gift box
Flavours: Chocolate, Noble Delight with Single Yolk (Dragon Fruit), Royal Fairy with Single Yolk (Osmanthus), Assorted Fruits & Nuts, Golden Emerald with Single Yolk, Lotus with Single Yolk, and Red Bean
5. W Hotel KL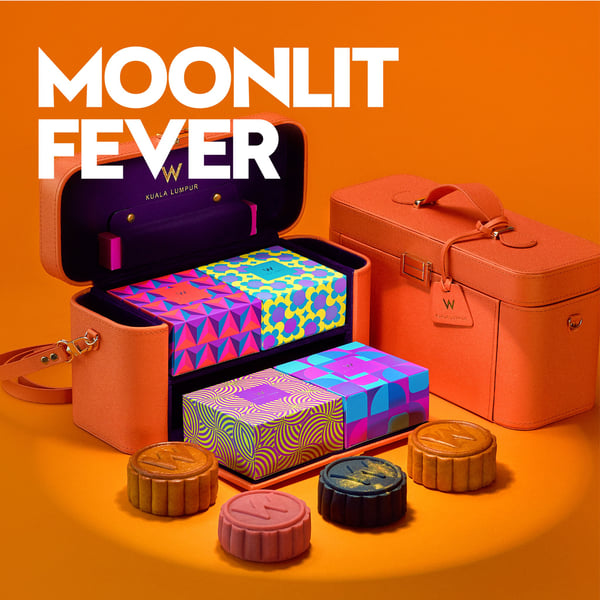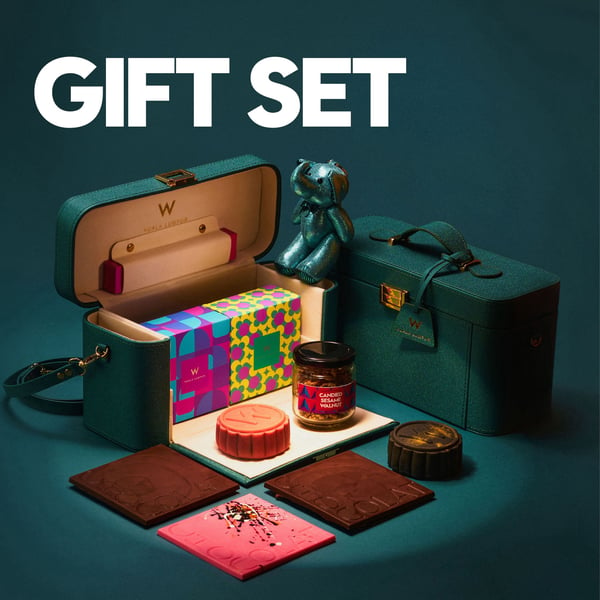 If you know someone who enjoys revelling in good ol' times nostalgia, then this retro-inspired mooncake set will blow their mind!
This year, W Hotel KL presents the bold and bright Moonlit Fever Mooncake Box. More than just a gift box, it also serves as a trendy bag for parties!
This set includes four different mooncake flavours to choose from; Tiramisu, Red Bean Paste Mandarin Skin, Pure Lotus, Lotus Paste with Single Yolk and more.
Price: RM238 for Moonlit Fever Mooncake Box, RM268 for Moonlit Fever Mixology Kit and RM268 for Moonlit Fever Gift Box
Flavours: Pure Lotus, Lotus Paste With Single Yolk, Red Bean Paste Mandarin Skin, Momoyama, Tiramisu and Mixed Nuts
6. Wan Chun Ting by Sofitel Kuala Lumpur Damansara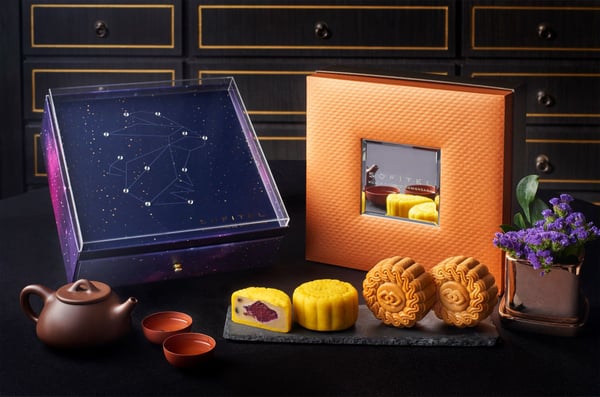 Looking to leave your friends starstruck with mooncakes? Go for Sofitel Kuala Lumpur Damansara's enchanting mooncake sets!
Each set comes with four pieces of baked and snow skin mooncakes and is presented in two fabulous packagings; the Classic Copper Treasure and the Galaxy Series.
While The Galaxy Series is appealing to stargazers, the Classic Copper Treasure has a universal charm of sleek product packaging. Both are perfect as collectibles!
Price: RM252.00 for Galaxy Series Box and RM157.00 for Classic Treasure Box
Flavours: Coffee with Cream Cheese, Yam with Dark Chocolate, Signature Osmanthus Blueberry, White Lotus with Single Yolk and more
7. Duria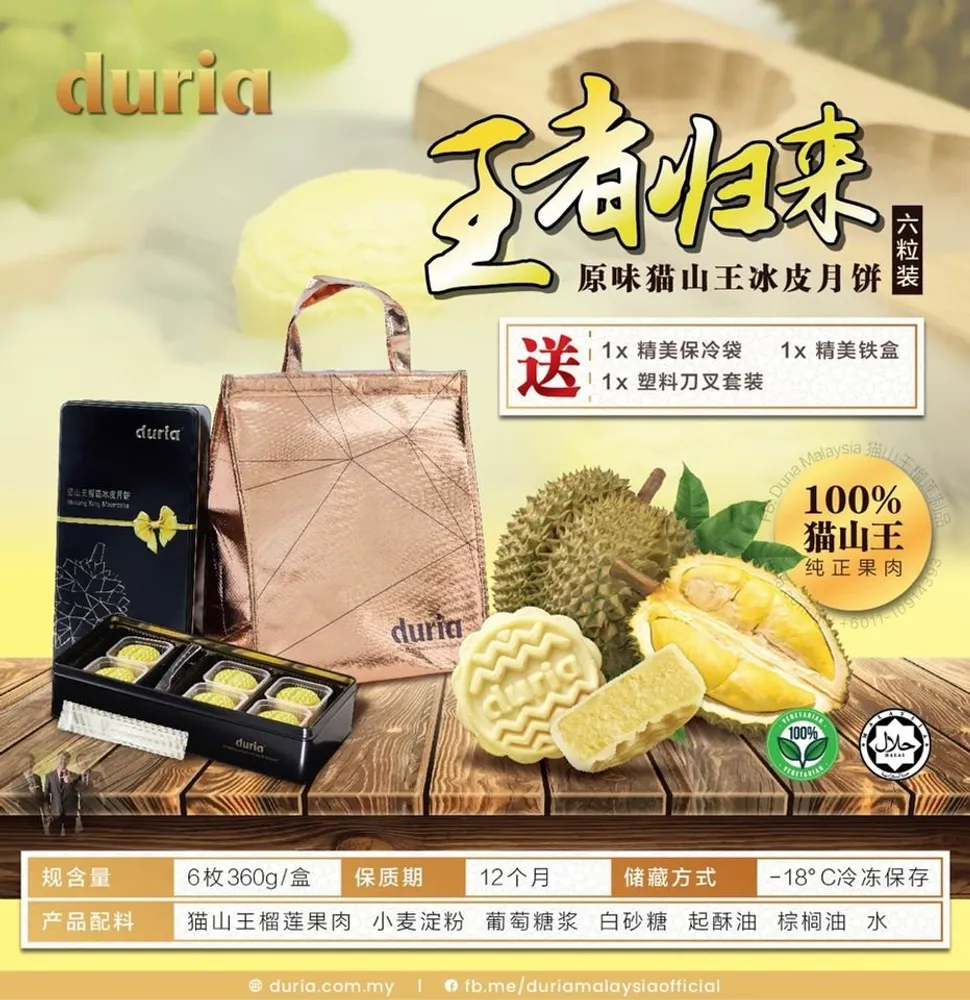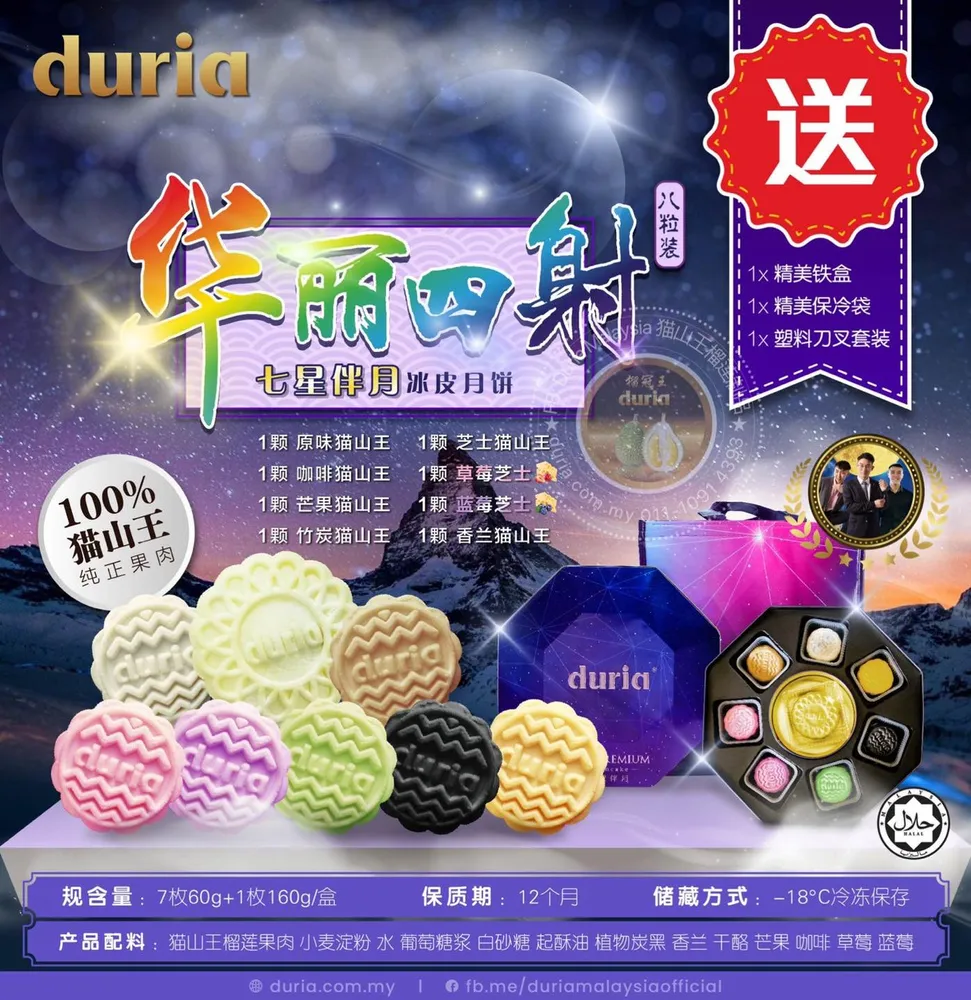 If you're looking for a sign to relish durian mooncakes this year, here it is:
More than just typical durian mooncakes, Duria offers snow skin durian mooncakes with more than 10 flavours you can choose from. From coffee to cheese to pandan, their snowskin durian mooncakes are made for adventurous fans of the 'King' like you!
The Premium Snowy Skin Mooncake set comes with an elegant box, cutleries and an even cooler bag to keep your mooncakes chilled and long-lasting!
Price: RM138 for Musang King Snowy Skin Mooncake, RM138 for Pandora Snowy Skin Mooncake (3 Flavour), RM198 for The Premium Snowy Skin Mooncake
Flavours: Musang King Snowy Skin Mooncake, Coffee, Bamboo Charco, Pandan, Cheese, Bamboo Charcoal, Mango, Strawberry, Blueberry Cheese
8. Le Meridien Petaling Jaya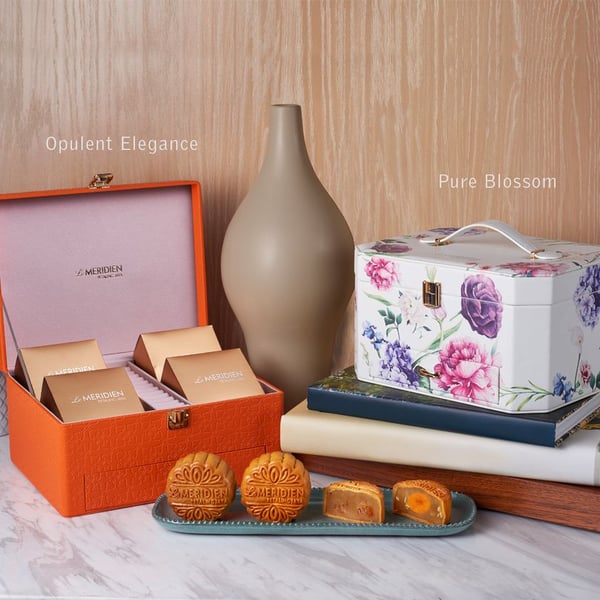 Fancy a mooncake box set that also functions as a storage box for accessories?
Then you're going to love this deal from Le Meridien Petaling Jaya!
Le Meridien's Pure Blossom set is an elegant flowery box with a mirror. With this set, you'll be on a fine course of Mixed Nuts, White Lotus Single Yolk, Pandan Lotus and Longan Wolfberries mooncakes.
Meanwhile, the Opulent Elegance set is a minimalistic gift box that comes with Lotus Double Yolk, White Lotus Single Yolk, Red Bean and Longan Wolfberries mooncakes.
Price: RM188 for Pure Blossom, RM188 for Opulent Elegance and RM45 per mooncake piece
Flavours: Mixed Nuts, White Lotus Single Yolk, Pandan Lotus, Longan Wolfberries, Red Bean and Pure Lotus Double Yolk
9. Oriental Pavillion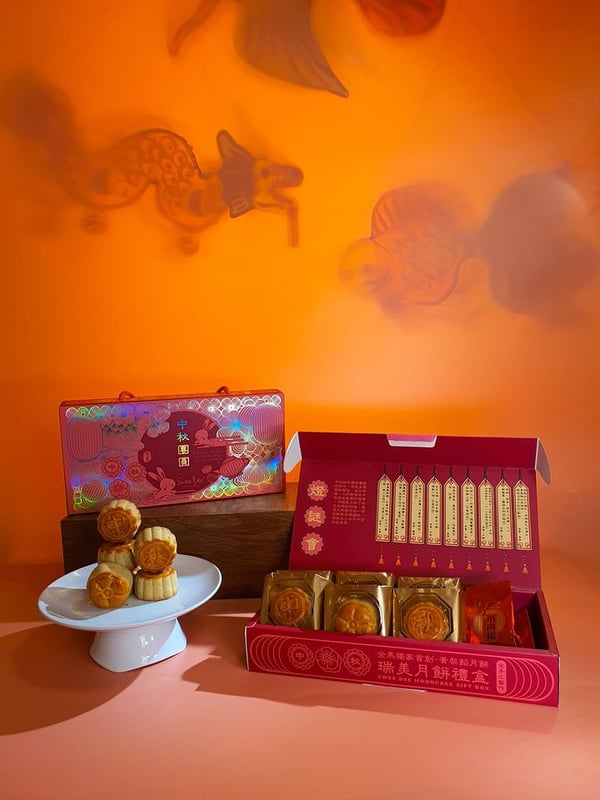 With the accolades of The Star Mooncake Awards in 2019 and 2020, Oriental Pavillion's mooncakes are akin to desserts that descended from the heavens.
Their Single Egg Yolk and White Lotus Paste Traditional Mooncakes come with a sophisticated 2-tier gift box that will make anyone feel extra special.
Price: From RM27 to RM40 per mooncake
Flavours: Shanghai Style Mooncake, Single Egg Yolk & Yam Paste Teochew Style Mooncake, Snowskin Mooncake Series, New Traditional Mooncake Series
Spoilt For Mooncake Choices? It's Time To Place Your Orders!
Sending your loved ones over the moon doesn't have to be tricky…
Sometimes all it takes is delivering mooncakes to them!
Once you place your order from this list, Oddle will deliver them to you with Lalamove! To make your day even better, here's an offer you can't refuse:
Get free delivery when you spend a minimum of RM100 on mooncakes! Simply apply the coupon code [LALA10] when you check out on Oddle's mobile app or website to enjoy this promo. This promo is valid until 31st August 2022.
Happy Mid-Autumn Festival!