200+ Best Dad Jokes to Make Dad Smile this Father's Day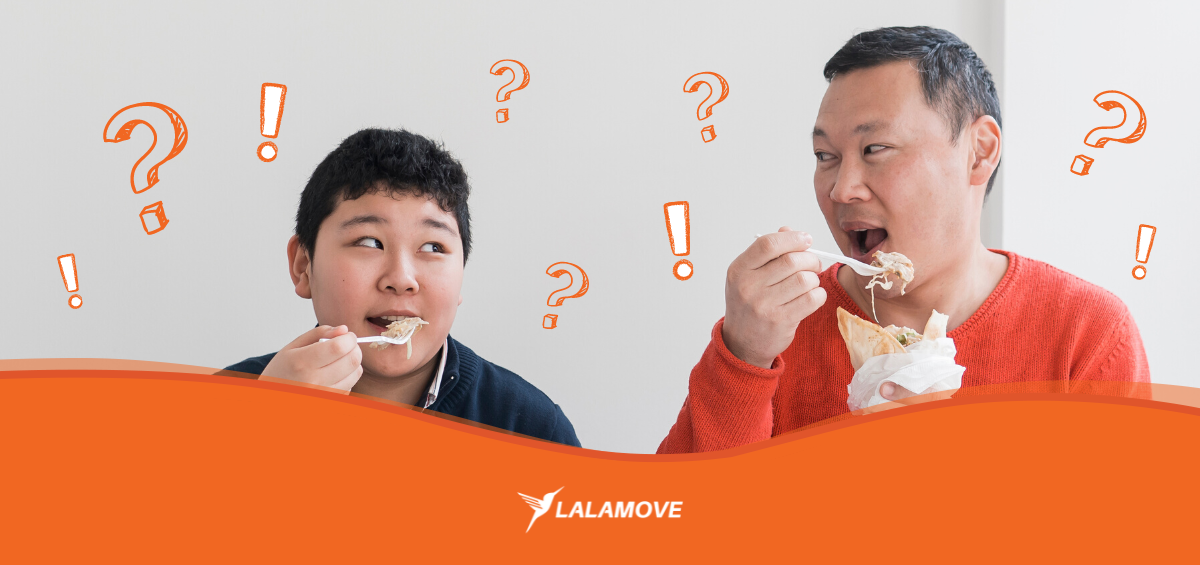 Need a laugh? Here are some dad jokes in the Philippines to make you smile and laugh out loud.
We all know Filipino dads are the unanimous source of a good laugh. Even though we dropped 16 places this year, ranking as the 76th happiest country in the world, there's no stopping the creative jokes from Pinoy fathers that don't always need pranks or punchlines, but are mostly rooted in logic. Witty, no?
Let's cut to the chase, and get ready to ROFL starting off with these Tagalog jokes:
100 Tagalog dad jokes
Bakit maswerte ang kalendaryo? Kasi maraming siyang date.

Ano'ng tawag ng batang langgam sa kapatid na babae ng nanay niya? Eh 'di... ANTY!

Ano ang binibigay ng doktor sa ibong may sakit?

Eh 'di... TWEETMENT!

May tatlong lalake na tumalon sa tubig, ilan ang nabasa ang buhok?

Wala. Kalbo silang lahat eh.

Bakit malungkot ang kalendaryo?

Kasi bilang na ang araw niya.

Ano ang pagkakaparehas ng UTOT at TULA?

Pareho silang nagmula sa POET.

Ano ang maraming sakay, jeep o ambulansya?

Syempre ang ambulansya! Kasi, ang jeep ay 10-10 lang ang bawat side samantalang sa ambulansya, madalas na 50-50 ang sakay.

Ano ang makukuha mo sa baboy na magaling mag-karate?

Eh 'di... PORK CHOP!

Ano ang pinakatamad na letter sa English alphabet?

Letrang E, kasi laging nasa BED eh!

Ano'ng kinakain ng mga pusa sa umaga?

Eh 'di MICE KRISPIES!

Pa'no mo hahatiin sa dalawa ang dagat?

Gumamit ka ng SEASAW!

Hulaan mo kung sa'n in

iiwan ng mga aso ang kotse nila... sa

BARKING LOT!

Ano'ng puno ang hindi pwedeng akyatin? 'Y

ung nakatumba!

Ano'ng bagay ang nagsisimula sa T at nagtatapos sa T at may T rin sa loob?

Eh 'di... TEAPOT!

Ano'ng gamot sa mga sugat ng balat ng baboy?

OINKMENT!

Hulaan mo ang paboritong palaman sa tinapay ng astronaut.

Eh 'di LAUNCHEON meat!

Ano ang pwede mong gawin sa GABI na hindi mo pwedeng gawin sa UMAGA?

Eh 'di... MAGPUYAT.

Ano'ng room ang walang dingding at pinto?

Eh 'di MUSHROOM!

Ang common na sakit ng mga martial arts champions ay...

KUNG FLU!

Saan nagpapagupit ang mga tupa? Sa

baa-baa shop!

Ano'ng gulay ang marunong maglaro ng billiards?

Eh 'di... CUE-CUMBER!

Ano'ng TV show ang pinapanood ng mga bibi?

Eh 'di... DUCKUMENTARIES!

Ano'ng pagkakaiba ng Biology at Sociology?

'Pag kamukha ng tatay ang sanggol, Biology 'yon. 'Pag kamukha naman ng kapitbahay ninyo ang sanggol, sociology 'yon.

Saan nagdedeposit ang mga bampira?

Eh 'di sa BLOOD BANK!

Ano'ng mangyayari 'pag nahulog mo ang isang pulang sumbrero sa asul na dagat?

Eh 'di mababasa yung sumbrero!

Alam mo ba kung ano 'yung minamanehong sasakyan ni Jollibee?

Eh 'di... BEE-M-W!

Bakit gising magdamag ang mga bampira?

Kasi nag-aaral sila para sa kanilang blood test!

Bakit madaling timbangin ang mga isda? M

ay sarili silang SCALES eh!

Ano'ng mas nakakadiri sa uod na nakita mo sa prutas mo?

Eh 'di yung kalahating uod na lang! (Ewww)

Ano ang pinakamataas na building sa buong mundo?

Eh 'di yung library, kasi maraming STORIES doon!

Anong fish ang 'di makapal? Eh 'di ManiFISH!

Anong isda ang nakakasulat? Eh 'di... laFISH! (lapis)

Anong fish ang may lahing insekto? Eh 'di... i-FISH! (Ipis)

Anong key ang nakakabukas ng saging? Eh 'di... MONKEY!

Alam mo ba kung bakit bawal maggupit ng kuko sa gabi? 'Di dahil mamalasin ka; lalabo ang mata mo! Ang dilim eh!

Alam mo ba ang tunog ng aso 'pag nauntog siya? Eh 'di... DOG.

Ano'ng tanong ng tatay ulan sa baby ulan? "Tatay? Ambon ba ako?"

Ano'ng kabaliktaran ng kaluluwa? Eh 'di... kalulunok!

Ano'ng favorite sport ni Dracula? Eh 'di... BAT-MINTON!

Bakit nagdala si Juan ng sisiw sa sabungan? May laban daw 'yung tatay niya, kailangan ng moral support!

Ano'ng bentilador ang hot? Eh 'di... SILING fan (ceiling)!

Ano'ng hayop ang wala lang? Eh 'di... LION (''La 'yon)!

Ano'ng ring ang pa-kwadrado? Eh 'di... BOXING RING!

Ano'ng pangalan ng lider ng bibe na nagsabi ng kwak-kwak? Justin... Justin Bibe!

Ano'ng nauna -- bills o coins? Coins! Kasi... coin PURSE (first).

Ano'ng tawag sa astig na alaga? LUPETS!

Ano'ng isda ang nakalutang sa tubig? Eh 'di 'yung patay na isda!

Ano'ng subject ang paborito ng mga fish? Eh 'di... FISHical Education! (Physical Education)

Ano'ng paboritong palaman ng MMDA? Eh 'di... TRAFFIC JAM!

Sinong shoe ang sikat? Eh 'di si Liza Shoe-berano at Enrique Heels.

Ano'ng shoe ang masakit? Eh 'di... SHOE-ntok!

Ano'ng shoe ang mas masakit? Eh 'di... SHOE-gat!

Ba't malungkot kapag undas? Kasi 'pag binaliktad mo... SADNU.

Ano'ng sabi ng daddy donut sa baby donut na nasa taas ng puno? BAVARIAN (Baba riyan)!

Ano sa Japanese ang speechless? Eh 'di... WASABI.

Saang subject laging bumabagsak ang mga isda? Eh 'di sa FISHsics! (Physics)

Bakit kailangang lagyan ng gulong ang rocking chair ni lola? Para makapag-rock and roll siya!

Knock knock! Who's there? Hiphop. Hiphop who? HIPHOPatawad mo... minahal kita agad.

Ano'ng buwan ang fiesta ng mga fish? Eh 'di May 1, kasi FISH-tang Dagat.

Bakit mahirap kontakin ang mga mangingisda? Kasi... gamit nila 'yung lambat!

Ano'ng tawag sa doctor ng mga fish? Eh 'di... FISHician! (Physician)

Sino'ng nanay ni Pikachu? Eh 'di si... Cherry Pie PIKACHU.

Ano'ng sabi ng isda nang hiwain siya sa gitna? Eh 'di... I'm tuna (two na).

Bakit may K ang dark imbes na C? Eh kasi you can't C in the dark.

Ano'ng buhok ang pumuputok? BANGS!

Ano ang cellphone ng matatanda? Eh 'di... MOTOLOLA (Motorola).

Alam mo ba anong tawag sa isdang bumabaril? Eh 'di... BANGus!

Ano'ng sabi ng isda nung nakita niya 'yung friend niya? ISDA you?????

Ano'ng isda ang mahilig mambola? Eh 'di... Fishball!

Ano 'yung whole name ni Cedie, ang Munting Prinsipe? Cedie R. King (CD R-King).

Ano'ng katabi ng USA? Eh 'di... USB.

Ano'ng sabi ng bangus nang mamamatay na siya? Eh 'di... I'm daing! (dying)

Ano pa ang ibang tawag sa holy water? Eh 'di... panginoong juice (minus ligtas points).

Ba't daw bawal mag-jacuzzi ang mga kalbo? Kasi magmumukha silang squidballs.

Sinong fish ang pumapalit 'pag wala ang Boss? Eh 'di Ang o-FISH-er in charge!

Ano'ng tawag sa grupo ng mga aso? Eh 'di... ASO-ciation!

Ano'ng tawag sa Pinoy na nilibing ng buhay? A libing thing... *croo croo*

Sinong NBA player ang laging may stiff neck? Eh 'di si... StiffNeck Curry!

Ano'ng tawag sa tropa mong matangkad? Eh 'di... 'Tol.

Ano namang tawag sa tropa mong pandak? Eh 'di... Li' 'Tol.

Ano'ng makukuha mo 'pag piniga mo ang isang pari? Eh 'di... ReliJuice (minus ligtas points again).

Anong isda ang hindi nababasa? Eh 'di... tuyo (dried)!

Ano'ng sabi ng baboy nung nakita niya 'yung baka? "Meat tayo!"

Ano ang bulletproof na isda? Eh 'di... Pating!

Ano'ng insekto ang walangg gilagid? LANGGAM (Walang gum).

Ano'ng halik ang lumilipad? Eh 'di... Halik-copter...

Sa'ng lugar 'yung magulo? Eh 'di... sa Bohol.

Ano'ng tawag sa mas malaking city? Eh 'di... utsu.

Saang bansa ang paboritong pasyalan ng mga fish? Sa FIN-land!

Ano'ng isda ang pwedeng gawing dessert? Eh 'di... BalYEMA.

Ano'ng sabi ng baby rubber band sa mommy rubber band? Eh 'di... GO MA!

Ano'ng pagkain ang pwedeng magamit ng dalawang baboy? Eh 'di... Tupig!

Ano'ng isda ang pinaka matanda? Eh 'di... Century Tuna!

Sinong artista ang mahilig sa noodles? Eh 'di... si Vic Sottonghon.

Bakit pumupunta ang mga fish sa pari? Para magkum-FISH-al!

Ano'ng lugar sa Maynila ang pumuputok? Eh 'di... AlaBang Bang!

Sa'n nagtatrabaho ang mga isda? Eh di ofFISH! (office)

Ano'ng tawag sa malungkot na pari? Eh 'di... Depriest...

Alam mo ba ang tawag sa fish na peke? Eh 'di... Arti-FISH-al!

Bakit bawal umutot sa Apple store? Kasi... walang Windows.
That's quite a mix of dad jokes. Some of them may be corny, but some of them definitely work!
This coming Father's Day, you better bring the big guns to make dad smile. After all, laughter is therapy for the mind and the body.
Also read: 5 Gifts your Dad (secretly wants) this Father's Day
100+ English dad jokes
If you need more laughs this Father's Day, here are more jokes -- in English this time:
Singing in the shower is fun until you get soap in your mouth. Then it's a soap opera.
I only know 25 letters of the alphabet. I don't know y.
How many tickles does it take to make an octopus laugh? Ten tickles.
How do you make a tissue dance? You put a little boogie in it.
What does a bee use to brush its hair? A honeycomb!
How does the moon cut his hair? Eclipse it.
What kind of shoes do ninjas wear? Sneakers!
How does a penguin build its house? Igloos it together.
How did Harry Potter get down the hill? Walking. JK! Rowling.
How do you follow Will Smith in the snow? You follow the fresh prints.
The wedding was so beautiful, even the cake was in tiers.
I don't trust those trees. They seem kind of shady.
I was once a personal trainer until I gave a too-week notice.
Bigfoot is sometimes confused for Sasquatch -- Yeti never complains.
It's raining cats and dogs, so be careful not to step on a poodle!
I decided to sell the vacuum cleaner — it was just gathering dust!
My boss told me to have a good day, so I went home!
My boss asked me why I only get sick on work days. I said it must be my weekend immune system.
If money doesn't grow on trees, why do banks have branches?
Why do fathers take an extra pair of socks when they go golfing? In case they get a hole in one!
My toddler is refusing to take a nap. He's guilty of resisting a rest.
I'm reading an anti-gravity book, and I just can't put it down!
I used to be able to play piano by ear, but now I use my hands.
Every night, I have a hard time remembering something. But then, it dawns on me!
Do you wanna box for your leftovers? No, but I'll wrestle you for them.
I used to hate facial hair, but then it grew on me,
A guy walked into a bar and lost the limbo contest.
What do you call it when a snowman throws a tantrum? A meltdown.

Bakit madaling timbangin ang mga isda? M

ay sarili silang SCALES eh!

6:30 is my favorite time of day, hands down!
I wanted to eat a watch for lunch, but it was too time-consuming!

I'd avoid sushi if I were you. It's a little FISHY!

Your Mom and I let astrology come between us. It just Taurus apart.

Have you heard about the new corduroy pillows? They're making headlines!

A guy walks into a bar... and he was disqualified from the limbo contest.

I just paid $100 for a belt. What a huge waist!

I was wondering why the basketball was getting bigger and bigger... and then it hit me!

What concert costs just 45 cents? 50 Cent featuring Nickelback!
I ordered a chicken and an egg from Amazon. I'll let you know...

My favorite job is cleaning mirrors... Because I can really see myself doing that.

I found a wooden shoe in my toilet. It was clogged.

What do a tick and the Eiffel Tower have in common? They're both Paris sites.


Did you hear that laughing too loudly is illegal in Hawaii? They only allow a-low-ha.

How does dry skin affect you at work?" "You don't have any elbow grease to put into it.

Ano'ng pangalan ng lider ng bibe na nagsabi ng kwak-kwak? Justin... Justin Bibe!

Time flies like an arrow. Fruit flies like a banana.

What time did the man go to the dentist? Tooth hurt-y.

I don't trust stairs... they're always up to something.

Why can't a nose be 12 inches long? Because then it would be a foot.
If April showers bring May flowers, what do May flowers bring?" Pilgrims.

I'm so good at sleeping that I can do it with my eyes closed!

RIP boiling water; you will be mist.

You think swimming with sharks is expensive? Swimming with sharks cost me an arm and a leg.
Shout out to my fingers. I can count on all of them.
That car looks nice but the muffler seems exhausted."
Why didn't the skeleton climb the mountain? It didn't have the guts.
My wife said I should do lunges to stay in shape. That would be a big step forward.
Why do seagulls fly over the ocean? Because if they flew over the bay, we'd call them bagels.
Where do boats go when they're sick? To the boat doc.
My dad told me a joke about boxing. I guess I missed the punch line.
What does a lemon say when it answers the phone? Yellow!
How do you make 7 even? Take away the s.
What do you call someone with no body and no nose? Nobody knows.
What did the ocean say to the beach? Nothing, it just waved.
Where do you learn to make a banana split? Sundae school.
This graveyard looks overcrowded. People must be dying to get in.
Dad, can you put my shoes on? No, I don't think they'll fit me.
I have a joke about chemistry, but I don't think it will get a reaction.
What did Baby Corn say to Mama Corn?" "Where's Pop Corn?"

I love dad jokes but I don't have kids. Call me a Faux Pa.

I thought the dryer was shrinking my clothes. Turns out it was the refrigerator all along.
When two vegans get in an argument, is it still called a beef?
I don't trust stairs. They're always up to something.
What do you call a poor Santa Claus? St. Nickel-less.
What kind of car does an egg drive? A yolkswagen.
What do you call a fish wearing a bowtie? Sofishticated.
What do you call cheese that isn't yours? Nacho cheese.
Why did the math book look so sad? Because of all of its problems!
Dad, can you put the cat out? I didn't know it was on fire.
Why did the math book look so sad? Because of all of its problems!
How do you get a squirrel to like you? Act like a nut.
Why couldn't the bicycle stand up by itself? It was two tired.
I got carded at a liquor store, and my Blockbuster card accidentally fell out. The cashier said never mind.
What does a sprinter eat before a race? Nothing, they fast!
What has more letters than the alphabet?" "The post office!
Have you heard about the chocolate record player? It sounds pretty sweet.
What did the janitor say when he jumped out of the closet? Supplies!
Did you hear the rumor about butter? Well, I'm not going to spread it!
What did one hat say to the other? Stay here! I'm going on ahead.
Why did Billy get fired from the banana factory? He kept throwing away the bent ones.
What did one wall say to the other? I'll meet you at the corner.
I asked my dog what's two minus two. He said nothing.
Dad, did you get a haircut? No, I got them all cut!
What do you call a factory that makes okay products? A satisfactory.
Why don't eggs tell jokes? They'd crack each other up.
My wife is really mad at the fact that I have no sense of direction. So I packed up my stuff and right!
How does a taco say grace? Lettuce pray.
Where do fruits go on vacation? Pear-is!
What did the zero say to the eight? That belt looks good on you.
What's the best thing about Switzerland? I don't know, but the flag is a big plus.
Dear Math, grow up and solve your own problems.
I love telling Dad jokes. Sometimes, he even laughs.


Want to make Dad smile from afar? We can help -- and it's abot-kaya with Lalamove.
Other ways to make Dad laugh or smile
There are many ways to stamp a smille on any father's face on their special day. Here are some ideas.
A cup of joe -- or a bag of beans
For instance, dads who love coffee can be gifted their brew of preference from Kalinga or Batangas.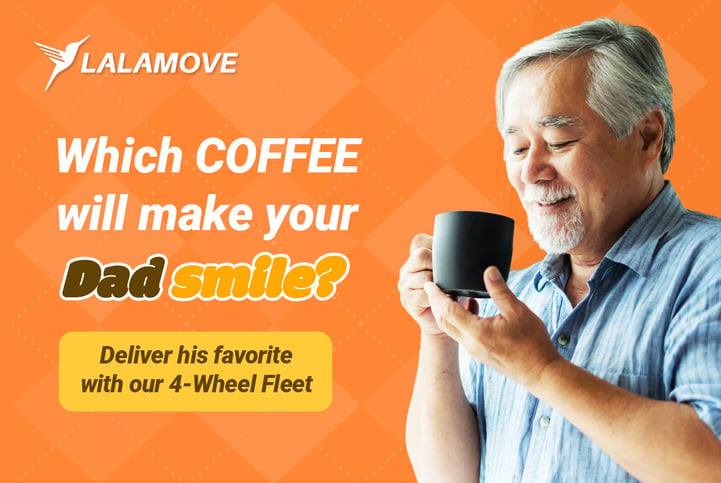 Dad o'clock tunes
Got a dad who loves to go cycling? Or a chef dad? However they want to spend their past time on, these tunes can make a dad smile. Head over to Spotify for more Dad-approved tunes: https://spoti.fi/3qqCths
PayDay for Dad's Day
Praticality runs deep for dads, especially for those who are business owners. So, what do they love? Savings!
To replenish business supplies or lipat-bahay trucking needs, here's our PayDay deal for Father's Day.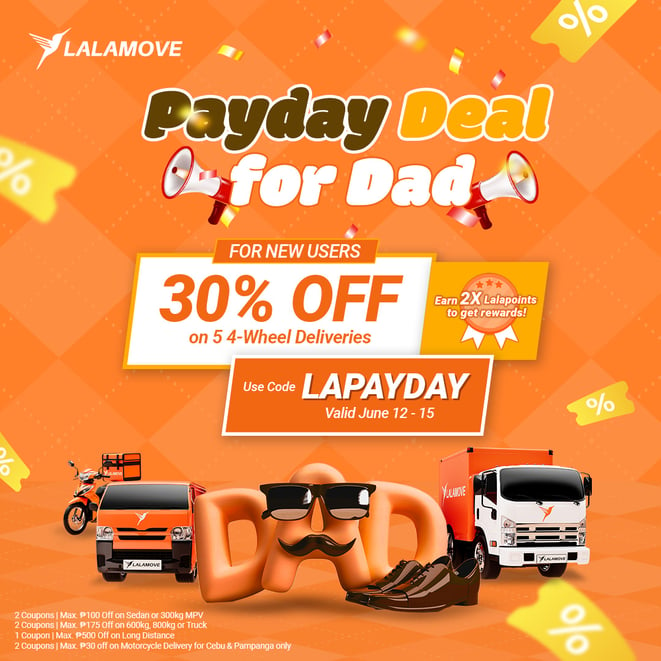 We hope all these dad jokes for Pinoy dads, and these ways can help you make your dad smile this Father's Day!
Use the code LABYUPA to get Php 1,950 worth of savings for your deliveries!