International Women's Day With Angie Leong, Founder Of Angie's Tempeh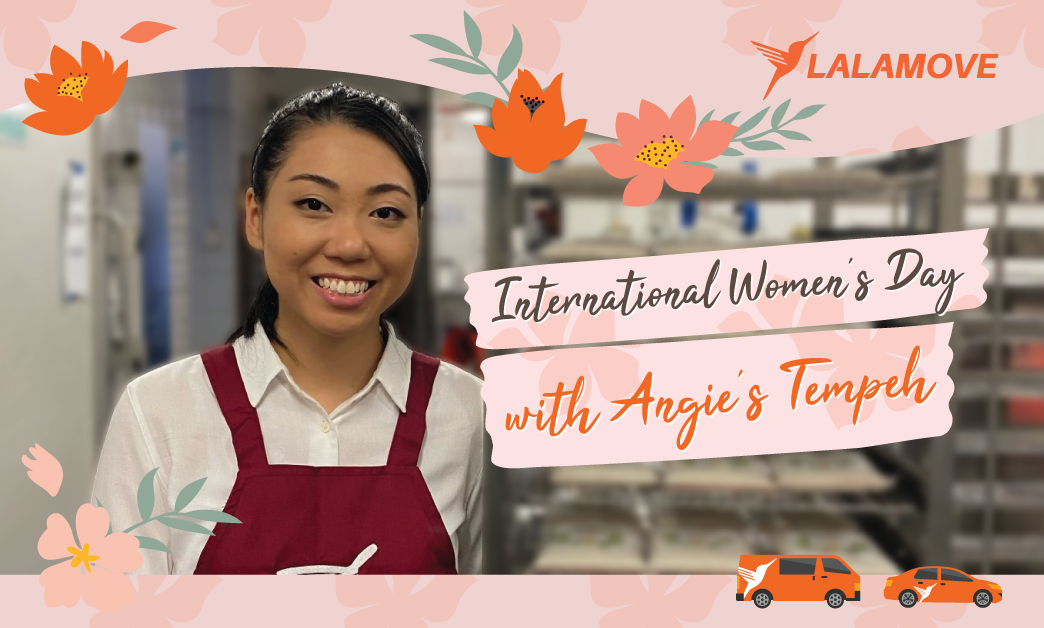 As part of our International Women's Day series, we would like to celebrate women's achievements by highlighting the professional challenges of female entrepreneurs and what empowers them day-to-day.
In this story, we have Angie Leong, co-founder of Angie's Tempeh, with us. A home-grown Singaporean e-commerce business in the alternative protein industry; Angie's Tempeh was inspired & created with the purpose of providing natural, delicious and healthy plant-based protein alternatives for individuals who choose not to eat meat for respective personal reasons.
Research curated by vegan food searcher app, Abillion, and supported by Enterprise Singapore regarding the plant-based wave in Singapore, depicts the interest in conscious consumption as well as the growing demand for plant-based alternatives.
In recent years, more people are demanding for change to limit the negative impact on the environment and communities that produce them. With that comes a rise in demand for a variety of meatless & sustainable food. Hence it's no surprise that the food industry has seen more home-grown to large-scale businesses hop aboard the idea of providing plant-based alternatives for their consumers to keep up with the demand.
Read on to find out more from Angie as she narrates from her perspective on being a female entrepreneur and the reasons for starting her plant-based alternative business here in Singapore.
LLM: We would like to know more about you! Please give us a brief introduction of yourself.
AL: Hi, I'm Angie, founder of successful e-commerce business in the alternative protein industry, Angie's Tempeh. Angie's Tempeh is a home-grown Singaporean brand, launched in March 2020. Our unique tempeh products have been trending on Instagram & Facebook. Adding to that, our story of making the world a better place through plant protein has touched the lives of many and earned us mainstream media publications in Channel News Asia, Channel 8 News, 联合早报, and South China Morning Post.
LLM: What do you think is your purpose in life?
AL: My purpose in life is to nourish people with wholesome plant protein. There are not a lot of options for individuals who choose not to eat meat, whether it is for animal rights, ethical, or religious reasons. I, myself, do not eat meat and find it very difficult to get the nourishment I need to have a well-balanced diet.
Tempeh was one of the food items that I came to know was a fermented superfood that had high protein content, was easily digestible, loaded with nutrients and prebiotics for gut health. However, in my opinion, the quality available in the market was not very good. In order to have enough tempeh to eat daily as a staple, I started making my own. And thus, Angie's Tempeh was born!
I believe my mission in life is to continue providing nutritious plant protein to everyone who needs it. Making tempeh is not an easy process. Only a few people have the dedication and grit to pursue this path. So I am really glad to have met many people in my entrepreneurial journey who believe in my mission and came on board to help me.
LLM: As a female entrepreneur, what are some of the challenges you've faced & how did you overcome them?
AL: One of the challenges I remember facing is coordinating hundreds of deliveries of tempeh in a day and trying to get them to all my customers. Back in 2020, when I was starting out, I did not know of Lalamove and hired a private driver to make the deliveries to my customers.
As tempeh is fresh food produce, it is best to have it delivered fresh to my customers. However, because of the long delivery routes, the driver would not be able to fully deliver the tempeh to my customers. At times, the tempeh would also overheat in the driver's car whilst in transit thus spoiling my product before it could reach my customers.
It was only a short time after, that I realised that taking care of the delivery routes and transit time was as important as making the tempeh. I take a lot of pride in my product and after it is harvested from the incubator, I want to ensure that it arrives to my customer in good condition.
Now with my organisation skills and planning of delivery routes together with the route optimisation function on the Lalamove web app, I can ensure that my tempeh arrives at my customers' doors within hours whilst the tempeh cultures are still alive! It is because I take so much pride in the quality and experience of delivering tempeh to my customers that they continuously come back to Angie's Tempeh.
LLM: How does Lalamove empower your day-to-day business? At the same time, if any, please share your experience on some of our platform services that you like and use often.
AL: Lalamove empowers my business significantly. If there was no Lalamove, Angie's Tempeh would not be as successful as it is today. Although on-demand delivery is expensive, especially to small business owners like myself, I can rest assured knowing that the delivery is carried out professionally because there is real-time GPS tracking and generally the drivers on Lalamove are very nice. I use Lalamove for all kinds of tasks that require a courier. Overall Lalamove is time-saving and an essential part of my business.
LLM: On the topic of logistics, have you observed a change in consumer behaviour due to the pandemic? If so, how does on-demand delivery play a part in it and moving forward, do you think there will be a continued demand for it?
AL: I think people are generally more open to buying things online now. Yes, there will be an ongoing demand for on-demand delivery.
LLM: The theme for International Women's Day 2022 is #BreakTheBias. What are your thoughts on it? And, in your opinion, what do you think can be done to accelerate gender equality in the workforce and economy?
AL: In my experience, women have their own strengths and unique contributions when they come onboard a team. I hope all women could be more confident so as to believe in their own capabilities and pursue them to the fullest extent to help close the gender equality gap.
LLM: Growing up, we all had our heroes that we looked up to as our role models. Which woman has inspired you the most and why?
AL: My female role models have been yoga teachers who I have met in my personal life. They have inspired me to live a life in pursuit of values like kindness, peace, and truth.
LLM: Finally, what is your advice to women who are looking to start their own businesses?
AL: My best advice would be to start small and see where it takes you!