Humans of Lalamove: International Women's Day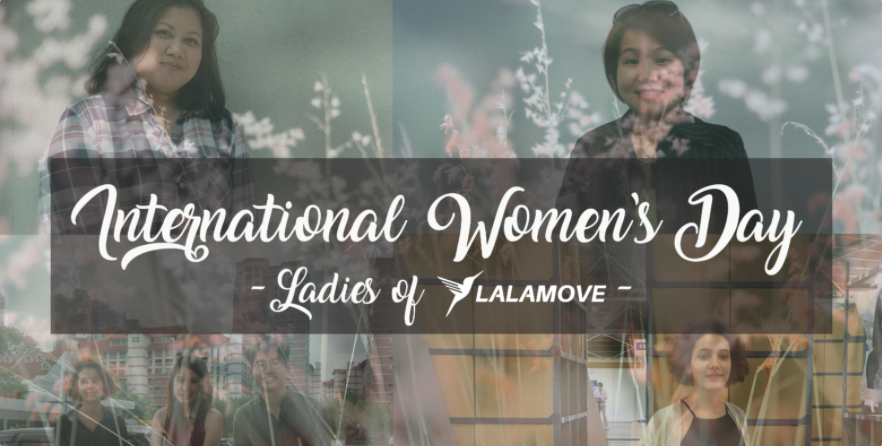 "Isn't it Women's day everyday already?" Well actually no.
Here's a quick introduction: International Women's Day started in the US while women were fighting to obtain equal rights during the 20th century (right to vote, better working conditions,fight inequalities...). But today, in 2017, the question remains if there is equality between females & males, and to what extent. International Women's Day exists in many countries and is used to discuss about women's achievements and their remaining goals.
Today you can ask a woman if she is proud of being one. She will probably say yes. Ask her if it is easy to be a woman. She will probably take more time to answer.
This year, the theme for International Women's Day is "Be Bold For Change". Coincidentally, the theme for United Nation's is themed "Women in the Changing World of Work: Planet 50-50 by 2030. This year's theme encourages women to reach their full potential and seek for a broader-minded work environment for them. Coincidentally, both titles focus on one word: Change.
Over the span of 2 weeks, we interviewed 5 ladies from the team, each with a different perspective. You may have seen an excerpt on our Facebook or Instagram page through the past week, but here are their thoughts in full. We hope you will enjoy this as much as we did interviewing them!
---
Humans of Lalamove: International Women's Day
"Well, I think International Women's Day is not so well known. A lot of people don't really understand the goal of this day. They don't see that there are still inequalities remaining, especially in the work environment. When a women is successful, I have the feeling that people try to justify it by saying it was because she was the wife of… or because she knew this particular person… or even because she is pretty. They have trouble saying that her success is completely linked to her choices, talent, personality.
I don't think there is equality between men and women, even in France. I have the feeling that in a complicated situation people tend to prefer dealing with a man then with a woman. They have the feeling that men are stronger and more able to face difficulties. I think it's getting better though but it's still not perfect.
Women in general face many obstacles, like mockery or lack of consideration.. For us to reach our ambitions we need to be brave and do better than what we are doing right now to allow ourselves to be successful."
"I've always wanted to have my own company one day. It's my wish to become a boss. Right now, I'm a full-time mother and a freelance driver on Lalamove, so my life is quite free and easy. And sometimes, my kids even follow me to work. They help out.
When I'm at the parking lot doing my deliveries, people stare. They think, 'what is this woman doing here.' Usually I just say 'Oh I'm doing delivery' and I just move on. I don't care about what people say. I believe women can do what men can do, too."
"There is a misunderstanding on what is equality. A lot of people are like "I don't want to be a feminist" or "I want to be a feminist". Recently I met someone doing a research and said that in work environments, it's still very hard for women. Guys get promoted on the potential they can offer to the company whereas women get promoted on past performances. Which is a huge difference right? People say "women have equal opportunities" but there are still some differences.
I don't want girls to feel that there is a path that they must take. I always believe that things will fall into place.
Generally speaking, I have the feeling that gender equality is quite cool in Singapore compared to other places I've been to. It's very close to Hong-Kong and Canada. In my line of work now, it's a very male dominant industry but still you see a lot of females being very comfortable working. Nowadays I also see that in a managing position there lots of females."
"I think women in Singapore are very fortunate already. I mean, you don't even need to see (other countries) but you just have to hear stories from foreigners, you know? Totally different. Even when they come to Singapore, they are scared to walk around in Singapore even if it's really safe. They have that mentality of fear built in them. I feel that the situation Singapore for women is considered better than other countries.
Gender inequality? No. Not in Singapore. In Singapore, women get to study as much as guys. So it doesn't really matter if you are female or male anymore. We are both 'dominant'. You can say it's good and bad. Bad because I feel in Singapore sometimes women can get so dominant that men cannot take it. They feel societal pressures of being a male as well. I think nowadays that's an issue for male more so than females."
"People from all walks of life sit in my vehicle sometimes. They tell me their life story, which is really interesting to me. From the very start till now, I've slowly gain experience in this trade and now I think I can call myself a expert. (laughs)
At the beginning, I did this for fun, for extra income. Now that I'm good at it, I feel satisfied and contented. I got to know a lot of people everyday; many also gave me opportunities, which is great.
Some customers can be quite mean. I've encountered a female customer who insisted that she wanted a man for the job. I tried to tell her that I won't have a problem handling it, but she wouldn't budge and insisted on a male driver. I feel that even as a female, we should be respected and not looked down upon. Some customers' comments make me feel hurt. It's a give and take though. Of course most of them are nice."
---
It can be hard to imagine how 15,000 women felt as the world witnessed its first ever demonstration of female power in the heart of New York City more than 100 years back.
But, when we take a look at the social constraints of simply having the fortune (or misfortune) to be born a woman back then, the importance of International Women's Day becomes clear. Up till that memorable day when the American ladies thought enough was enough, women were expected to play little more than a subordinate role to the men of their society. Women working in professional sectors were looked at with amusement. Elizabeth Garrett Anderson, the first qualified female physician in Britain, was hardly treated seriously by her counterparts at the workplace.
Things are thankfully better today. At Lalamove, we recognise the unique strengths of everyone regardless of gender. The world of work is changing, and with significant implications for women. On one hand, we have globalization, technological and digital revolution and the opportunities they bring, and on the other hand, the growing informality of labor, unstable livelihoods and incomes, new fiscal and trade policies and environmental impacts — all of which must be addressed in the context of women's economic empowerment.
May we one day have the chance to do our part for women in parts of the world that still conform to conservative mindsets which heavily discriminate against females.