Lalamove Enables Plain Vanilla's Foray into Online Food Delivery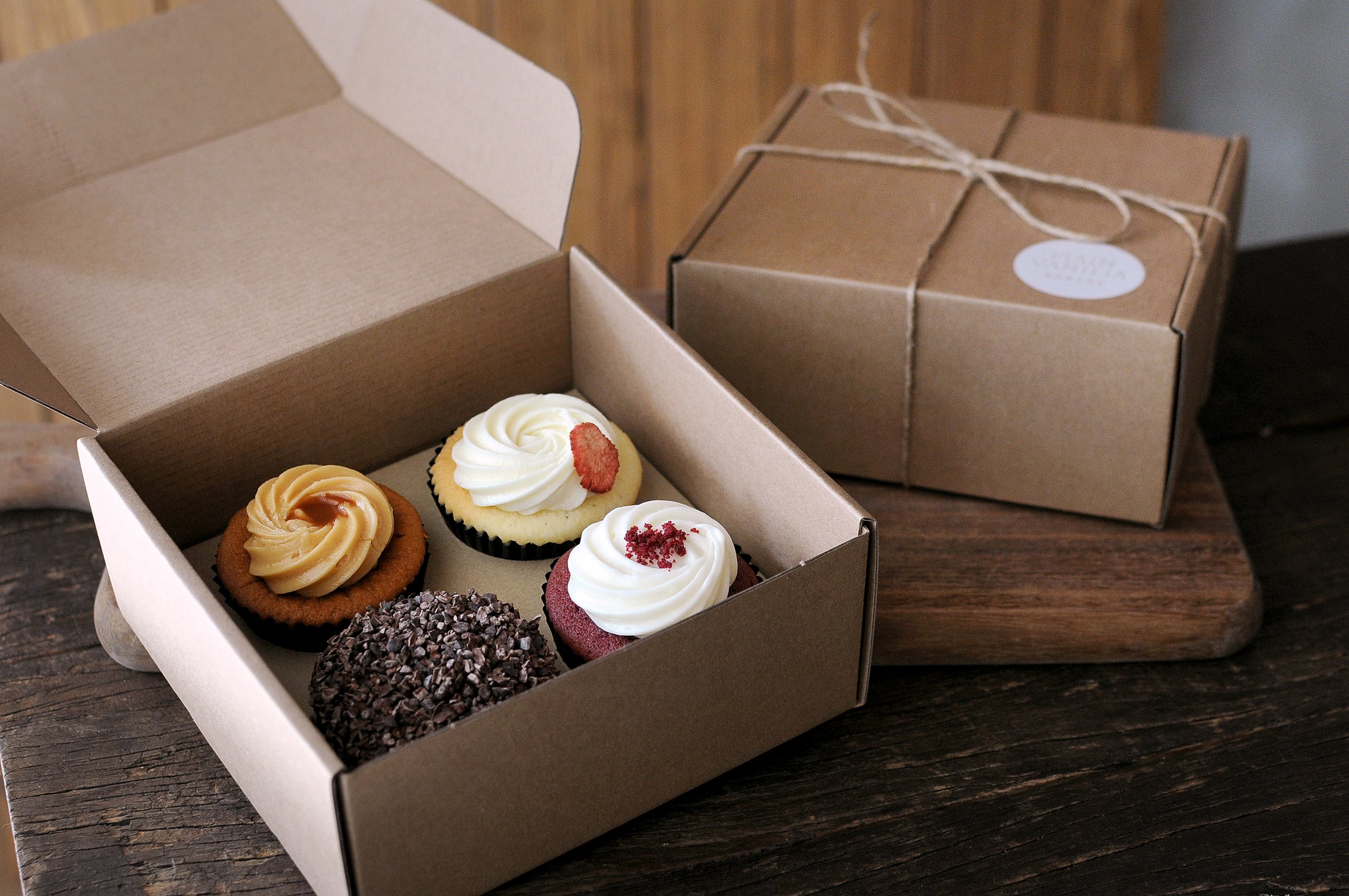 Do you love quality cupcakes and wholesome bakes? If so, Plain Vanilla may be familiar to you. From new store openings, hot deli food offerings to launching its e-commerce store this year, let's find out how Lalamove supports Plain Vanilla in growing its business and staying at the top of its food delivery game.
Having garnered a loyal following with its delectable bakes, Plain Vanilla is a well-known name in the local F&B industry. With 9 years in the patisserie scene and counting, it was founded in 2011 by Vanessa Kenchington, a former finance lawyer and self-taught baker.
Far from being plain, the company is well-loved for its baked goods, food, lifestyle products, and homewares. From its humble beginnings as a small takeaway stall, it is now a prominent brand with 4 outlets to its name. For a business committed to providing the freshest hand-crafted bakes made from wholesome ingredients without artificial preservatives, prompt and reliable food delivery is key.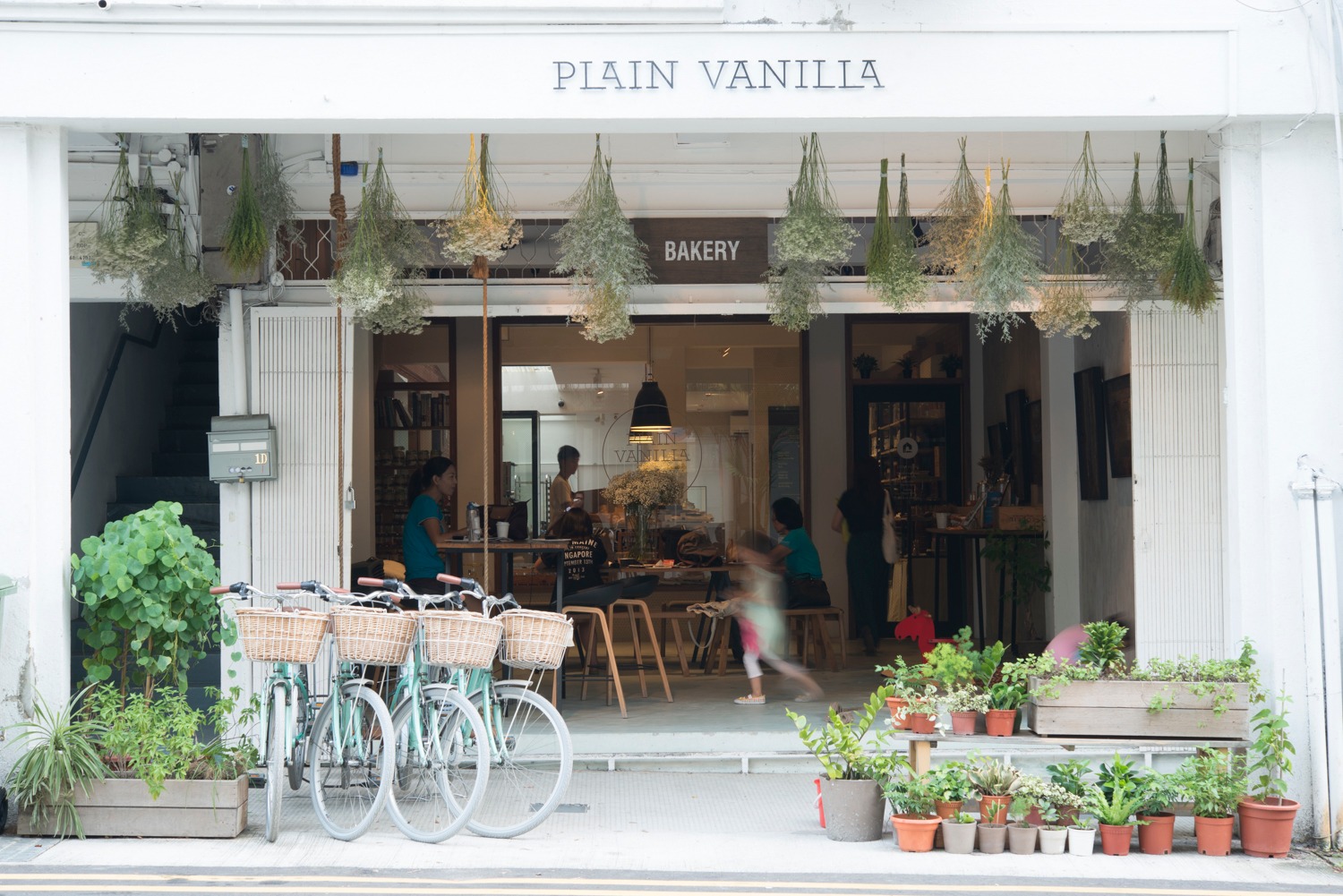 Plain Vanilla at Tiong Bahru
This time, we have Jia Xien, Plain Vanilla's O2O operations supervisor, with us!
1. Hi Jia Xien, glad to have you with us today. Could you share with us how food delivery plays a part in Plain Vanilla's internal operations and delivery for customers?
PV: Our deliveries can be grouped into three categories: residential deliveries, corporate deliveries, as well as requisitions — daily delivery requests made by stores to replenish ingredients or packaging shortages.
We launched our online website orderplainvanilla.com during Singapore's circuit breaker in
April this year. Deliveries make up roughly 17% of our sales revenue today, where two-thirds of these orders are same-day deliveries; Lalamove supports us on these same-day, residential deliveries.
2. I see, how was your initial logistic arrangement like before you engaged Lalamove?
PV: Before we engaged Lalamove, we only serviced orders that were placed in advance (as
opposed to same-day), relying fully on our in-house fleet consisting of up to 2 delivery drivers and vans at any one time.
With the launch of our online website and the increased demand for same-day deliveries, Lalamove has since enabled us to fulfil hundreds of same-day orders monthly.
3. What kind of challenges arose from running an internal delivery fleet?
PV: While running an internal delivery fleet allowed us greater control in quality standards, it also hampered our ability to scale with seasonal demands. Lalamove enabled us to meet unexpected surges without incurring unnecessary fixed costs, such as vehicle maintenance and salaries.
Another challenge was receiving frequent customer queries on the expected time of arrival of their deliveries and having to respond to them readily amidst busy store operations. Without an in-house GPS-enabled delivery tracking platform, we faced inefficiencies in having to call our drivers to check on the estimated arrival time, before reaching out to the customer again.
These days, Lalamove's platform sends an automated tracking link via SMS to customers for real-time updates on their delivery status. We have found that it has lessened the number of customer queries — just make sure you don't send the tracking link to the recipient receiving a surprise gift!
4. We're glad that you're enjoying that feature; our automatic tracking link is designed to give customers peace of mind! We find it satisfying to see the package make its way to its destination in real time too!
On another note, why did you choose Lalamove for your food deliveries?
PV: Lalamove made outsourcing our deliveries quite flexible and fuss-free. Its book-a-driver and select-a-time-slot scheduling system allow our logistics team to simply follow its schedule to pack, without the need to populate a document manually.
5. I see. In terms of savings, how was your logistics expenditure like after using Lalamove? What was the average expenditure for lull season deliveries with Lalamove?
PV: It was $12/order for nearby locations close to Tiong Bahru.
Sounds good, and what about peak season deliveries?
PV: $29/order for faraway locations like Woodlands, or when it is raining.
6. Nice. Has engaging Lalamove changed the number of employees in charge of logistics?
PV: While the size of our logistics team has remained the same, our volume of deliveries has increased and a new category of same-day orders can now be fulfilled.
7. How many deliveries can you fulfil in a month now with Lalamove?
PV: 500+ deliveries/month on average for lull seasons and 2000+ for peak seasons.
8. That's amazing! How do you feel about the quality of service by Lalamove? Are your employees empowered to get things done faster? Are you receiving fewer complaints about deliveries?
PV: We appreciate Lalamove's timely responses – it usually takes less than an hour to get a reply. We also like the 'Favourite Driver' feature as it ensures a higher quality of service. Our favourite drivers take extra caution in delivering our orders to avoid smashed bakes, follow the sequence of orders scheduled to ensure that hot food gets delivered first, and have always been kind enough to send us a photo for proof of delivery.
The Lalamove team also takes in our feedback, such as hiring more part-timers to support weekend troubleshooting enquiries when orders rose steeply during the Circuit Breaker period.
9. Wow that's awesome! We're glad that our customer service was able to give such satisfactory assistance. Besides the volume of deliveries in a month, did Lalamove help your business in improving the efficiency of deliveries?
PV: We are better able to offer deadline deliveries, where customers may choose a specified delivery time slot.
10. In terms of reach, does Lalamove help you to capture new customers?
PV: Yes. As our third-party delivery platforms (Grab, Deliveroo, Food Panda) only deliver to addresses within a limited radius of our stores, Lalamove's island-wide delivery capability has enabled us to reach audiences far beyond the geographical locations of our stores.
11. Yes, food delivery to any location in Singapore is indeed one of our X-factors! With our islandwide service, no customer is denied a well-deserved treat. Do you have a favourite feature?
PV: The easy-to-use app — any employee can learn it in half a day!
Awesome! Thanks so much for your time, Jia Xien!
Thank you, Plain Vanilla, for partnering with Lalamove for your food deliveries! We appreciate your support and are glad to assist you in the growth of your business!
Did you know, that in addition to careful drivers, selecting the right vehicle plays an important role in avoiding spoiled cakes?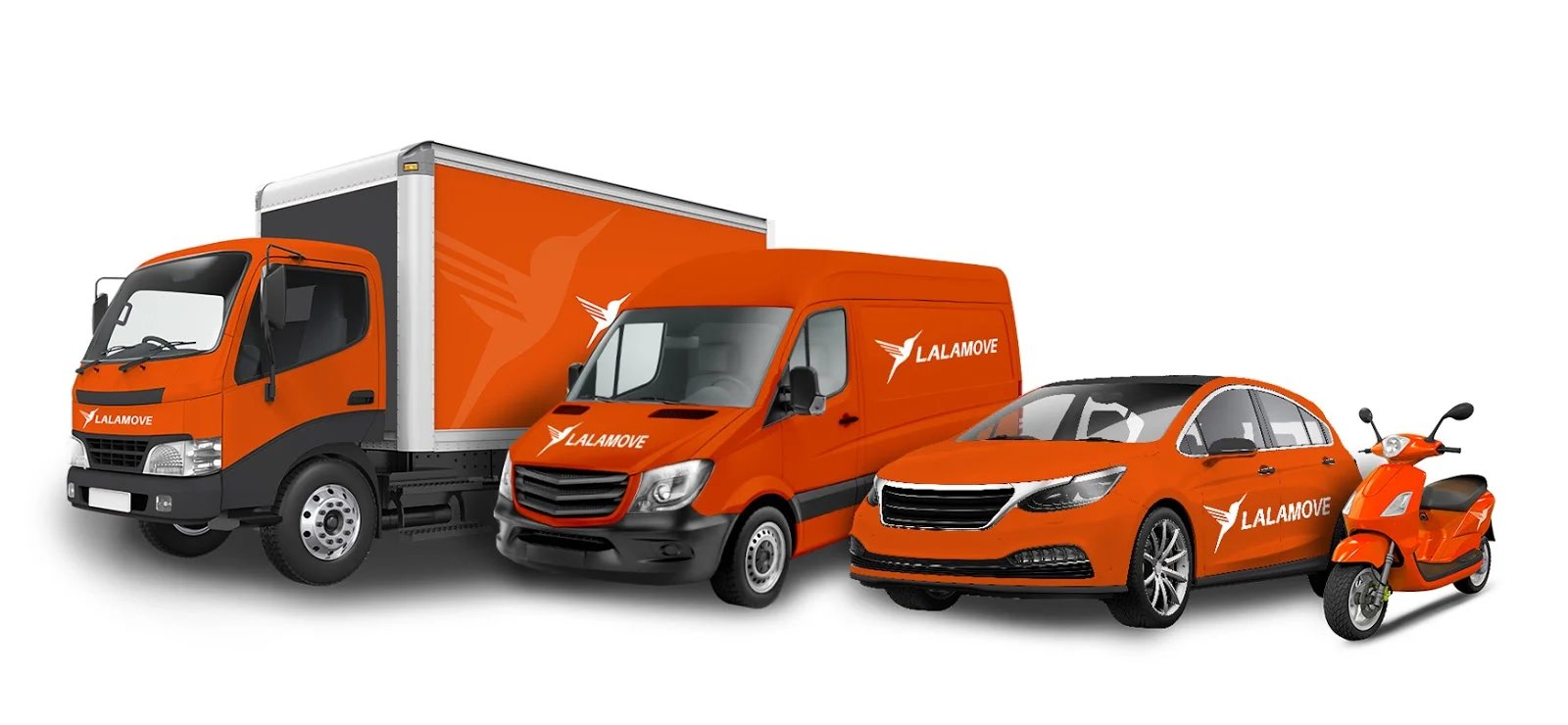 Our fleet of vehicles for every business need!
Beautiful Presentation With Lalamove's Stable Transportation
Cakes, with its fanciful frostings and delicate arrangement, are extremely fragile. To honour the effort of the baking team and provide the best customer experience, Lalamove takes extra care in ensuring that the cakes reach the destination in the best condition! To this end, Lalamove provides a selection of vehicles to match the needs of the business! For example, larger cakes are transported in cars for greater stability. Food delivery around Singapore, no matter the distance, is now a piece of cake!
Moreover, our Lalabags, special insulated food carriers, keep the cakes at their optimal temperature. This preserves the cakes' freshness for longer!
Saving Cost With Lalamove's Route Optimisation
To help Plain Vanilla save costs, Lalamove also provides multi-stop services. This groups non-urgent orders in the same geographical area together, boosting the efficiency in food delivery as goods are dropped off with fewer trips and mileage. In the process, fuel and effort are saved, allowing Lalamove to keep delivery costs affordable for Plain Vanilla!
Boost your Business with Lalamove Today!
In the age of digitalisation, effective food delivery plays a remarkable role in boosting one's business! For merchants in the F&B world, speed and quality are key metrics in the takeaway trade. With Lalamove, your food reaches your customers in all its freshness and impresses them, wherever they may be!
Are you a business owner looking to grow your business? Get in touch with Lalamove to find out how we can help you achieve and exceed your business goals!