Same Day Delivery: Business Solution To Enhance Client Experience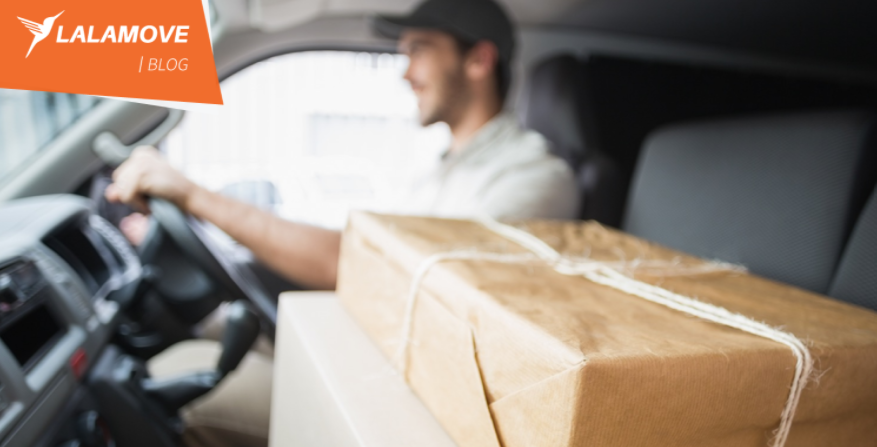 With tech-savvy Gen-Y defining market demand, e-tailing competition and changing technology, the ability to get your products out to client fast is the key to get ahead.
While the debate continues among logistics experts about whether customers have a need for speed or predictability (April 29, 2015, WSJ), one important consideration some businesses have neglected to consider is: how to reach more clients and give them what they want? Other than a good product, promising to deliver what it promises, what other ways can you get ahead as a company and brand in the eyes of future shoppers?
It is hard to neglect what has been coined as the profile of the future shopper: the all-consuming, tech-insatiable millennial generation, brought up to live and breathe in the digital age. It is thus no surprise that millennials, having grown up with the evolution of mega tech companies like Apple, Samsung and e-commerce explosion, believe in the concept of instant gratification as a prerequisite for a great customer experience.
Improving customer journey by offering same day delivery
Mobile penetration, the expansion of e-commerce giants like Amazon (in US), Taobao, Alibaba (China), Lazada and Zalora (South Asia) are all pushing the boundaries of what is currently defined as a great customer experience. Not only does an elevated customer experience encourage repeated sales leading to greater sales volume, but is also correlated to the speed and convenience of the transaction that leads to higher sales efficiency and lean inventory levels (high inventory turnover). It is not surprising that much emphasis is placed on technologies in the recent years to ensure a seamless experience throughout the entire customer journey. Improving singularly on one segment of the customer journey map (CJM) such as point-of-sales experience and neglecting other components such post-sales delivery support would be as grave a mistake as not having any improvements at all. A customer will not be happy if he/she is able to pay for a purchase with a click on his/her mobile app but only to receive the purchase two weeks later.
The question is whether it is worth the effort and pain to offer such a service? Even though such services are currently perceived to be a premium service, plenty of researches and work have been done to come to a conclusion that same day delivery will reaching a tipping point where it will be a commoditized service. The answer depends on how much it will cost, how fast the cost stabilizes and how much value could be reaped from this service.
Delivery fleet externalization, the key for flexibility and cost effectiveness
While e-commerce giants like Amazon, eBay and, even closer to home, Qoo10, are able to leverage on their existing supply chain efficiencies to experiment with instantaneous delivery services, smaller businesses are often faced with the dilemma and resource constraints of getting their merchandises to clients. Given the high costs of owning delivery vehicles (which will largely be underutilized) and worse yet, the costs (and pains) of managing an in-house delivery drivers fleet is enough to drive many a small business owner to force multiple days' delivery options to their clients.
SMEs (Small Medium Enterprises) and small businesses have been creative in Asia in managing their delivery challenges. Getting onto Gumtree to find any freelance driver they can find and getting these drivers to help deliver items specific days a week, using multi-day delivery services offered by local courier companies or even sharing a neighbour's delivery resources (if they can find such friendly neighbours) but all these solutions do not avail businesses to offer same day delivery services to clients at a manageable cost.
Driving down your logistic dependency through shared delivery assets
This was one of the initial reasons why Lalamove came up with the concept of sharing drivers across multiple users. Lalamove (previously known as EasyVan)'s key business model is building a platform where thousands of drivers across the island can be reached instantaneously. A simple mobile application, tapping onto GPS proximity advantage and user reviews and ratings, allows multiple business users to request for immediate delivery services and match them with drivers almost instantly.
The key to this model is simple. Transforming the old logistics matching model of finding drivers (who are looking for jobs) to businesses (who needs orders delivered) into a simple matching platform and marketplace. Orders are priced by distances and costs vary according to the additional requirements needed. So a same day delivery request (more than 2 hours) costs less than an immediate 1- or 2-hour express delivery.
Today, the model has moved far beyond the original concept. Lalamove has now evolved into a system which allows business users to put aside costs for delivery each week or month and leverage on these amounts only when they require the service. No more scrambling of cash claims and payments to drivers as drivers will be paid directly by through clients' prepaid accounts.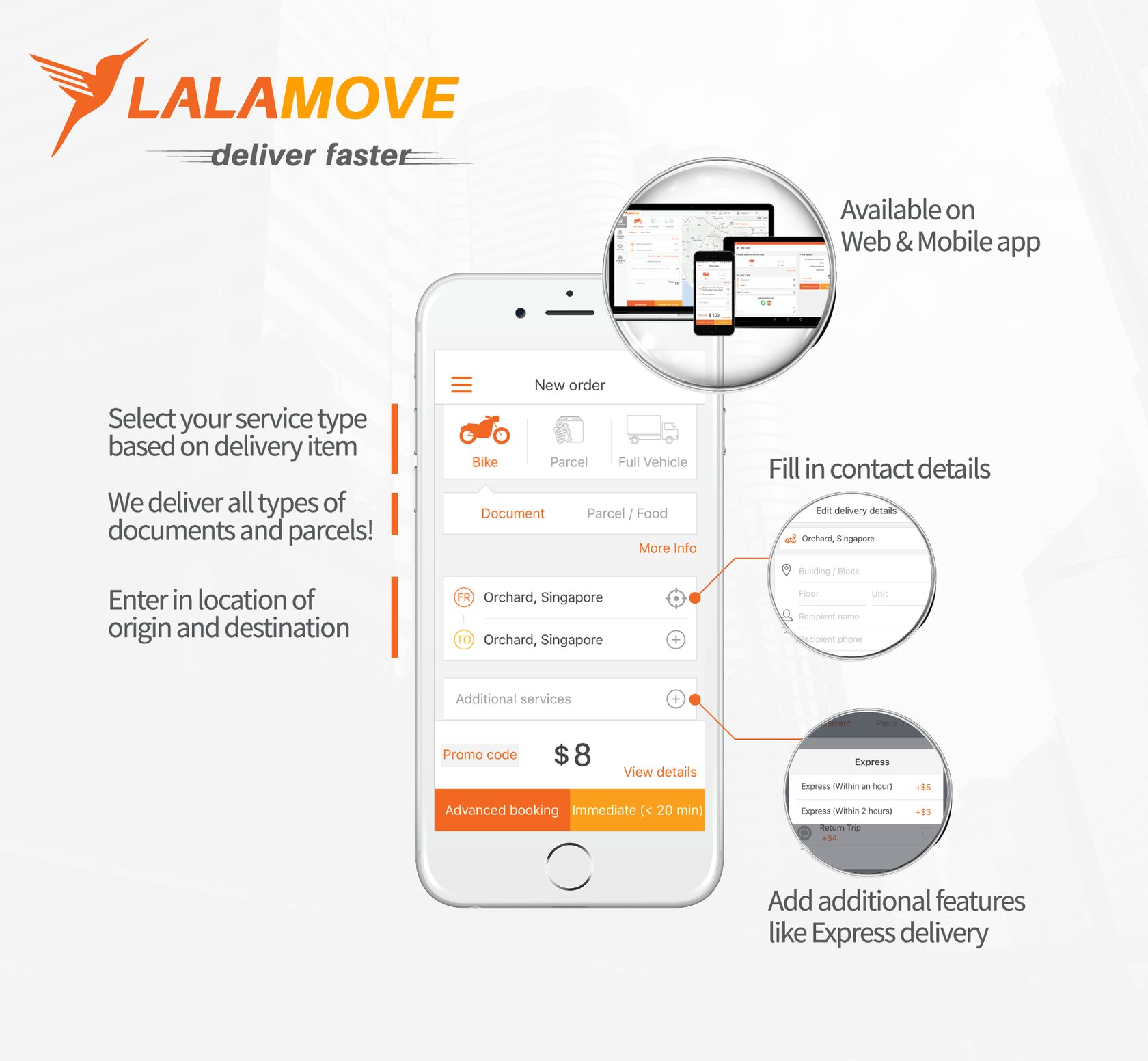 The beauty of such an on-demand delivery third party platform is that with the consolidation of thousands of orders each day in multiple districts across the island, drivers will be picking up multiple items in specific zones around the same time and deliver all items throughout the day. With the consolidation of orders, average costs of orders will be pushed down since drivers are able to save on time and petrol spent picking up from ten different districts to ten different areas across the island. The concept and costs tagged to a Point A to B order, a typical same day delivery request, is now averaged out with drivers – technically a win-win situation for both users and drivers. To add to the ability to provide an enhanced service to clients, businesses are also able to literally be engaged in the delivery process with live GPS tracking of their product in transit made available to both businesses and their clients through sharing functions.
Providing a complete offline to online experience, insuring the best user exeprience
Of course, as the model pans itself out, incidents like differing and miscommunication of client and delivery requirements do occur. Lalamove works with a backup Client Services team to act as the go-between in the event of delivery hiccups. The golden rule to this model is that volume of orders and the consolidation of orders will maintain itself to attract further supply of drivers and in the long run, greater transparency in not only same day delivery, but all delivery costs in general.
While most next or multiple day deliveries are provided at a fixed cost to businesses, revealing the real cost of delivery to businesses (and even clients) can also assist to provide further information to make future expansion decisions. For example, for a business owner, questions like, if most of the same day delivery demand are to be sent to a specific district in Singapore, does it make sense for my warehouse to be located closer to those areas? If client requests for delivery to be sent at a specific time of the day, does it make sense for my online advertising strategy to be different to tap on this on demand clients? The possibilities are seemingly endless.
Having an inbuilt wallet system (a new feature launched on 26th of February 2016) also allows business users to track and maintain their costs in a more convenient way. All delivery costs are actively tracked together with delivery history and SMEs will find the cashless ability to handle delivery as seamless as possible. There is also the added benefit of only making sure that payment is made to freelance drivers only when the deliveries are completed, adding an additional layer of trust to an on-demand delivery model.
The most important thing however, to the targeted clientele – who live and breathe instant gratification and want everything now – is that they are able to request for an instant delivery service when they need it, receives it almost instantly and reduces their pain of planning ahead to receiving a parcel, a meal or a large purchase. Seeing something online materialise into a product within hours reinforces and re-affirms the clients' positive experience with and belief in the system. Even as current standards of service expectations are being breached, we have opened their eyes to new levels and possibilities of standards.
You are now a differentiated merchant in the eyes of your client.