Calligraphy or lettering have become so popular these days, especially on weddings, debuts, and other parties and life events. With Christmas coming up soon, there will be a handful of people who would surely love to give out special letters to their loved ones to spread holiday cheer. If you are interested in making this a business opportunity for you to cash in some extra money for the season, then you are in luck because we're here to give you some basic tips on how to make a calligraphy business!
Basic Supplies You'll Need

The most basic and convenient tool you can get yourself would be to get a calligraphy fountain pen. You can also get the pen holder and nibs separately, which may cost more, but if it makes writing more comfortable, then you must invest in it. You can choose between an oblique or a straight pen holder, with the only difference being that the oblique one holds the nibs at a steep angle which would be helpful in making spencerian or copperplate hands. Next thing you should get would be ink. Since your clients would have differing tastes, you should stock up on different basic colors (primary and secondary colors, black and white), since you can create the other hues using the fundamental ones. Lastly, you'd need a bunch of good quality blank paper, envelopes, cards and other items where you'd write on. For a comprehensive list of the other items and equipment that you'll need, you can check out this list made by designer and YouTuber Lisa Siefert.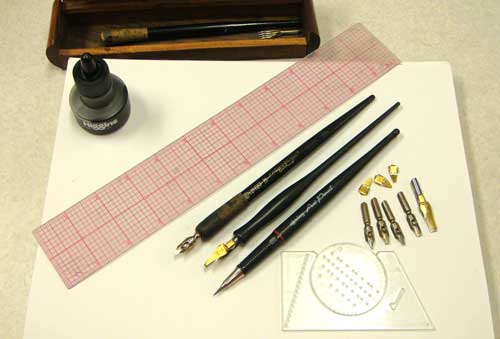 Sell Your Products Online
Now that you're ready with your equipment, and you've made some samples, you must post them online. Make sure your calligraphies are done with a bit of flair to make it more enticing for your customers. Since Instagram is filled with lifestyle content, and is also a big avenue for online sellers, it would be a great spot to post your creations. Aside from actual Instagram posts, you can also put your works in a Story to make your followers know your works in progress. Pinterest is also a good place to showcase your calligraphies since a lot of people go there to get art inspiration. You can simply post you works and state in the captions how you can be reached for commissioned works. Lastly, although it's not very popular in the Philippines yet (or at least not as big as the former platforms), Etsy is a good place to sell your creations. since it's a lifestyle online marketplace.
Go The Extra Mile
To provide a seamless purchasing experience for the customers you'll get from the aforementioned sites, you should definitely offer delivery service - which Lalamove can help you with! With our multi-stop feature that lets you add 20 stops per booking, you can send the letters for your customer to make the experience more hassle-free for them. Talk about great service!