Art on the Lalamove: Bringing Art into Communities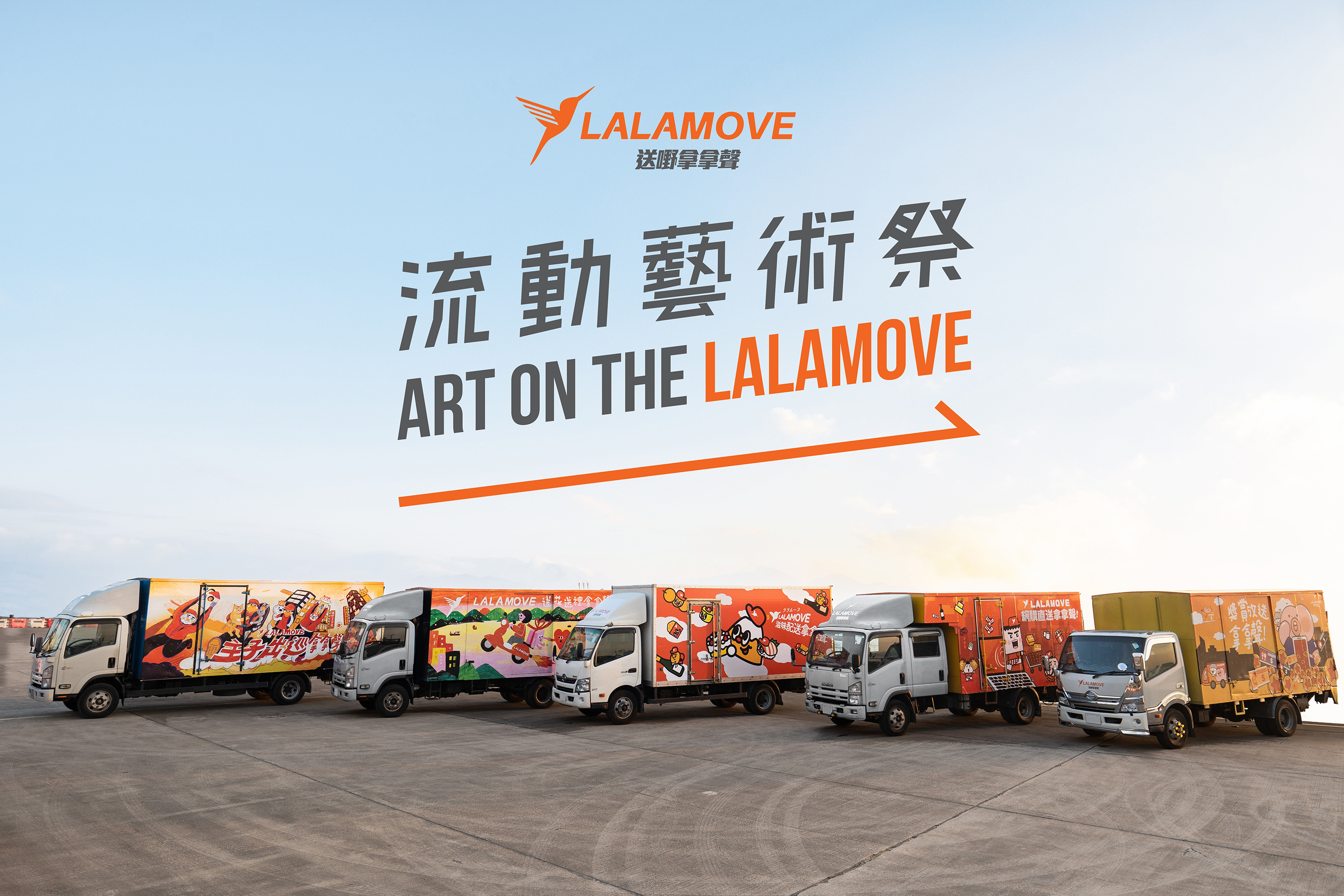 (Hong Kong, November 23, 2022) Passionate in promoting local arts and culture, 24/7 on-demand delivery platform Lalamove returns with another collaboration with local artists to curate a Mobile Art Festival. Five artists transformed Lalamove trucks into mobile artworks in their unique styles, depicting memorable delivery stories ranging from food delivery, e-commerce couriers, gifting, pets travelling to Lalamove Rewards.
Local artists Mr. Japin, DDED, LOSZEHAHA, All Things Bright and Beautiful, and LLH, portray how Lalamove and driver partners make use of its instant and reliable service enables SMEs to deliver the fruits of their hard work into the hand of their customers; or how they send love and care on behalf of customers to their loved ones. Each artist's signature characters are transformed into Lalamove's driver partners, hidden in the mobile masterpieces for fans to discover. Starting today, the 10 moving galleries will roam the streets of Hong Kong. Take a snap of the trucks around town to win limited-edition crossover gifts!
"Lalamove is not only committed to transforming the logistics industry through technology, we are also dedicated to breaking the stereotype of delivery. We are delighted to collaborate with five popular local artists this year to paint our trucks with vibrant delivery stories. Bringing the behind-the-scenes of our fleet to life in the form of accessible art pieces Hong Kongers can see in all parts of Hong Kong, the campaign seeks to highlight that we do more than just delivering goods — every delivery is filled with colorful and unique stories and every mile embodies the trust our customers place in us," said Kristie Cheung, Head of Marketing Communications, Lalamove.
Mr.Japin(@mr.japin) "Lalalicious"
Mr. Japin is known for his adorable characters, Mt.Fuji and Little Kurako, who have turned into Lalamove driver partners with their makeover, leading a troop of little munchies to deliver delicacies. Wearing Lalamove's orange helmets, Mt.Fuji, Little Kurako and the munchies will be zipping in the sky, bringing the cuisines straight to customers' doorsteps!
DDED(@ddedhk) "LalaDelivers"
DDED's "DD Boy" has always been a shy homebody. Going on a shopping spree, DD Boy ordered a bunch of goodies online — fruits, clothes, game consoles and Lalamove fleet took care of his delivery needs and sent gifts and goods across town to his home at the click of the button.
LOSZEHAHA(@venusphilosophy) "LalaPets"
LOSZEHAHAHA's signature style features three primary colors. She uses a dash of orange this time to represent Lalamove and depicts Lalamove driver partners' mission in sending pets of all sizes around town safely and promptly. LOSZEHAHAHA's favorite cat president has blended herself into the art piece, waiting to be spotted by her followers!
All Things Bright and Beautiful(@allthings_hk) "LalaGiving"
All Things Bright and Beautiful's works are known for their crayon-like style, with a sense of childlike innocence and warmth. The artist's iconic heart and flower drawings are transformed into thoughtful gifts, symbolizing that Lalamove embraces each delivery of loving gifts from our customers with all our hearts to recipients as soon as possible.
LLH(@llh.story)"LalaRewards"
Always charming and energetic under LLH's pen, Pipi decides to join Lalamove's fleet. Carrying gifts on a yellow somersault cloud, Pipi delivers heartfelt gifts such as coupons and LalaPoints to customers with speed round the clock, sending joy and surprises to Lalamove members.
The festival is also graced with Lalamove's collaboration with popular local surrealism artist Surreal HK (@surrealhk) on Instagram. Transforming a Lalamove truck into a jet-supported airship zooming round the skyscrapers-bound Victoria Harbour, the wheels have become gravity-defying jets engines scooting together with the five characters of the festival to provide instant delivery!