Lalamove Turns Trucks Into Moving Art Pieces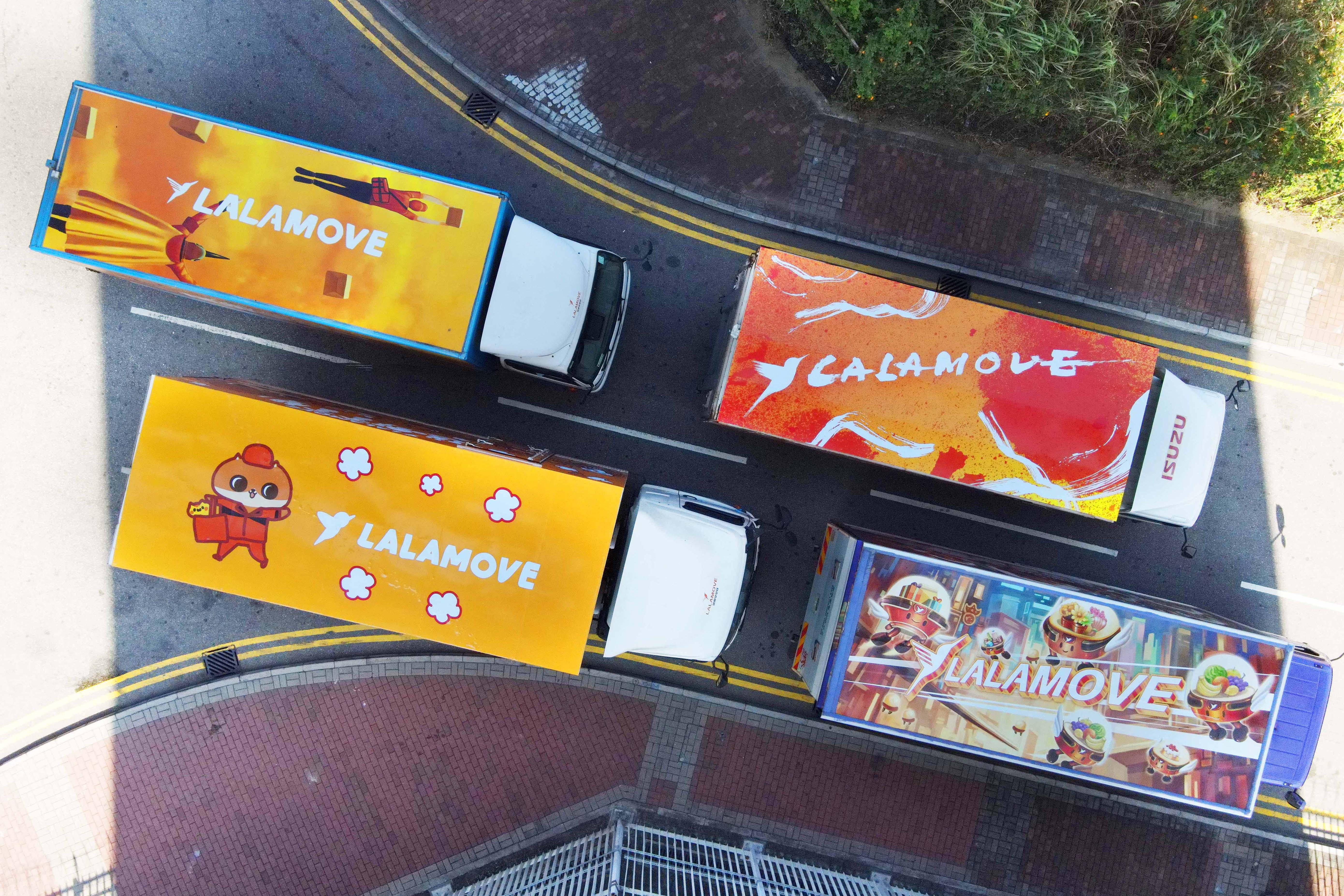 Creative campaign to support local artists and repaint the image of trucks
(Hong Kong, November 25, 2021) –Lalamove, the leading 24/7 on-demand delivery platform has launched a new campaign to turn their delivery trucks into roving works of art. The campaign aims to give Lalamove trucks a fresh look, and decorate the streets with art and colors, while promoting local artistic talents.
The artists, Din Dong, PureHay Art, Thomas napoleon, and Wa Gor, took Lalamove's brand color orange as inspiration, and presented Lalamove's fast, reliable, and diverse range of services through each of their unique styles. From November 25 onwards, the eight limited-edition trucks will roam the streets of Hong Kong for six consecutive months, celebrating the company's 8th anniversary.
Alex Kwan, Director, Marketing, Lalamove said "Lalamove is not just about delivering goods. We are helping people to solve their daily problems by bringing convenience through our reliable and fast delivery service. We are pleased to partner with four talented local artists to together transform the trucks, which are usually regarded as functional tools, into art pieces that pedestrians could appreciate. We welcome more driver-partners to join this campaign and turn their trucks into walking works of art that form parts of Hong Kongers' lives, like Lalamove's services."
Lalamove is giving out special prizes* to selected consumers who successfully capture and post pictures of the special-edition trucks on Instagram with a caption on how they plan to deliver joy to their friends and family this Christmas tagging @lalamovehk and #LalamoveSupportsLocalArtist. The event will last from 25 November to 15 December.
The Lalamove trucks will make a surprise appearance on Haiphong Road in Tsim Sha Tsui on 5 December. Din Dong Cat will also join the party to deliver joy.
Lalamove x local cartoon character Din Dong Cat truck wrap design
The adorable Din Dong Cat character is known to soothe and warm hearts. This time, Din Dong Cat and his friends are dressing up as Lalamove's driver-partners and couriers to deliver all kinds of goods, including their furry friends, delivering surprises to Hong Kongers in every district.
Lalamove x local illustrator PureHay Art truck wrap design
PureHay Art, President of the Hong Kong Illustrators Association, is an experienced digital artist with many awards under his belt. He employed his well-known' 'digital punk' style and turned Lalamove's delivered parcels into deconstructed goods inside delivery robots' headpieces, presenting Lalamove's services in a futuristic way.
Lalamove x local illustrator Thomas napoleon truck wrap design
Thomas napoleon regularly shares his illustrations online to inspire and transport his fans to a world of imagination. He created a dreamy delivery scene that captures Lalamove driver and walker partners who deliver food and all kinds of goods to every corner of the city with flying speed. The robot he created marked the number "1022", echoing Lalamove's anniversary.
Lalamove x local calligrapher Wa Gor truck wrap design
Wa Gor's calligraphy can be seen on numerous Hong Kong movie posters. He incorporated traditional Chinese calligraphy into his artwork, giving Lalamove's brand slogan an extra oomph with his distinct calligraphic style. His strong and powerful strokes furnish the truck with an understated beauty while conveying a sense of safety and reliability – what Lalamove's delivery service is known for.
* Promotion is subject to terms and conditions.