Research reveals 65% of SMEs face logistics challenges; more than half plan to increase usage of on-demand delivery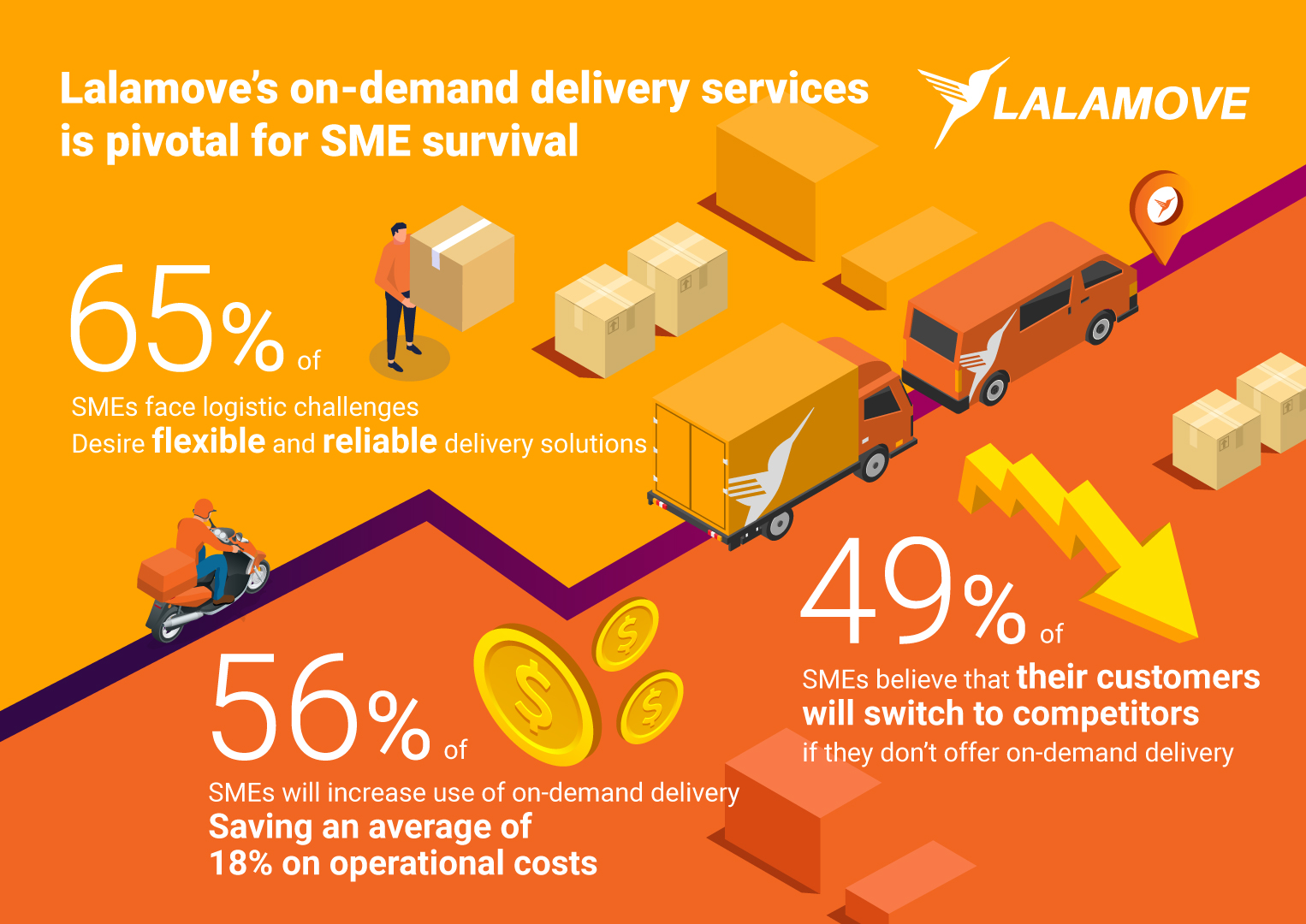 Lalamove's fast, flexible and reliable on-demand delivery services prove to be a catalyst for SME survival
(Hong Kong, February 8, 2022) – Lalamove, a 24/7 on-demand delivery platform committed to providing flexible and reliable logistics services for its customers, released results from a market survey* which shows that 65% of SMEs' operational pain points stem from logistics. Outsourcing delivery saves SMEs an average of 18% operational costs and over half of the respondents intend to increase the use of on-demand delivery services in the future. On-demand delivery is expected to be widely adopted across industries and act as a catalyst for SME business recovery and growth.
65% of SME operational pain points arise from logistics concerns; 70% of SMEs desire more flexible delivery solutions
Cash flow is often regarded as a key operational concern faced by SMEs. However, Lalamove's survey indicated that nearly two-thirds of SMEs are facing logistics challenges such as finding a reliable service provider and access to transparent pricing. Lalamove's one-stop corporate solutions for SMEs ensure they can track and monitor the delivery process and have access to a transparent pricing list and point-to-point charging scheme, making cost-management free of any hassles or surprises.
70% of respondents said that they are looking for more flexible delivery options compared to three or four years ago. Both online or brick-and-mortar store owners agree that flexible logistics services that offer different vehicle options and value-added services can help grow their businesses by increasing efficiency in operations. With over 45,000 driver and walker partners covering five types of vehicle options including walkers, Lalamove unlocks access to instant and on-demand delivery services for SMEs, at the same time providing value-added services in the value chain such as fulfillment and warehouse services.
Gary Chow, Managing Director of Lalamove Hong Kong, said, "The results of this survey show that on-demand delivery service is instrumental in helping all types of SMEs improve operational efficiency and it is becoming a catalyst for business expansion by enabling SMEs to seize every opportunity to scale their business. We are seeing a growth in revenue contributed by SMEs, reflecting how on-demand delivery is increasingly helping businesses tackle logistics challenges and allocate resources in a more flexible manner."
On-demand delivery helps reduce operational costs by nearly 20% - half of the surveyed SMEs believe lack of access to on-demand delivery services would mean losing end-customers to competitors
On-demand delivery services are crucial to the business development of SMEs. 49% of respondents agree that not being able to offer on-demand delivery of goods could see them risk losing end-customers to competitors. SMEs also stated that the outsourcing of delivery services can help them reduce operational costs by an average of 18%, allowing them to allocate resources towards employee or facility development. This is especially true for micro-enterprises with four or fewer employees, who can reallocate the money saved for business expansion.
On-demand delivery a rising trend - More than half of the surveyed SMEs plans to increase the use of on-demand delivery
SMEs of all types require delivery services more than ever. Nearly 60% of respondents saw an increase in delivery orders in 2021. 48% of SMEs said they increased use of on-demand delivery by 29%, while 8% said that the increase of demand is more than 20%. Interestingly, data shows that some SMEs that saw a drop in delivery orders are opting for on-demand delivery to better manage expenses according to actual needs.
The survey also revealed that 56% of respondents plan to increase their use of on-demand delivery services, and 18% will increase it by more than 20% in the next 12 months, indicating on-demand delivery use by SMEs looks set to be a rising trend.
Safety and speed are key
Many SMEs believe today's customers not only want same-day or instant delivery of goods (66%) but also expect deliveries at specific times (68%). It is also worth noting that nearly 80% of SMEs agree that customers increasingly want to track goods in real-time and exercise control over the entire delivery process from the time of receipt to actual delivery. Lalamove offers GPS tracking services and allows customers to specify delivery time, fulfilling customer expectations on a more transparent and personalised delivery experience.
The survey also reveals that SMEs would like a shorter order matching time. Nearly half (44%) of SMEs surveyed stated that an order matching time of more than 30 seconds is too slow while 23% of respondents hope the order matching time can be reduced to 15 seconds or less with 10% even hoping that a driver can be matched within 5 seconds. In addition, nearly half of SMEs (47%) surveyed stated they wanted on-demand delivery service providers to add value by offering order fulfillment services such as picking and packaging while over a third consider warehouse management services (35%) to be important.
Backed by a stable stream of driver-partners, Lalamove can complete order matching as quickly as within three seconds. The faster the orders are matched, the more SMEs stand to benefit. SMEs can also provide better customer experience service that supports their business development.
*Lalamove commissioned market research firm Kantar to conduct a survey of 300 SMEs in Hong Kong in January 2022on topics including operational challenges, changes in logistics needs and usage, and usage habits and reasons for using on-demand delivery services studying the various pain points and issues faced by SMEs. Lalamove provides tailored on-demand logistic solutions for SMEs to help them achieve business expansion and other goals.