How To Get Customised Business Logistics Solution With Lalamove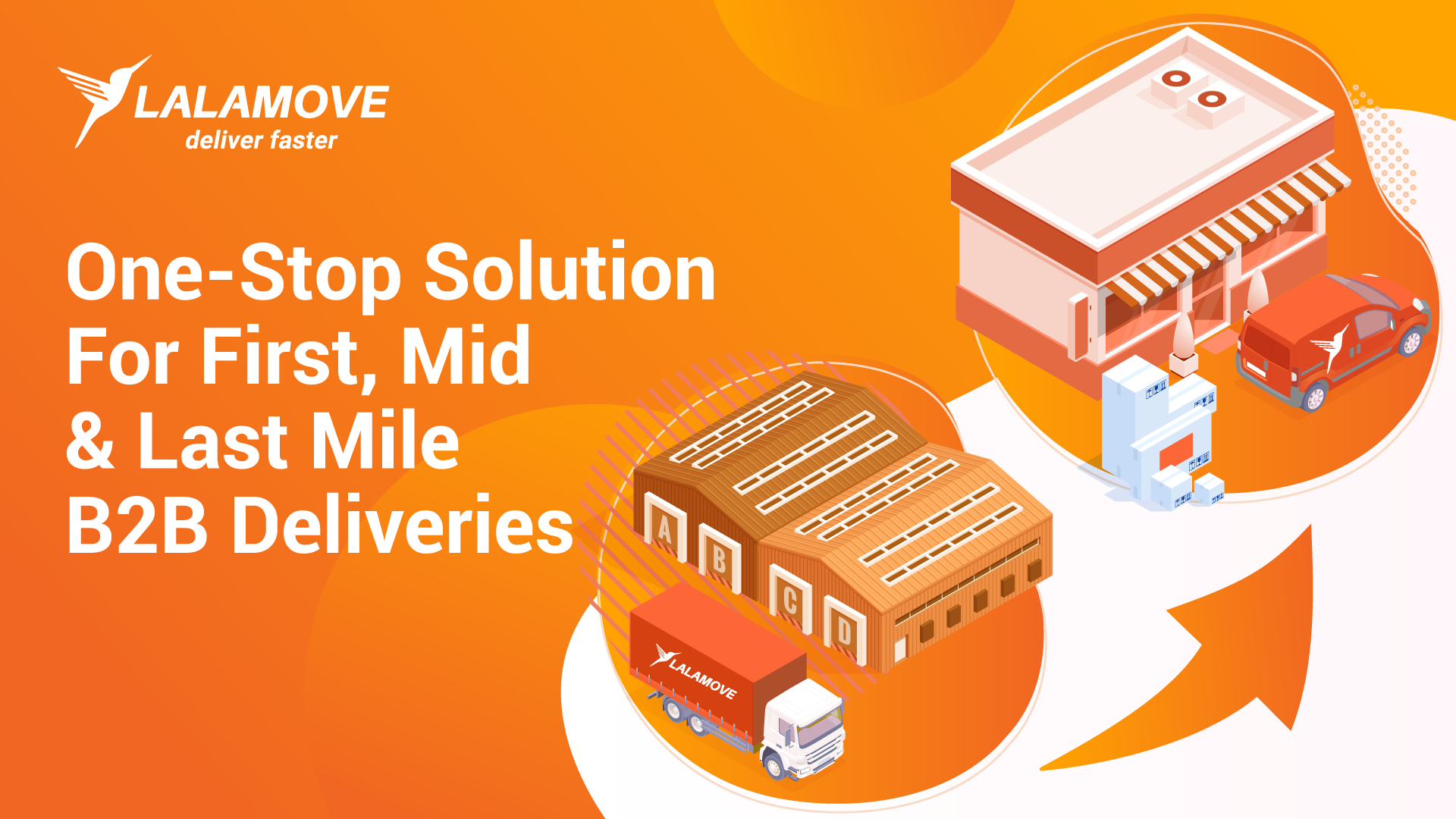 Lalamove has become synonymous with on-demand business deliveries in the last mile leg of the supply chain.
But in reality, logistics entails more than passing your merchandise to customers' waiting hands.
The bigger picture of logistics is packed with diversified stakeholders, pricing structures and stages that precede last mile deliveries, such as:
- Return delivery due to recipient's absence
- High frequency of scheduled deliveries
- Restock of merchandise in a network of outlets
- Economy of scale-driven pricing structure
- A fleet of fixed drivers that you know by name
In other words?
There are countless variables in logistics that require personalised solutions to optimise operations.
In this blog, you'll learn about our latest service, Lalamove Customised Solutions.
If you need a customised business logistics arrangement that covers a wider scope than our flagship on-demand delivery services, you're at the right place.
Let's dive in.
What Are Lalamove Customised Solutions?
With Lalamove Customised Solutions, you'll have more freedom to shape the requirements and price points you need from Lalamove.
This freedom is driven by Service Level Agreement (SLA) between your business and us.
Furthermore, Lalamove Customised Solutions covers the whole breadth of the logistics chain. First mile, mid mile, last mile, and every phase between them - we'll tailor the SOPs and costs that work for you in all stages!
This greater coverage empowers you to streamline and optimise your business' top-to-bottom logistics.
Key Features Of Lalamove Customised Solutions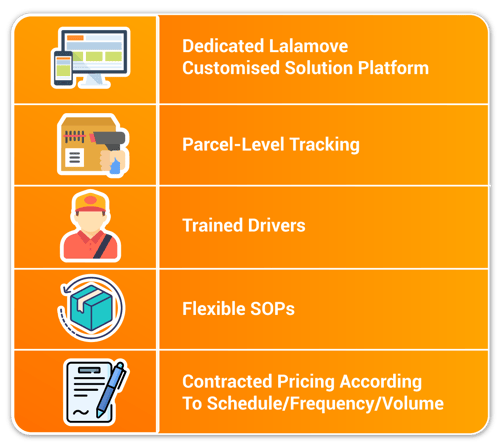 If You Have These Requirements, We Can Make It Work For You!
1. High Volume Deliveries With Concentrated Drop Off Points
More parcels and drop-off points in a single delivery = Improved delivery and cost efficiencies
2. Non-Urgent Pick Up
Placing delivery orders in advance is a norm for your operations.
3. Guaranteed Fulfilment
Securing complete delivery within the agreed SLA for individual parcels is a non-negotiable KPI for you.
4. Unique Identifier For Individual Parcels
A critical component of Lalamove Customised Solutions is tracking visibility at the parcel level. Our platform can generate waybills and label to facilitate individual parcel tracking.
What Will You Get With Lalamove Customised Solutions?
1. Service Level Agreement (SLA)
Every aspect of your on-the-road logistics can be tailored to your requirements. The ultimate goal of our SLA with you is to secure total compliance with your SOPs, such as guaranteed drivers for deliveries and on-time fulfilment.
2. Fixed/Contracted Pricing
We'll offer a customised pricing structure that fits your operations profile. Do you prefer a price per drop or parcel volume? We'll find a way to make it happen for you!
3. Flexible Delivery SOP
As cumbersome as they are, failed deliveries are parts and parcels of logistics operations. Our delivery partners will return unaccepted parcels to you in the event of a failed delivery. We'll tailor our SOPs to align with your SOPs to cover all possibilities.
4. Trained Delivery Partners
A fleet of trained delivery partners will be ready to serve your business. This guarantee of trained manpower translates into a 100% fulfilment rate and compliance with your SOPs.
5. Parcel-Level Tracking
Generate waybills from our platform to enable parcel-level tracking. You'll have a better oversight on the status of individual parcels along the journey, such as 'Item picked-up', 'Item delivered', and 'Item returned'.
6. Proof Of Delivery And End Of Day (EOD) Reports
Parcel visibility along the delivery journey doesn't end with parcel-level tracking. Pictures of the parcel at the recipient's address and EOD reports add value to the delivery's transparency.
7. Account Management Support
Forget about the customary calls to customer service for logistics troubleshooting. With Lalamove Customised Solutions, you'll have preferred access to an assigned account manager to iron out any wrinkles in your delivery arrangements.
In Conclusion?
Lalamove Customised Solutions serves your business needs in the broader scope of logistics. The customisable nature of our pricing model (per drop or by weight) and SOPs is a value that sets us apart from traditional logistics companies. When coupled with SLA-driven terms, same day deliveries and dedicated support from our operations and account management teams, you'll have more room to optimise your end-to-end logistics.
So how do you plan to take advantage of Lalamove Customised Solutions?
Will you count on us for your weekly replenishment of merchandise at your retail stores?
Perhaps you're looking for a holistic logistics provider with a steady fleet supply and a strong brand presence?
Or do you prefer an SLA pricing structure instead of distance-based pricing for a greater economic sense for your operations?