Raya Bergaya Bazaar - Unique Online-Offline Shopping Ideas | Lalamove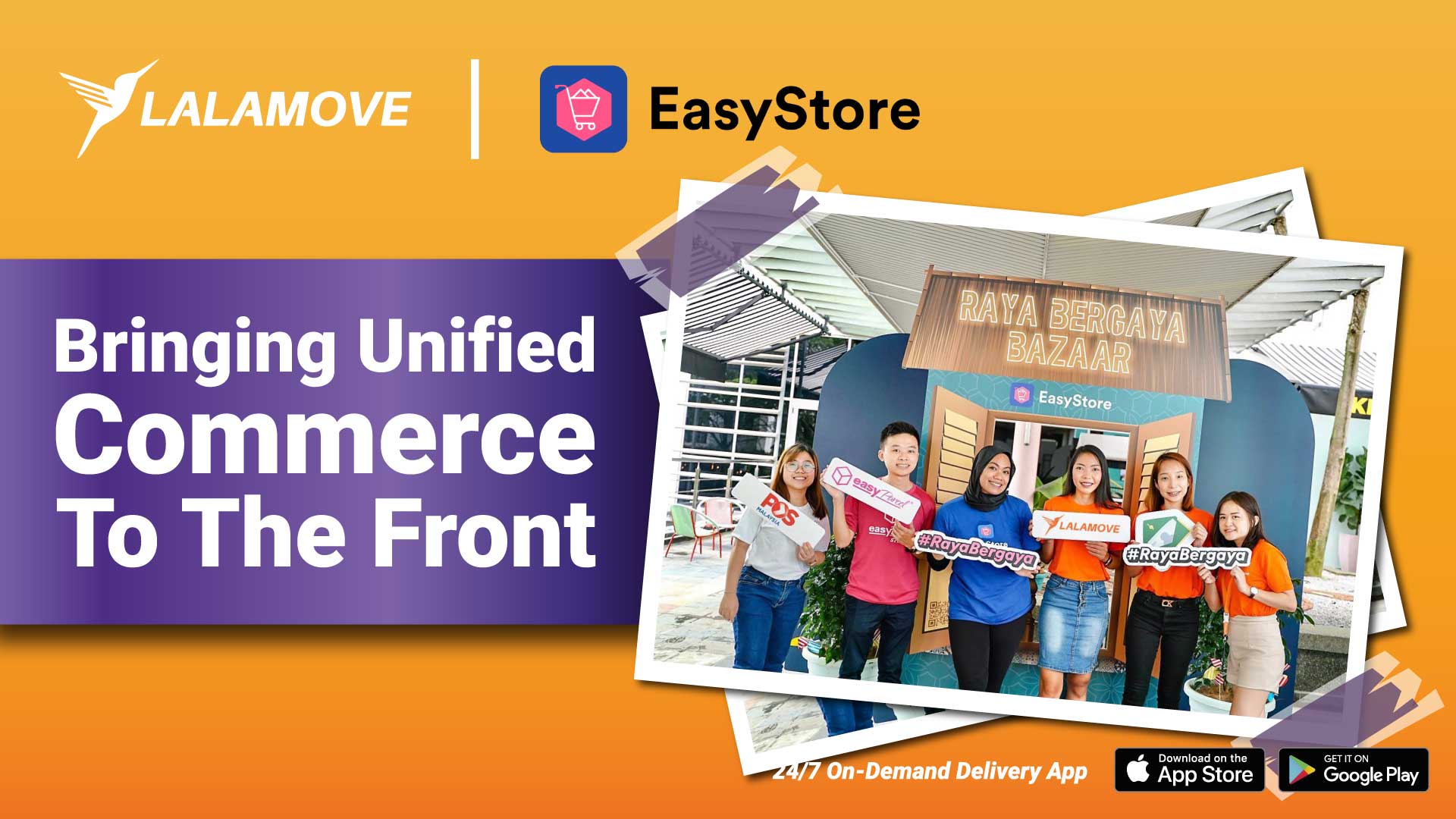 What do you get when a unified commerce solutions startup and an artisanal marketplace for local brands join forces?
That's precisely what happened when EasyStore and Kedai KL collaborated for the first-of-its-kind Raya Bergaya Bazaar!
The bazaar offered an unforgettable shopping experience for customers as well as merchants alike, thanks to the bazaar's merge of online and offline shopping concept.
This early puasa month shopping event took place recently from 25th March to 26th March at Kedai KL. True to the spirit of the artisanal marketplace, the event featured over 20 homegrown brands, such as Kyra Shahrol, Valent Skin, Tiqa Collection and September Bakes.
But that's not all. EasyStore also called upon the support of its partners Lalamove and Pos Malaysia to amplify the success of Raya Bergaya Bazaar.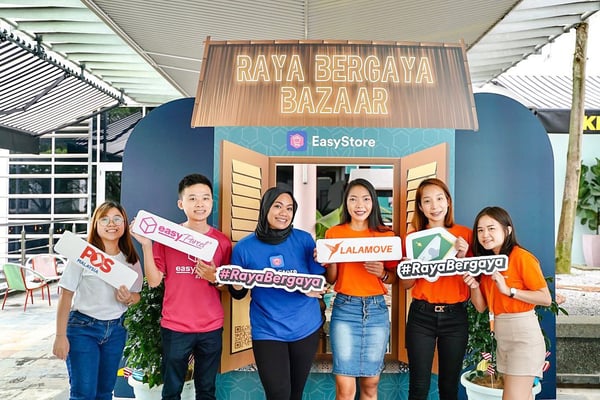 When everyone comes together with a common purpose, amazing things can happen!
Lalamove gave bazaar visitors more reasons to smile by handing out free goodie bags with a special coupon code for their first delivery. To top it off, Lalamove invited four of their business clients to join in on the retailing fun!
Merging Physical And Digital Shopping
EasyStore's Raya Bergaya Bazaar was a perfect avenue to showcase the potential of an online and offline shopping hybrid.
With EasyStore's Unified Commerce solution, the bazaar merchants could easily turn their mobile devices into Point-of-Sales that are linked to their online store.
The solution enabled the synchronisation of orders, inventory and customer databases across multiple sales channels under one system.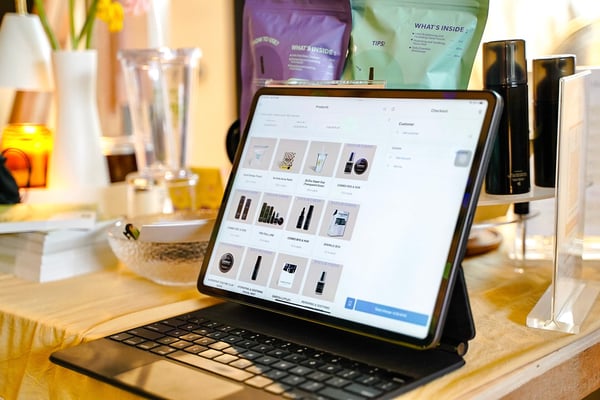 EasyStore's POS in action
The bazaar visitors were also encouraged to install a shopping app on their mobile devices to immerse themselves in the hybrid shopping experience. With the shopping app, bazaar visitors could register an account, view the merchants' catalogues, and collect points with purchases.
But the beauty of online-offline shopping didn't stop there. The bazaar visitors could also shop from the brands of their choice after they left the bazaar.

Staying In Touch With Customers
The bazaar proved to be a memorable event for Benang By Nini, an EasyStore merchant who had the opportunity to foster valuable connections with customers through their first pop-up stall.
Not only did they manage to meet new customers among the bazaar crowd. Their loyal online followers were eager to finally interact with their beloved brand in person and purchase merchandise directly from the pop-up store.
The sales figure of Benang By Nini was the first among successful proof of online and offline shopping concept, where their embroidered jute bags and keychains were all snapped up in just two days!
Another merchant that left a lasting impression at the bazaar was a business client of Lalamove, September Bakes. Their famous brookies, boasting a chewy texture that melts in the mouth, were a huge crowd-pleaser.
Besides their famous brookies, September Bakes took advantage of the event to promote their limited edition Raya cookie box that came with a personalised greeting card.
The skilled culinary artisans behind the brand, especially its founder, gave a thumbs up to the bazaar as the event allowed them to physically interact with customers and win over new followers.
The ability to create a lasting relationship with customers beyond the point of sale is a skill that separates successful businesses from the rest. Valent Skin and Yoake Florist, two of the bazaar merchants, implemented this principle with the aid of EasyStore's POS system.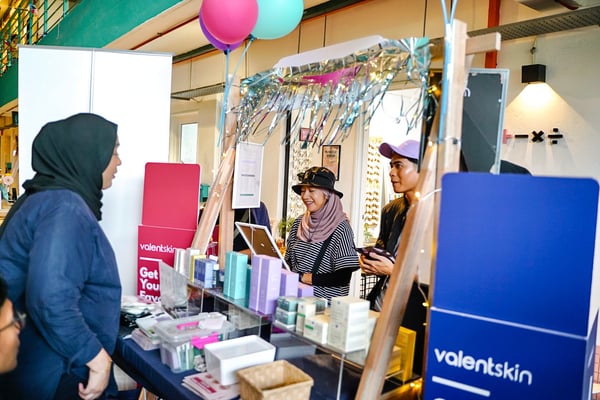 Valentskin's pop-up store at Raya Bergaya Bazaar
Valent Skin requested the details of the customers' phone numbers and email addresses before passing the customers' purchases with a free gift. They would key in the details in Easystore POS and segmented the customers as 'Raya Bergaya Bazaar Visitors'.
So, what's the goal of this segmentation?
Now, Valent Skin can target the customers under the Raya Bergaya Bazaar segment to shout out promotions through email, WhatsApp and SMS notifications! These shoutouts can be performed easily with EasyStore's Message Broadcast feature, which is a tool to streamline announcements to a target audience.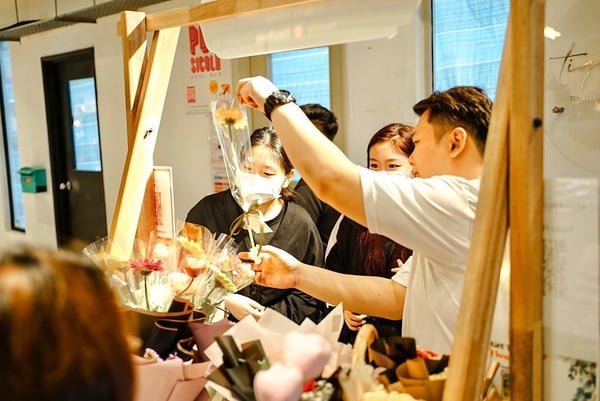 Yoake Florist's pop-up store at Raya Bergaya Bazaar
Yoake Florist practised the same strategy with EasyStore's POS system, albeit with a slight twist. Yoake Florist created engaging customer experiences by giving a free flower bouquet in exchange for their contact details, resulting in the capture of 80 leads at the bazaar.
It's amazing how EasyStore's POS system has transformed these businesses into customer-centric powerhouses!
The Future Of Unified Commerce
With the rise of online shopping through various platforms such as social media, Shopee, Lazada, and TikTok Shop, it can be easy to forget the value of a physical presence for online businesses.
However, nothing compares to the convenience of shopping in person and building a face-to-face relationship with customers.
Bazaars and pop-up shops provide digitally native retailers with the opportunity to connect with their customers on a personal level and establish a tangible brand experience.
In short, adopting the unified commerce model of online-offline shopping experience offers extended reach to the right audience, acquisition of customers' data to generate future sales and offering the privilege of personalised, face-to-face interactions with customers.

Head over to EasyStore to learn more about tailored unified commerce solutions.
Regardless if you're running an online store, a retail store, or a mix of both, all businesses need to deliver to their customers. Lalamove offers a comprehensive delivery suite for businesses of all kinds and sizes!
Visit our business page to learn more about how we can empower your business deliveries with a special account.