Unlocking eCommerce Success: Last-Mile Delivery's Edge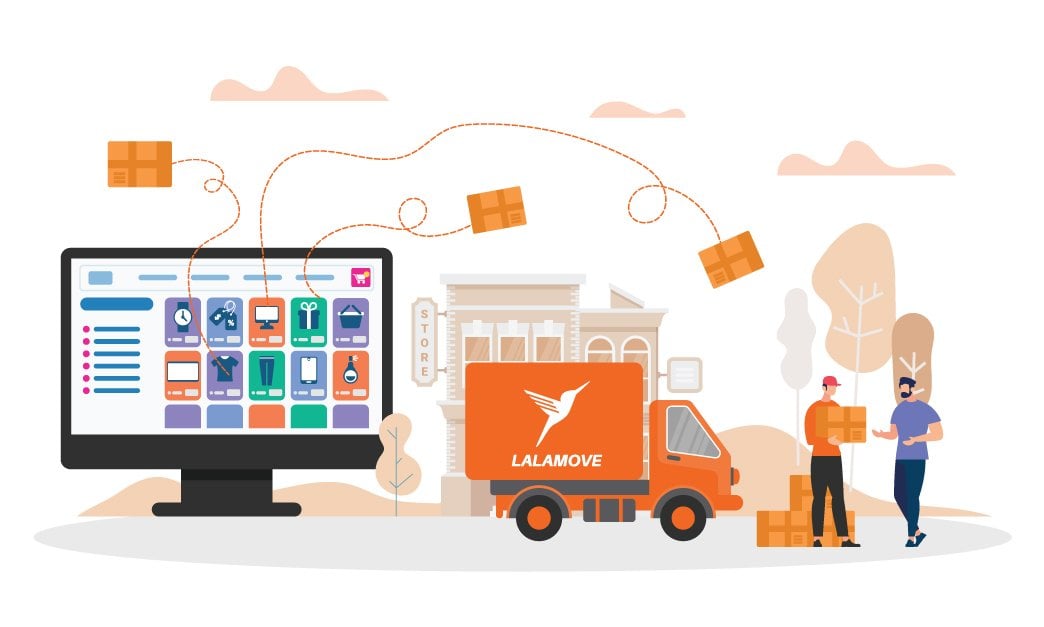 Don't underestimate that last leg of delivery; it can make a huge difference.
Did you know that the journey between your warehouse and your customers' doorstep can determine a lot for your business? Poor last mile delivery results in messy dispatching of goods, disgruntled customers, lost parcels... the list goes on. Reversely, powered-up last mile delivery gives you streamlined operation procedures, greater convenience, loyal customers that become advocates of your brand and more! In fact, these are key factors that really amp up your business and earnings! Here's what we mean.
1. Optimised Last Mile Delivery Facilitates Faster Flow of Goods
Same day delivery on demand
Effective last mile delivery lets you complete urgent orders easily! Here at Lalamove, we make that happen with our same-day delivery islandwide! Whether you're an online furniture shop with bulky and heavy furniture, or a clothing store, our team of drivers can deliver your products to your customers within the day. With our express 55-minute deliveries, your customers experience instant gratification in every sense of the word.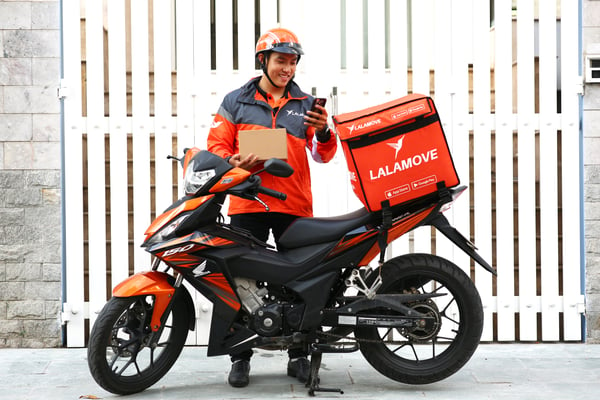 Quick deployment of drivers
Great last mile delivery is usually powered by an efficient driver management system. For example, here at Lalamove, the short driver matching time helps us keep deliveries prompt. On average, we take as little as 25 seconds to assign a driver or rider for your delivery. No kidding! Also, the average waiting time for a driver to arrive is 20 minutes for most users.This helps you to achieve quicker deliveries!
2. It Also Saves You Money
Why make multiple trips when you can have just one? Most effective last mile delivery companies in Singapore like Lalamove have optimised route strategies that group drop-off locations within the same area. At Lalamove, multiple drop-offs save on fuel and manpower too, helping us keep delivery fees low for you!
3. It Grants Everyone Peace of Mind by Keeping Processes Transparent
Without transparent procedures such as live tracking, there is limited control of your goods once they leave the warehouse. This would be especially worrying for high-value orders. Save the nail biting and anxiety for your favourite thriller movies! For last mile delivery companies in Singapore with live tracking features like Lalamove, you get a bird's eye view every step of the way, enabling you to deliver confidently. What's more, with us, you get that dopamine rush that comes with every successful delivery, as you receive live updates when customers receive the goods and sign. Mission accomplished!
For the customers looking forward to their gifts, real-time tracking allows them to see the progress of their delivery too. How exciting!
4. It Leads to Faster Order Fulfilment and Hence More Revenue!
Ask any customer and they are likely to share that aside from the quality and value of the products, the delivery experience is a key factor that decides whether they repurchase or not. With quicker delivery and real-time tracking of the parcel around Singapore, optimised last mile delivery minimizes the possible friction in processes, making sure that your customers choose you again and again.
In the meantime, with each customer order procedure shortened, more orders can be fulfilled per day, leading to more business and revenue.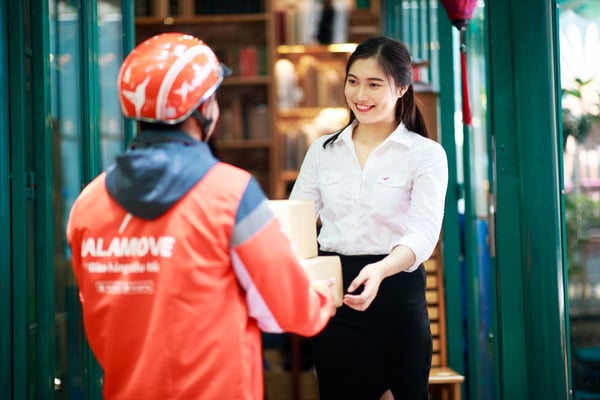 Don't do it yourself, just outsource the tedious work to Lalamove! This way, you can free up time to focus on managing your business. Here's why you should choose us: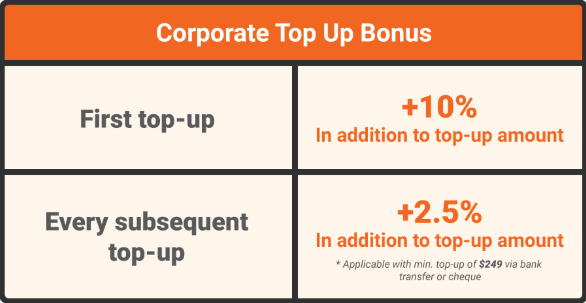 Save More with Corporate Discounts
Whether you're a newcomer or a familiar friend, we appreciate your support and reward you for delivering with us! Join us and get an extra 10% value in addition to your top-up amount! For those who are topping up, get an extra 2.5% value in addition to the top-up amount.
Check out https://www.lalamove.com/en-sg/faq/business-corporate-benefit to find out other corporate perks and benefits!
Reduce Overhead Spending and Manpower Costs with Operations Scaled to your Needs
For many companies with in-house delivery services, maintenance fees for their vehicles and drivers' salaries would take a portion out of their revenue, even when demand for delivery is low. Avoid this sticky situation by outsourcing your delivery to a third party like Lalamove! This way, you enjoy greater flexibility, mobilising only the resources you need. Whatever your needs, our fleet of motorcycles, cars, vans and lorries are ready for activation!
Moreover, we strategically work out a schedule that works best for you and your customers, achieving both convenience and customer happiness. On top of that, we look into order demand trends that fluctuate with the seasons, so that we're always prepared for your delivery needs.
Through the peak and lull periods, we are by your side, scaling to your needs so that you save most!
Harness Lalamove's Logistics Expertise
Are you a small eCommerce business? Just starting out? Don't worry about the lack of experience in logistics handling, for we are here to help you! As an industry leader, Lalamove has a profound understanding of logistics management, garnered from managing deliveries for businesses from diverse industries. With us, you can expect seamless last mile delivery to any location in Singapore.
Experience Awesome Customer Service….
As the saying goes, "customer is king"! As our valued customer, rest assured that our service team goes above and beyond to meet your expectations. Friendly, knowledgeable and professional, they are prompt in answering all your doubts and queries.
...and Provide It too!
We're not only here for you, but also ensure that your customers are happy! Our professional drivers have undergone stringent training, and are well-versed in liaising with customers and handling fragile, bulky, and heavy items. This ensures that your last mile delivery is a breeze.
By making your customers happy, we convert them into loyal fans who actively recommend and repeatedly order! This leads to boosted profit and growth for your business. Everyone wins!