HR Monthly: Interview with Charlie Chen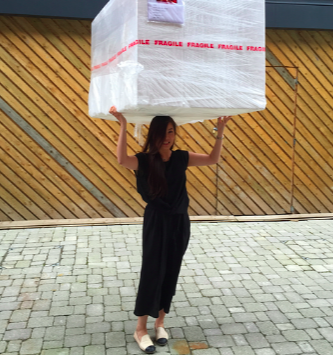 Greetings from the HR team at Lalamove HQ!!
The HR team at Lalamove does recruiting, screening and interviewing potential employees. They also take care of the well being of employees such as employee relations, payroll, benefits and trainings.
Other than that, they also plan and coordinate administrative functions and prepare weekly happy fridays and monthly meeting for the organization. Let us hear more from them!
This week, we interviewed Charlie Chen, our Regional City Operations - Special Projects Lead, to get to know a little more about her!
Q1: Could you introduce yourself?

I'm a Chinese born Canadian who's been living abroad for several years. Although I have a background in economics, I've been in Tech companies all my life, and I love it! There is nothing greater than working in a fast-paced environment surrounded by inspiring people who are building awesome things, and it's an amazing process that I feel lucky to participate in.
When I'm not working, I like to be mildly active: go for long walks, get lost in the streets of HK and discover new places. I'm very much a kid at heart, love to pretend I can cook, run Netflix marathons, swim in the sea, and travel whenever I can. I love meeting new people and lattes so feel free to say hi and grab me for a coffee break :)
Q2: Why did you join Lalamove?

Carmen told me we have happy Fridays!
Honestly I'm thrilled and blessed to have been given the opportunity to work in a fast-paced environment with smart, motivated people daily to shape the logistics industry in Asia, plus there's good food! Where do I sign?
Q3: What is the biggest challenge that you have experienced in Lalamove?
I think we face different challenges everyday. I don't like to quantify them, because this means I mentally prepare for the solutions to be equally challenging before I've even started tackling them.
Q4: How did you overcome it?
Something I learned recently, is that I want to do everything and do it immediately, but this is simply not possible. Prioritising is everything, and consistency in execution is crucial. Some days are more difficult than others, but I have to evaluate decisions based on long-term growth (this is what keeps me going), work hard and have a little faith! :)
Q5: From the experience, what influenced your growth within the company?
I've grown a lot at Lalamove (both personally and professionally), and what got me here is by taking on all challenges, staying focused and constantly pushing my limits.
Thank you Charlie for taking time out to have this interview with us and sharing with us a glimpse of your motivation! We hope you enjoy knowing more about the people behind the scenes at Lalamove. Stay tune for more HR updates from Lalamove HQ!