5 Reasons Why Every Smartphone Needs the Lalamove Delivery App

Need to deliver an important document to a client? Your son forgot his gym kit at home and he needs it for a soccer match, but you are at work. You arrive at the airport realizing you have forgotten your passport. What are you going to do and who are you going to call? These are all the reasons why you should have Lalamove, your 24/7 handy, user-friendly courier app on your phone to deliver these quick, last-minute services.
From motorcycles and vans to MPVs and pick-up trucks, Hong Kong based on-demand delivery app Lalamove promises to deliver or move anything, anywhere, anytime – with professional, reliable drivers and transparent pricing.
Just input start and finish destinations on the app along with pick-up and delivery times and date, select your choice of vehicle and help is on your way! You can also request extra services and get an instant quote. Payment can be by cash or by an e-wallet.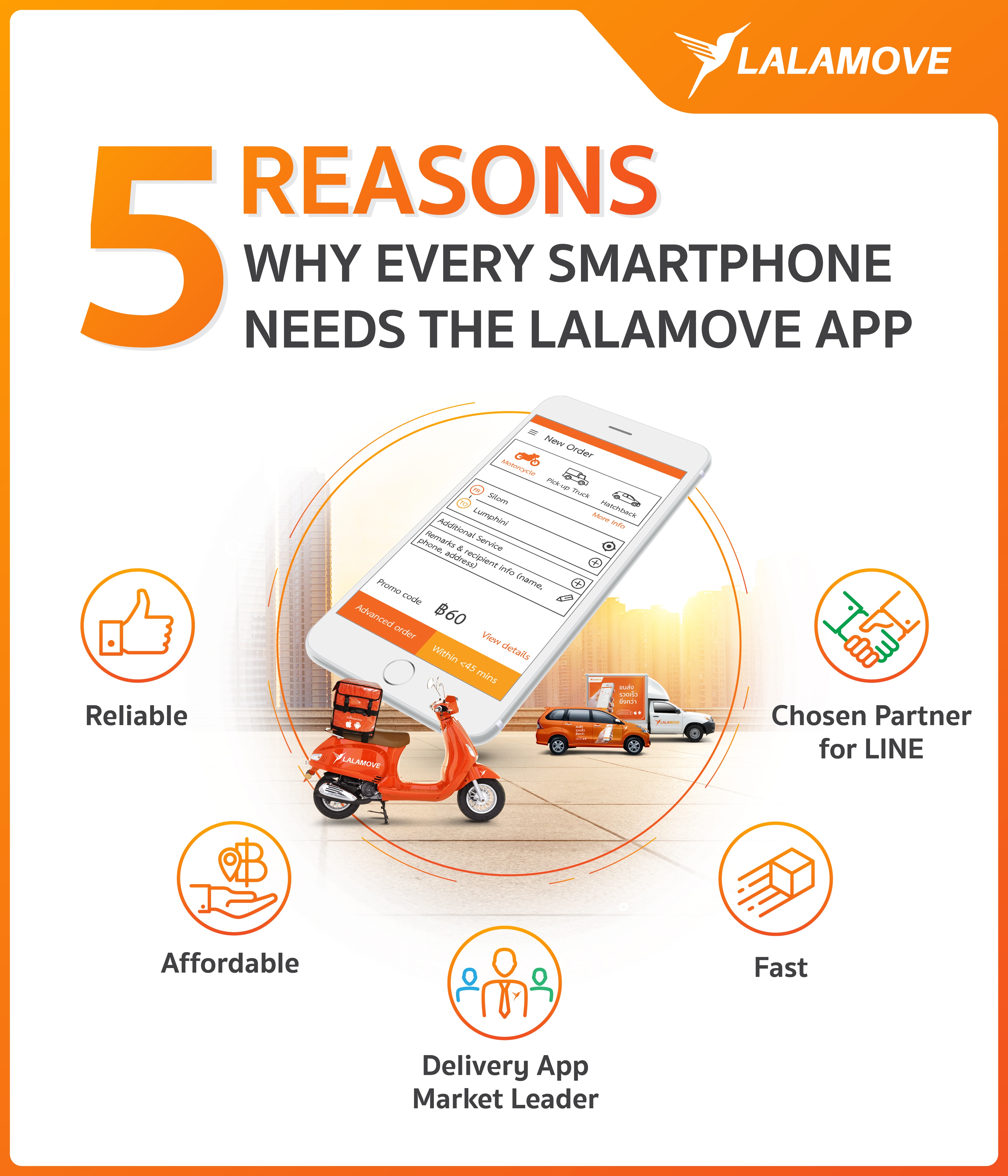 Here are the top 5 reasons why you need to download Lalamove on your smartphone
1. Reliable:
Send and deliver without any stress. Lalamove has built up a solid reputation of success with +99% of all orders fulfilled. Effective, efficient and easy-to-use, Lalamove is a super reliable service with reliability measured by repeat customers.
2. Affordable:
On-demand services can sometimes attract higher prices, but Lalamove drives down delivery rates and challenges competitors with its clear pricing system. Affordable and convenient, with instant access to good quality delivery services!
3. Delivery App Market Leader:
In terms of order volume, Lalamove is a market leader. Great service, trained drivers and insured deliveries are part of Lalamove's impressive expertise. SMEs value a streamlined, professional service and recommendations are accelerating Lalamove downloads, and you can use such business-level professional service personally as well!
4. Fast:
Wherever you are, once you place your order on your smartphone, Lalamove is in the fast lane to deliver on time. In a city as busy as Bangkok, where getting around is so time consuming, Lalamove delivers a timely move!
5. Chosen Partner for LINE:
Japanese chat app, LINE has over 33 million users in Thailand and has chosen Lalamove to create the free-to-download LINE MAN app. Now consumers can use Lalamove for grocery and food deliveries in the city, utilizing a restaurant app for online menu orders too. A real message of confidence in Lalamove!