7 Mother's Day Gift Ideas this 2022
Looking for Mother's Day gift ideas? Well, you've come to the right place. Mothers deserve nothing but the best after all the hard work and love they shower us with every day. As our gift to you, here's how you can step up your game this Mother's Day!

Momma knows nothing but the best for the family, so why would you bore her with the same thing again from last year?

Whether you're a clueless husband looking for a different gift besides a single red rose, the eldest daughter who plans everything, a sweet mama's boy, or maybe a friend who just simply wants to spoil their sexy mama besties!



The fact that you're here, reading this, and are looking for the perfect present this Mother's Day, says a lot about your goal to make your momma proud and make her feel special on the 8th of May! I mean, someone's got to look out for the person who always looks after us, right? Here are seven ideas for presents that would make her heart melt on Mother's Day!



We understand that not all deliveries are the same. That is why Lalamove's cash on delivery service can be done in more ways than one. Read carefully and see which COD technique would be best for your business.
1. MONEY BOUQUETS



Let's be real, who wouldn't LOVE money bouquets? She would definitely be over the moon! Wrap It Up PH's Angel Money Bouquets specialized gifts for this special day is an absolute work of art and will surely stamp a smile on your Mom's face.
Pull out those peso bills and make her the happiest woman in the world! They can also touch it up with personalized ribbons. Want to put their name on it or a sweet phrase to make it more personal? Go for it! You can also add a customized letter if you want.
It's also important to bring out the teeniest details about her when preparing your Mother's Day gift. Add a more personal touch by requesting her favorite color for this Angel Money Bouquet. Is she a pink girl or a red type of girl? Whatever color it is, go for it. It's definitely the thought that counts.
2. GRAZING BOXES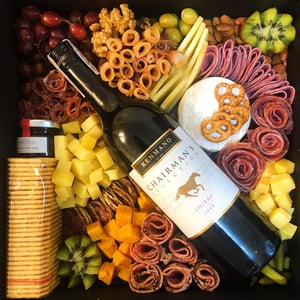 Is she the wine type of gal? If yes, let her enjoy her wine o'clock with AP Grazing Table's Grazing Gold Box as a Mother's Day present! Momma's gotta relax, too while watching her favorite series as she munches on this wide selection of delicious antipasti & artisan cheeses paired with Shiraz Wine.
The good news is they already have the best selections of charcuterie. You can even make it more personal by adding a message on the gift tag provided to prettify the present and to trigger the waterworks when she reads it.
Whether she's a wine connoisseur, a casual drinker, or a first-timer, your mom deserves the whole package of this delicious-looking box of love. Also, most "IG Moms" love to post artsy charcuterie boards like this – just like Mama Lulu! I bet they would take a million snaps of it in a split second with the hashtag #MothersDayGift. We love moms who post everything on their stories!
3. PLANTS & GREENHOUSE SUPPLIES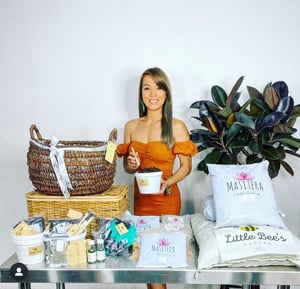 Is your mom an absolute plantita? You're in for a treat! This calls for all things green this Mother's Day.

Over the pandemic, a lot, and we mean… A LOT of moms went crazy over plants. It's really cute! Some plantitas even treat their plants as their own kids. As they say, "You can never have too many plants." And we agree. Go turn your house into a jungle! For the husbands reading — happy wife, happy life. Right?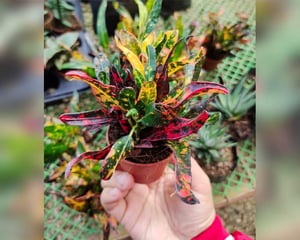 Speak her "HalaMOM" love language by scrolling through Juulz Garden Marikina and go plant shopping! They have different kinds — Flowering, Indoor, Ornamental, Hanging, Veggies, and Herbs Plants at a very affordable price! Here's a steal: three plants for P100! Go to her garden or her plant nook for indoor plants and check out what plant species are missing from her collection.

And if ever your mom's on a "plant ban" – imposed by herself – well, there are always gardening tools to still make her plantita self happy. Help her beautify her yard and speed up the process with the right tools!
She would definitely jump for joy upon seeing unique or jumbo-sized pots, fertilizers, pesticides, insecticides, and seeds at Little Bee's Garden. They're the literal one-stop-shop for any plantita's gardening needs.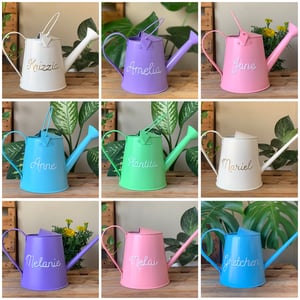 Want to stand out? They also have these Personal Watering Cans especially made for gifts for the celebration. Choose her favorite color, put her name on it, and decide if you want the sprinkler or long spout style. Whatever greenhouse supplies or gardening tools she may need, it can be found at Little Bee's!
4. FOOD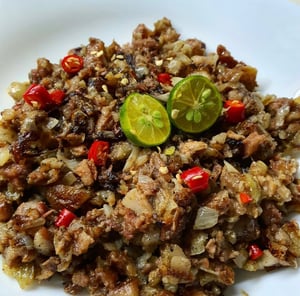 You know what? Food is always a good idea.

Mothers, especially Pinoy moms, cook the best heart-warming meals so this Mother's Day, why not give her the top-tier Sisig in Luzon? After all, Aling Lucing isn't hailed Queen Sisig for nothing. A lot of personalities across the Philippines, and even Anthony Bourdain himself, travel miles just to get a taste of the famous sisig. You can even go big with their Sisig Trays! We bet the legendary and original sisig at Pampanga since 1974 won't disappoint.
Or you could try whipping up something new for her by watching cooking vlogs on YouTube.
5. BALLOONS & CHOCOLATES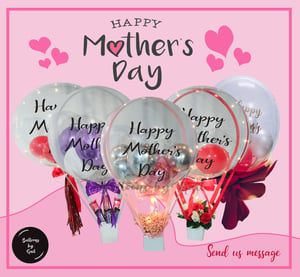 Of course, good ol' fashion Mother's Day Gifts never die. But this time, make it more special by letting Balloons by Gail take the wheel! They create exceptional balloon arrangements and designs at a very affordable price.

Any mom would gush over a box of Ferrero Rocher or any of their favorite sweets tied to these uniquely wrapped balloons this special weekend.
Gone are the days when simple balloons were enough for a surprise. This year, go all-out with the balloons to make your home's queen feel exceptionally special.
6. SURPRISE PENTHOUSE PARTY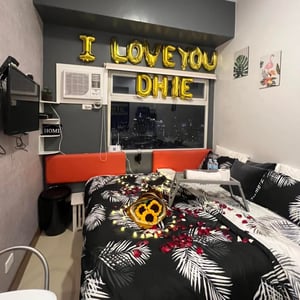 Got a crowded home? Go out and plan a surprise mini-party at a Penthouse by Cair's Crib! Tell her you're going somewhere without giving a hint of the entire extravaganza.

Cair Krafts can help take care of everything! Want a bouquet ready on top of a bed of roses? "Happy Mother's Day" letter balloons by the window with an amazing overlooking view? Bouquet of chocolates with photos on it? An amazing set up with her favorite color on every detail? Name it. They can do it.

This will also make the celebration more intimate for your mom and the family. One unique gift this Mother's Day would be to surprise her, and have the whole enchilada done by Cair Krafts' Surprise Box.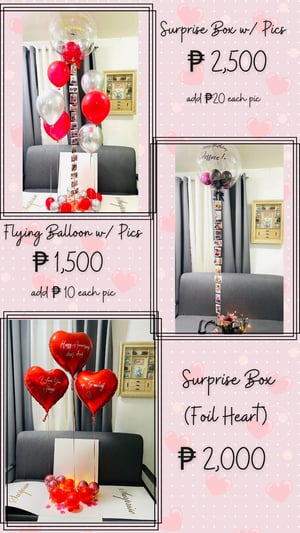 It's a crafty box filled with customized items she loves, with a few balloons with fairy lights, photos, and anything you may think of! It's sort of an explosion box. Go make her day unforgettable – and don't forget to take a video when your mom opens and sees the surprise!
7. FLOWER PIECES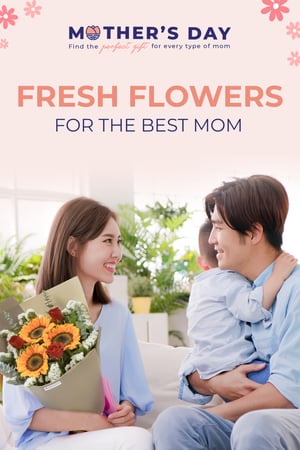 A bouquet of flowers remains unquestionably a must-have for mom's day, of course! It's more than just the centerpiece of a table: it's almost like the main ingredient for the perfect Mother's Day present!

But wait, don't buy the same old bouquet as the last time! Take it up a notch by getting uniquely wrapped-up beauties from Flowerstore.PH! Here are some creative presentations they came up with.
Beauty and the Beast Rose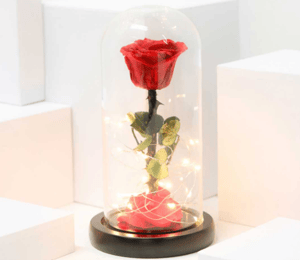 Flowerstore.PH describes this one as the "enchanting preserved rose [that] is the perfect gift of everlasting love". To add, Flowerstore.PH says, "Don't just say forever, mean it, show it," and with that, we agree.

A red rose encased in a glass dome with LED lights — A Beauty and the Beast Enchanted Rose look-alike. Isn't it just dreamy? It would be a great choice as a gift for moms.
Beloved Love Box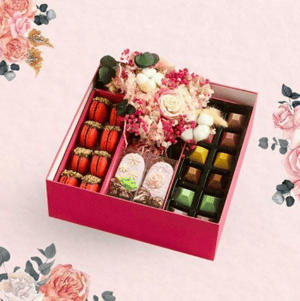 Did someone say Macarons?! Yes please! Tidy up those Forever Flowers with their Cake Popsicles and Valentin Macaron de Paris and watch her face light up the moment she opens this Beloved Love Box.
We bet she can finish this in one sitting! It has cake popsicles too, so if your Mom's a sweet tooth, this one's the fitting gift for her.
Lovely Teddy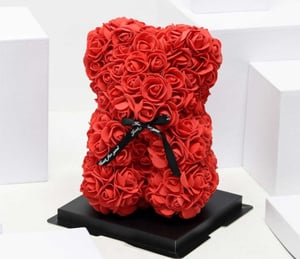 Bear but make it a bear of roses! Made of high-quality artificial roses, these won't fade away that easily. Your mom can display this for a long time & remember the sweet thought of you every time she sees it.

It's perfectly sealed with a transparent box and a black ribbon for that aesthetic feel and "Instagrammable" look.
Bed of ROSÉ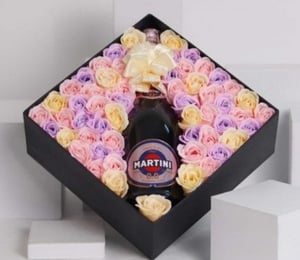 A bottle of Martini Rosé, anyone? This chic mother's day gift box surely screams sophistication.
Want to be Mother's Day-ready?
There are still a lot more of these flower bundles! But aside from that, Flowerstore.PH also sells jewelry, curated food boxes, personalized items, cakes, and more. They basically have ALL the items we listed for the perfect gift for Mother's Day.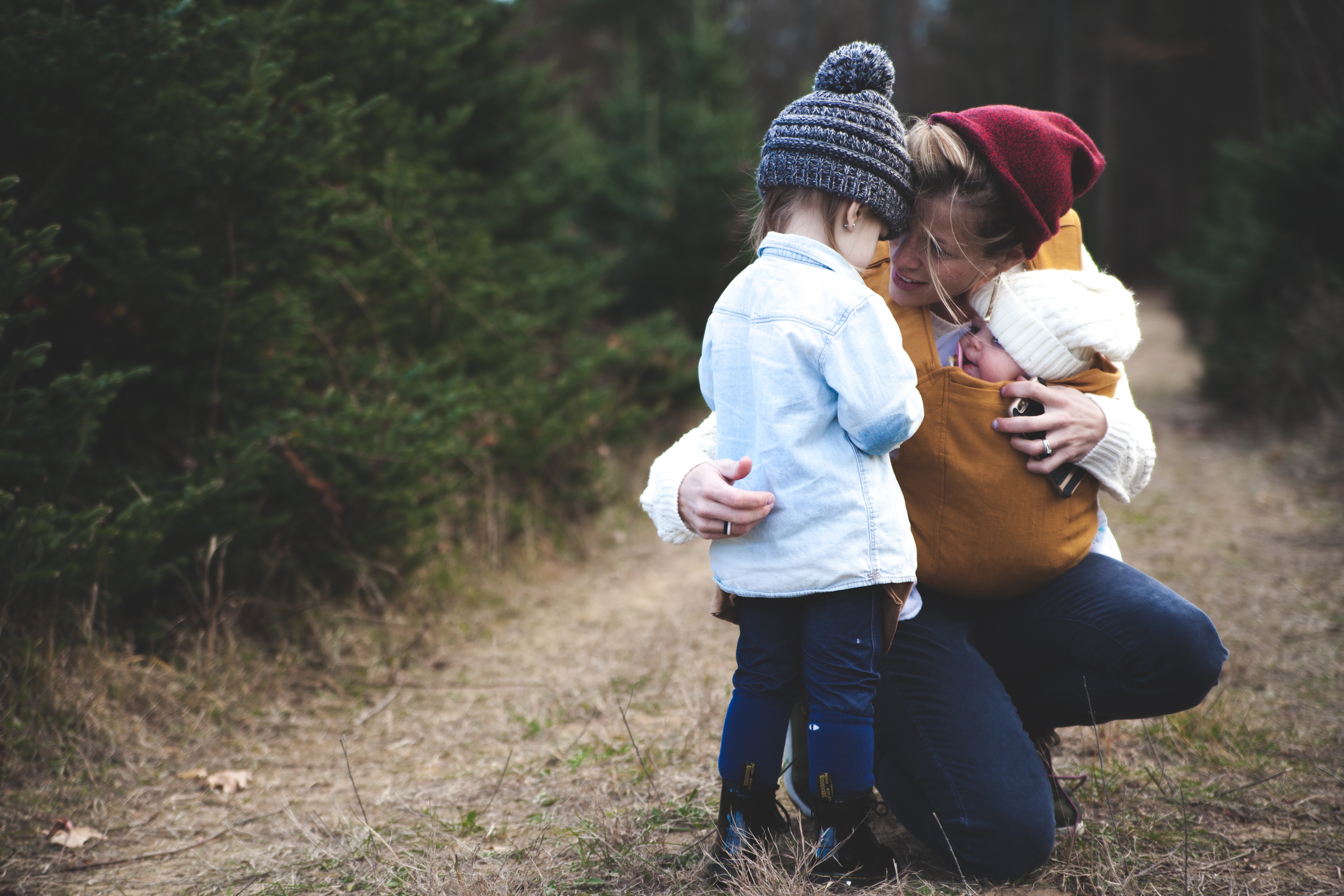 Whatever gift you may be planning to choose from this list, know that the perfect gift this Mother's Day is to truly start cherishing every single day with your mom.
"A mother is she who can take the place of ALL OTHERS but whose place NO ONE ELSE can take."
This Mother's Day, we salute all types of mothers, whether biological or mother figures, in our lives. The strength and understanding they hold are some of the many values that mold us into who we are now, no matter where you are in life. With their sacrifice and hard work, they deserve nothing less!
And because they deserve nothing but the very best, Lalamove is here to move what matters to you and your mom.

Save the energy! Just a few hassle-free taps is all that is needed on one of the country's leading on-demand deliver app to plan everything out. It only takes a few taps on the Philippine's Most On-Demand Delivery App to plan everything out. Go for Lalamove's Purchase Service (Pabili Service) to buy from stores without having to go out. Delivering to a far location? Our long distance delivery trucks can surely accommodate your needs.

If you're thinking of buying from two or more stores,our Multi-stop Delivery service can make your life easy. This feature lets you add up to 20 different drop-off locations in one delivery order! Celebrate Mother's Day conveniently with Lalamove's help.
Book our affordable on-demand delivery and courier service today!