Lil Boo Pops' Saves More than 30% of Logistics Cost with Lalamove
Wondering what's the best option for truck delivery to save more? Cool, sweet treats are a big thing here in the tropics - more so here in Metro Manila wherein all-time high heat indices have recently been recorded. That's why businesses with products that can soothe the Filipino palate from the scorching heat of the metro sun are scrambling to get their share of the p̶i̶e̶ tub.
One of these is the niche-market ice cream business, Lil' Boo Awesome Frozen Products, or Lil' Boo Pops for short. Offering refreshingly sweet and healthy artisan ice cream, Lil' Boo Pops distinguishes themselves from their competitors by making products that are not only yummy, but personal.
Our team had a little chat with Mr. Ian Carlo Trinidad, owner of Lil' Boo Awesome Frozen Products, to learn how they got into this cool business, and how they are doing dessert delivery with Lalamove!
Free Insulated Box keeps dessert delivery possible

Kind and professional delivery drivers

Up to 37% savings in logistics cost
Ian and his family came from a humble background. He recalled how when he and his siblings were little, their mom, who fondly called them her boos, made ice pops of different flavors for them to enjoy during the heat of summer. They really loved these sweet treats of their childhood, but when they grew up, they could no longer enjoy them because of their family's history of diabetes. However, Ian and his siblings saw this problem as an opportunity - what if they make ice cream that is not only delicious but healthy and diabetic-friendly as well? They went on to make their very own healthy ice pops, and in honor of their mom, they named it Lil' Boo Pops.
Their business journey began at Mercato. Although they didn't win the competition, they were sponsored by a curious shopper who happened to own a BPO office in Manila. With the money they got, Ian purchased equipment that helped them create their refreshingly sweet and diabetic-friendly ice pops easier, faster, and in bulk.
With their revolutionary ice cream subscription service, Boo Box Delivery, Lil Boo Pops is really creating a name for themselves. However, with the crazy Manila heat, how are they able to reach their customers far and wide given that their products have to stay frozen? The answer is simple - on-demand same-day delivery from a reliable partner that has always kept their products as they should be.
"Lalamove for Business saved us around 37% in logistics cost in just our first month with them."
- Ian Trinidad, Owner, Lil Boo Awesome Frozen Products
THE CHALLENGES
Initially, introducing the Lil Boo's product proved to be difficult because of their steep price point. It didn't help that during their launch, another premium ice cream from a popular brand started marketing here in the Philippines, which captured their desired market. However, they painstakingly persevered and soon, their products did the work for them. With such creamy (vegan-friendly to boot) and delightful fruity flavors, Lil' Boo Pops differentiated their products from all the others in the market.
From then on, the business just kept growing. With their home base being in the south, they were strategically located near exclusive private and international schools they tapped on. Soon they were expanding and supplying different offices and schools not only in Metro Manila, but also in Visayas, Mindanao and even overseas like Florida and Hong Kong. Now, they are available in more than 300 locations worldwide.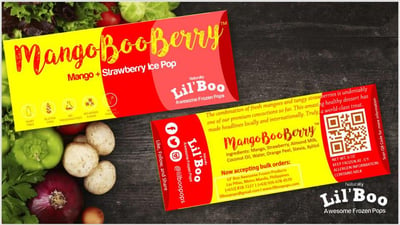 As the business developed, so did their products by introducing several new flavors every now and then on top of their usual fan favorites, MangoBooBerry, Boonana Split, among others. And with their new ice cream subscription product, the Boo Box Delivery, they are redefining a whole category in business. However, with expansion and success, come hiccups because now that they serve many customers, they have to keep up with the demand and reach them as soon as possible. And with frozen products like theirs, Ian tried to find the perfect delivery partner that can keep their products safe. Good thing Lalamove is here.
THE SOLUTION
Before finding Lalamove, Ian and his team tried different logistics services and food delivery platforms, however, they all left them disappointed. Since their products are prone to melting, most delivery guys turn them down after finding out that they will be carrying frozen items. He even recollected how one time, a delivery guy from another service simply left their products outside their house after an unfulfilled delivery. This frustrated Ian and his team; however, they found Lalamove, and boy were they glad they did!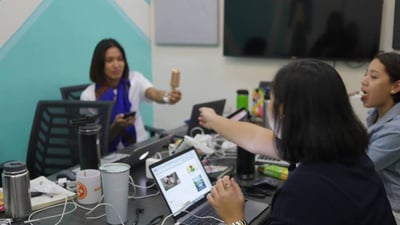 With the Insulated Box and fast delivery, Lil Boo Pops' products are kept safe and secure from melting. And since they've become a client, Lil' Boo Pops hasn't experienced a single melted popsicle from Lalamove's deliveries.
However, what Ian and the Lil' Boo Pops team love most about Lalamove is the professionalism of our drivers. "The drivers we got from Lalamove are the kindest and most professional drivers in the business because they care about our products and take ownership in each delivery" he tells our team. He shared an experience of how one of our partner drivers lined up, and booked a bus delivery on the way to Baguio for their ice cream boxes - at no additional cost! Truly, Ian and his team are thankful for Lalamove partner drivers who go above and beyond their call of duty.
THE RESULTS
With Lalamove as their delivery partner, Lil' Boo Pops has really made dessert delivery possible and easy. According to Ian, Lil Boo saves up to 37% in logistics cost in just their first month with Lalamove. — trucking services rates Philippines. With this much savings, Lil' Boo Pops is able to reallocate their funds to make better products for their customers to enjoy!
With innovative products such as their healthy ice cream and now, their subscription-based ice cream delivery, Boo Box Delivery, Lil' Boo Pops' future doesn't seem to be hitting the freeze-zone anytime soon. And with Lalamove as their trusty truck vehicle partner that provides courteous and professional drivers at the most affordable rates, Lil' Boo Pops' success will just keep climbing. The best delivery truck price Philippines is here.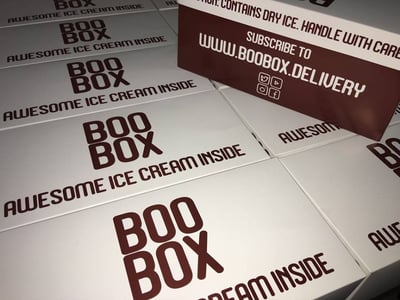 The Boo Box Delivery Boxes filled with amazingly cool treats
Check out their website, Facebook, and Instagram accounts to know more about them and their products. Our 4- wheeler truck delivery is available across Luzon and Cebu to cater to you! We highly recommend their new flavors, Guya-Boo-Bano Pops and A-Boo-Cado Pops, which they've just released this week! These two flavors, among their other refreshing treats are just too perfect for the summer 🏖 Check out affordable truck delivery rates here.
Would you like to explore truck delivery solutions for your business?