From staying in bed to binge-watching your favorite series, you can finally be super lazy because of Lalamove! All your errands that'll make you go out of your man-cave can be taken care of by our driver-partners with these additional services.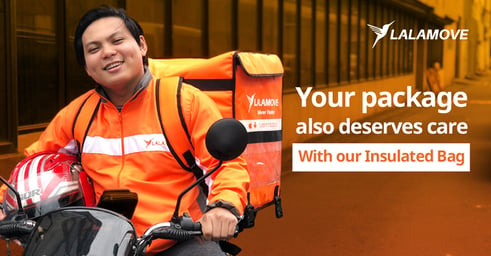 Insulated Box
You need that popcorn delivered in hot? Lalamove offers insulated boxes that do just that! Moreover, it's free of charge. Simply select insulated box under additional services to avail.
Cash Handling
We can also assist you in doing your tedious bill payments. Select Cash Handling and our partner drivers will deliver cash and payments for you. An affordable Php 30 additional fee will be charged.
Queueing Service
If you want our partner-drivers to line up in an establishment to complete a delivery, buy something from the pharmacy or payment service for you, simply select queueing service. Payment of an additional fee of Php 70 will get save you valuable time.
Round Trip
Lastly, in case you want your drivers to come back to you, simply select the Round Trip option. Let 'em do the good ol' boomerang to fetch your laundry and what not. But it's only applicable to motorcycle orders.
Try out these delivery hacks by Lalamove now and see for yourself how we can help you have a seamless delivery! You don't need to wear pants this weekend, you're welcome.