Cococart Champions their Online Biz with Lalamove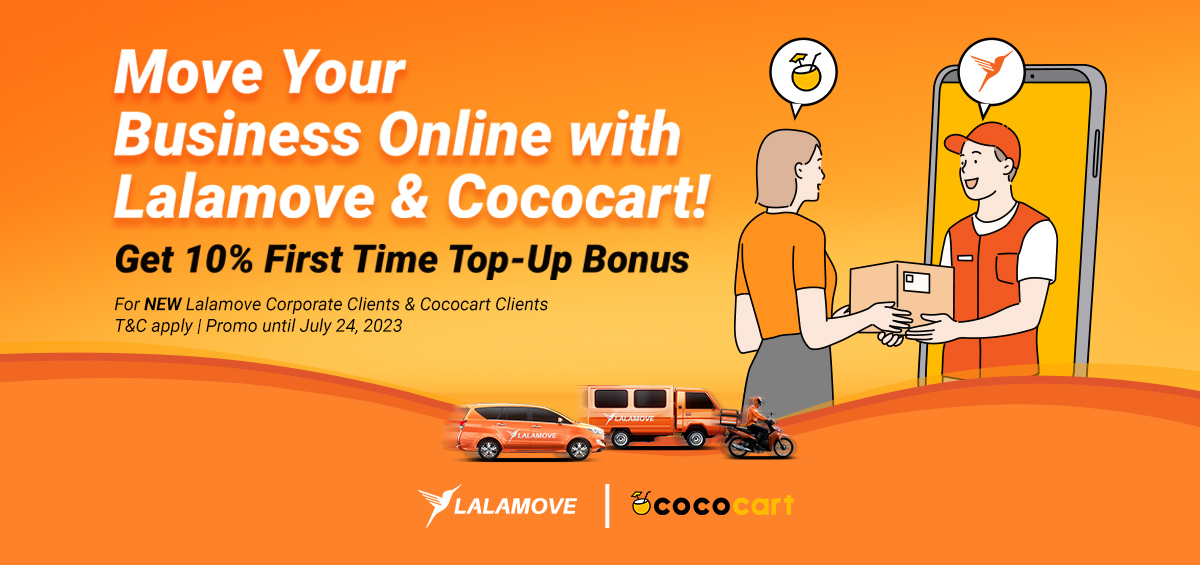 Thanks to a growing population of the digitally savvy and a vibrant economy, the Philippines has been one of the fast-growing e-commerce markets in Southeast Asia. Looking to expand your business? Now's the best time to invest in e-commerce and get the upper hand!

According to Mordor Intelligence, "Some websites and digital applications are competing for market share with global, regional, and domestic players. Increasing connectivity in the Philippines and rapidly overcoming Filipino infrastructure problems has made more and more of the large population access the Internet. Connected Filipinos access the country's E-commerce market primarily through mobile devices and computers."

The digitization of consumerism is part of the reason Cococart is here for small and mid-sized enterprises (SMEs) looking to grow their business.

To top it off, businesses saw the value in partnering with one of the leading on-demand delivery platforms in the country, Lalamove, which offers 8.5% rebates with a logistics consultant to assist them every step of the way.
On-Demand Delivery with Cococart
Supporting local businesses has always been Cococart's mission, making it easier for you to reach your customers and get your goods in their hands. Imagine your customers scrolling through their favorite local store in just a few taps on their phone, then they can already receive a parcel the day itself?
Cococart revolutionizes independent businesses to accept online orders – entrepreneurs, creators, artisans, and makers around the world have even switched to Cococart to improve their sales. As Lalamove's corporate client, they can now cater to a wider audience with further distance.

Taking up a notch by getting a corporate account with Lalamove, businesses get up to 8.5% rebates with a logistics consultant to assist them. Grow your business online now!
Cococart's 1 Month FREE ACCESS
Are you a first-time Cococart merchant? Or maybe eyeing to register for a Lalamove Business Account? We have exclusive deals just for you!

Signing up as Cococart's first-time merchant guarantees a 1 MONTH FREE ACCESS to their platform. After signing up as their merchant, you can then register your business with Lalamove as a corporate client!
Check out all of these must-know Cococart features to see how to make it work for your business.

Do a Php 1,000 minimum first-time top-up and you'll receive a 10% TOP-UP BONUS from Lalamove – a limited-time offer of 10% until July 24, 2023. Here's an easy guide to enjoy these:
For First-Time Cococart Merchants:
1. Sign up as Cococart's merchant (You get free access!)
2. Sign your business up for a Lalamove Corporate Account
3. Via Lalamove App, make a minimum PHP 1000 first-time top-up (You get a 10% TOP-UP BONUS)
For Existing Cococart Merchants & First-Time Lalamove Corporate Clients:
1. Sign your business up for a Lalamove Corporate Account
2. Via the Lalamove App, make a minimum PHP 1,000 first-time top-up (You get a 10% TOP-UP BONUS)

Reach new customers with our 3PL Delivery Services and Lalamove your way through your business' success with Cococart! For more information on this promo, CLICK HERE.
Our Partner Drivers will carry the heavyload B2B and even B2C, catering any of your logistical needs via Lalamove E-Commerce Integrations – same day shipping for online shopping!

Our E-Commerce Partner App allows you to place delivery orders in a few clicks, instant shipping or advanced scheduling, free download & no maintenance costs, seamless order creation, lower logistical costs by batching orders, clear & transparent pricing.
Lalamove has motorcyle delivery for small parcels while our wide 4-wheel truck delivery can accommodate your operational needs: small truck 1000 kg, medium truck 2000 kg, large truck 6 wheels. Check our delivery truck dimensions & affordable rates here for specific details.

It's always our pleasure optimizing business opportunities for our corp clients. 24/7 Long haul delivery is available across Luzon and Cebu so you can enjoy a hassle-free experience with your customers!
Want to expand your business online?