Here's everything you need to know about Lalamove Rewards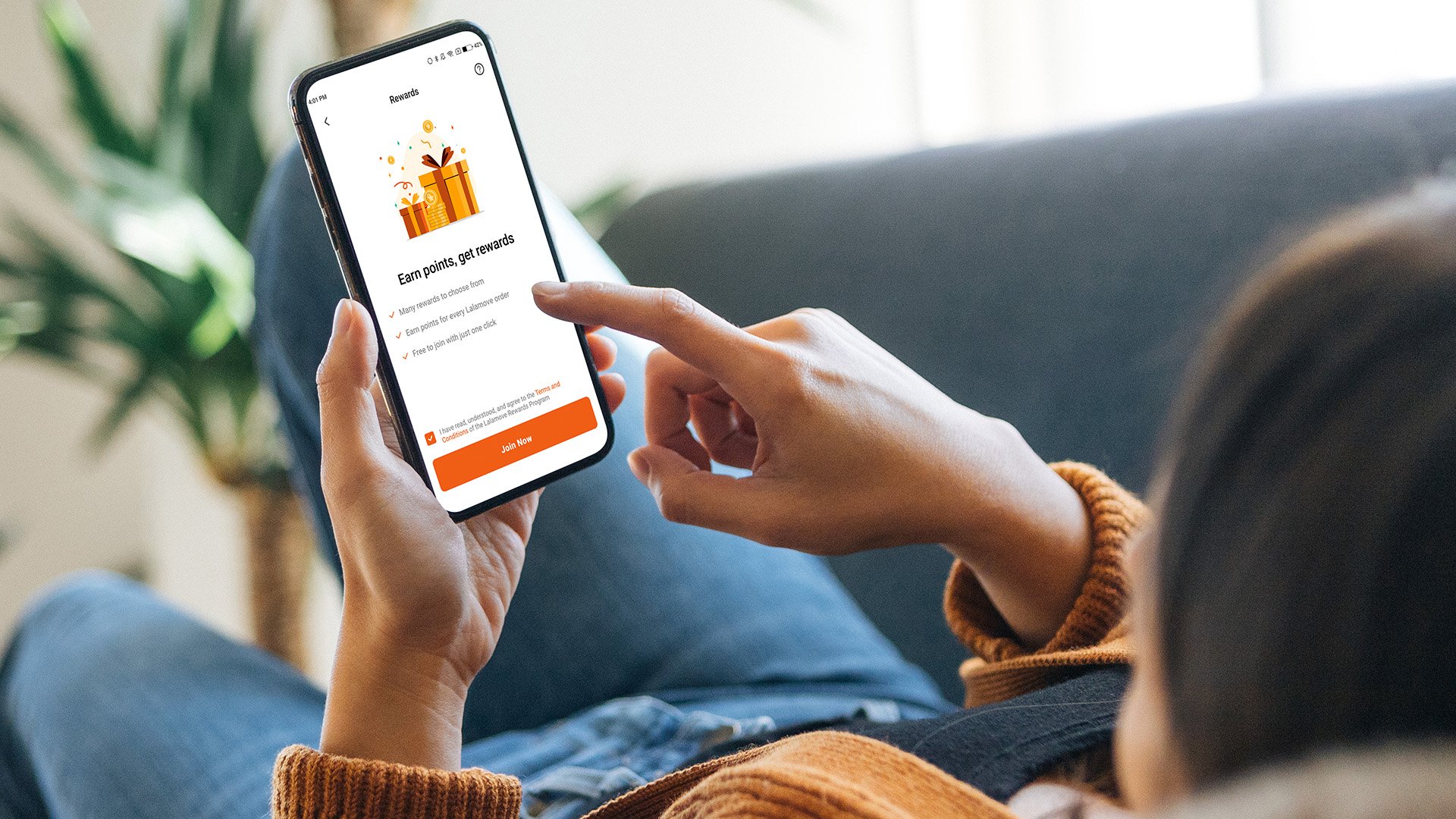 Sending presents to loved ones? Or delivering orders to your customers? Make every delivery rewarding now that Lalamove Rewards is available in the Philippines! The much-awaited rewards program has been officially launched to "reward every move" by garnering LalaPoints and earning rewards for every delivery transaction via Lalamove, whether for same-day delivery or long distance delivery.
If you're not quite sure how it works, here's a guide on basically everything you need to know about Lalamove Rewards.
What is Lalamove Rewards?
Lalamove Rewards is a point system loyalty program where Lalamove users can garner points with every delivery and, in turn, earn rewards. LalaPoints, as we call the points garnered, can be earned from your delivery transactions (Base Fare + Total Distance Fee + Additional Service Fee + Priority Fee) regardless of the vehicle type.

But here's an important note: miscellaneous fees on top of the in-app computation are excluded from the point-earning delivery transactions, such as costs for parking fees, toll fees, village entrance fees, and tips for drivers.
Can I join Lalamove Rewards?
The quick answer is yes if you have an existing Lalamove app account. If you don't have one yet, this is the sign that you may have been waiting for to download the Lalamove app and create an account.
Similar to the requirement set for Lalamove app users, you must be at least 18 years old to join the rewards program.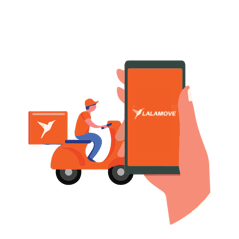 And no, there is no admission fee. Lalamove Rewards is free for anyone who is interested to join. So if you know someone who's an avid user of the Lalamove app, spread the word and tell them the good news about Lalamove Rewards!
How many points do I earn per delivery?
For every PHP 10 spent, one (1) LalaPoint is earned. What does this mean? It means that you get one LalaPoint equivalent to increments of PHP 10 of your delivery transaction, based on the in-app computation. For example, if you spent PHP 100 on a motorcycle delivery transaction, you will automatically earn 10 LalaPoints.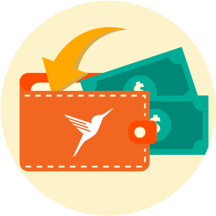 And just in case you're curious, your membership and garnered LalaPoints and earned Rewards are non-transferable, meaning you can't transfer your Lalamove Rewards membership and perks to someone else.
What rewards can I earn with my LalaPoints?
Reap the rewards from every LalaPoint garnered with perks from our partner merchants! With your accumulated LalaPoints, you can claim Lalamove e-vouchers for discount coupons that you can use in your deliveries. Lifestyle e-vouchers also await from partner brands like Bruno's Barbers, Handyman, and SM SuperMalls. Moreover, F&B e-vouchers are also up for grabs from brands like 7Eleven, BonChon, Bo's Coffee, ChaTime, Jollibee, Max's, and The Coffee Bean & Tea Leaf.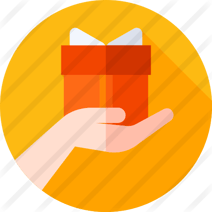 More partner brands are in the pipeline to join the Lalamove Rewards program, and we sure hope you will be there to make the most of the e-vouchers available by then!
Do I still earn points if I used discount coupons?
Yes, you can still earn LalaPoints even if you used a discount coupon for your delivery transaction. But the number of points you will earn will be equivalent to the PHP value of your delivery transaction, less the amount of the discount coupon used.
For example, if you used a PHP 30 discount coupon on your motorcycle delivery worth PHP 100, you will only earn seven (7) LalaPoints from PHP 70 of the net transaction.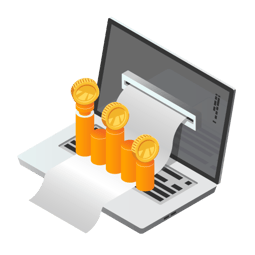 Do I still earn points if I deliver from a different city?
Yes, you can still earn LalaPoints if you deliver from a different city to another, as long as both cities are Lalamove's serviceable areas. Here are two examples: (1) if you're in Pampanga and changed your current location to Manila to deliver something from, let's say Makati to Quezon City, you still earn LalaPoints based on the total delivery transaction; or (2) if you're in Cebu and you booked a Sedan delivery from Carcao to Danao, you will still earn LalaPoints.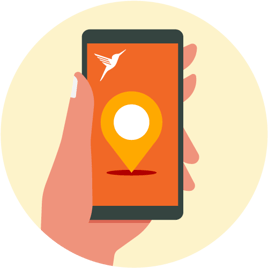 Now, if you are delivering via Lalamove from a different country, that's another story. If the rewards program is already offered in the country you are currently located in, you will have to opt into the specific rewards program of that country. Each reward program is unique per country and/or market.
How do I join Lalamove Rewards?
There will be no need to download another app. Join Lalamove Rewards by doing the following:
Open the Lalamove mobile app
Click on the Menu found on the upper left corner
Select Rewards
Review and agree to the Terms & Conditions
Click the Join Now button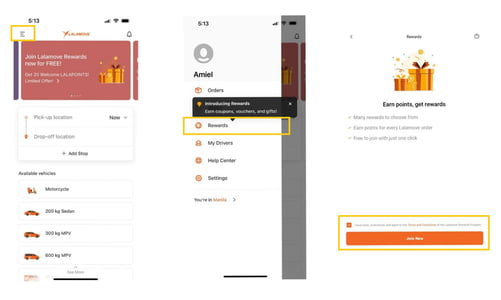 If you wish to see your earned LalaPoints, you may go to the Rewards page of your Lalamove mobile app or web app.
Rewarding Every Delivery with Lalamove Rewards
Making every delivery rewarding done via the leading on-demand delivery platform in the Philippines is the reason behind Lalamove Rewards. Apart from the top-notch delivery service, affordable delivery fees, variety of fleets, and a wider reach with serviceable areas across Luzon, from Manila to Pampanga, and in Cebu, we offer gratitude in the form of rewards.
So, what are you waiting for?
Start rewarding every move today.