Sending items to your friends, family, or loved ones on the same day is truly convenient nowadays. However, to truly expedient and to bring convenience to all, we have to regretfully exclude certain items. Generally, there are two things Lalamove cannot deliver: breathing or living things, and illegal or hazardous items. For a more comprehensive look, here is a guideline on what we are unable to deliver for you through our trusted partner drivers.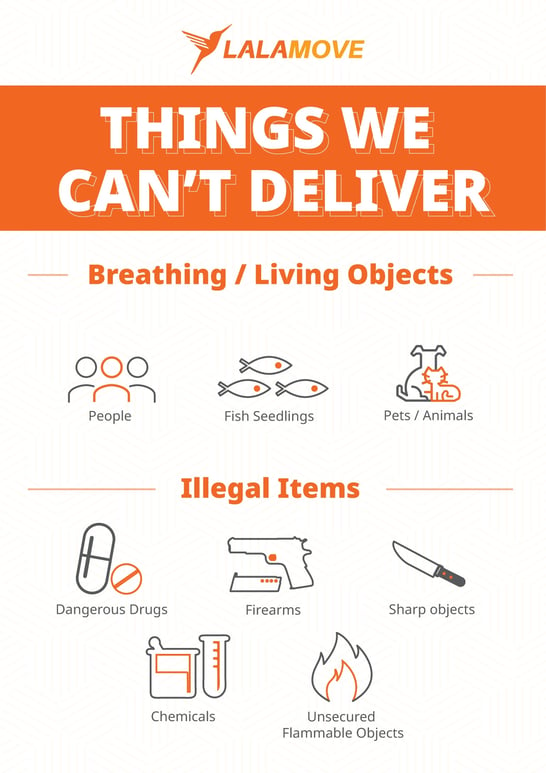 Breathing or Living Things
As a delivery app, we dedicate our selves to making it easy to deliver items - which excludes living things. Sorry to say but a person CANNOT ride a Lalamove vehicle just like how anyone would with a taxi or a vehicle from a ride-hailing app. Pets are also off-limits from Lalamove vehicles as they are living things as well.
Illegal Drugs or Hazardous Items
Well, no one should really have illegal drugs in the first place, so it's expected that Lalamove cannot deliver these items. Also, for the safety of our partner drivers, we decline to deliver sharp objects, fire arms, and chemicals that could potentially stab, shoot, or burn the partner driver while en route to the drop off point.
This guideline includes all vehicles from motorcycles to L300's and is strictly implemented by our team.
Some goods are simply too dangerous to ship with a courier and won't be accepted, and this includes some household goods such as bleach, aerosols, perfumes and more. Not all carriers offer a Dangerous Goods service, so let us help you with this guide for true delivery convenience without hindrance. However, aside from these few items, Lalamove can deliver ANYTHING under the sun. So book now!