How Southstar Drug Saved Lives via Express Delivery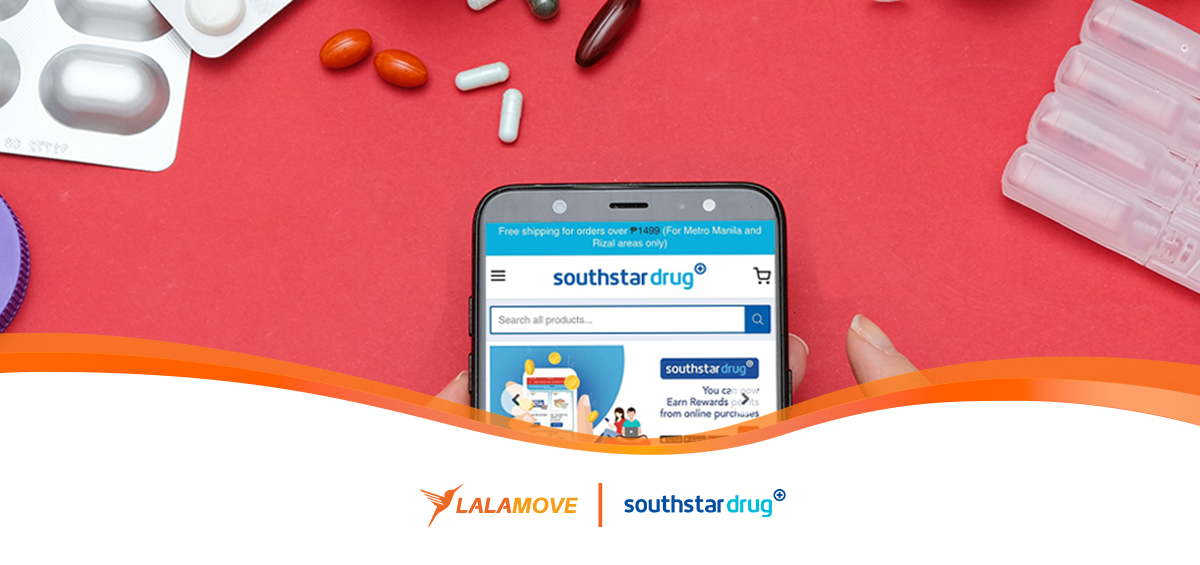 With people staying indoors due to COVID-19, getting essential items such as medicines has become more difficult. That's why to help Filipinos stay healthy as they stay home, Southstar Drug opened their online drugstore enabling them to deliver medicines and other essential items to their customers. We interviewed Christine Tueres, the General Manager of Southstar Drug to know how they were able to make things possible for their customers through the power of modern technology and express delivery!
| | | |
| --- | --- | --- |
| | | |
| Cash on delivery made buying easier for customers | Additional stops helped reach more customers efficiently | Wide delivery coverage in Metro Manila and nearby areas |

Southstar Drug is one of the oldest drugstore chains in the country with over 500 stores carrying a wide range of pharmaceutical products, personal care, food, and wellness items. It is the mission of their company to help Filipinos live better lives by caring a little more.
During the tail-end of 2019, Southstar Drug, together with our JG Summit companies, underwent a digital transformation. The program aims to propel JG Summit companies as leaders in the digital field to address the ever-changing needs of Filipino consumers. This pivot to digital is serendipitously-timed with the pandemic that has affected everyone. With this, Southstar Drug decided to open their online drugstore to the public.
"Kahit na limited ang movement ng mga customer namin naihahatid pa rin namin ang kalinga at alaga sa tulong ng Lalamove."
- Christine Tueres, General Manager, Southstar Drug
THE CHALLENGES
When ECQ stuck, Southstar Drug had to temporarily close their physical stores, many of which are in Metro Manila. This has significantly impacted the company's sales performance. However, they were already preparing their online drugstore behind the scenes. Many Filipinos were having difficulty getting essential items such as medicines and vitamins, and Southstar worked round the clock in order to make sure that they can provide quality service and products to Filipinos as soon as possible.
When they launched southstardrug.com.ph, they were only servicing the nearby areas of Pasig since that's the location of their main office. Starting from Mandaluyong and San Juan, Southstar's reach has expanded slowly to Quezon City, until it reached all of Metro Manila and its nearby areas of Cavite, Laguna, and Bulacan. The process of delivering medicines to their customers was difficult at first given the many safety precautions that had to be done, but it all became easier because their first delivery partner was simply reliable — and that on-demand courier app, was Lalamove.
THE SOLUTION
Since many Filipinos are unbanked, it became clear that for Southstar's online drugstore to be accessible to more customers, they had to find a partner that can offer cash on delivery, luckily Lalamove has COD service. With this, Southstar Drug's customers don't have to worry about payment methods even if they order their medicines online. Not only that, with Lalamove's multi-stop delivery service, Southstar gets to efficiently deliver the orders of multiple customers in one booking. This made for an efficient and cost-effective express delivery process.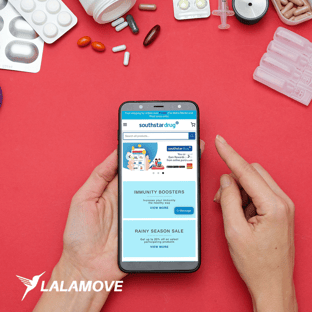 Christine said that despite their customers having limited movement, through Lalamove, they get to acquire the necessary medicines and essentials via express delivery. She said that amidst the pandemic, Southstar Drug is grateful for the opportunity to do their part in keeping Filipinos healthy.
THE RESULTS
Through Lalamove's wide delivery coverage, Southstar Drug is able to deliver care to more Filipinos. From initially covering only around 5-10 kilometers from their main office/warehouse, Southstar Drug can now reach the whole Greater Manila area with fast on-demand delivery.
Aside from Lalamove's wide delivery coverage, cash on delivery and additional stop service has also helped Southstar Drug reach more customers in an efficient and relevant way. As Christine has mentioned, it is Southstar Drug's priority to make this easy and convenient for their customers, which is why these additional services of Lalamove really help make business operations easier and customer experience better. With Lalamove's on-demand express delivery, the digital transformation of this drugstore giant is well underway, and we can't wait to see what lies ahead!
We at Lalamove are so excited for more Filipino businesses, big or small, to experience how going digital can help them improve. That's why here's Christine Tueres to share the story of Southstar Drug to hopefully inspire more entrepreneurs to deliver possibilities faster with Lalamove!
Would you like to explore new delivery solutions for your business?