Minimart.ph Saves 1/3 of Logistics Cost for Their Online Grocery Delivery Business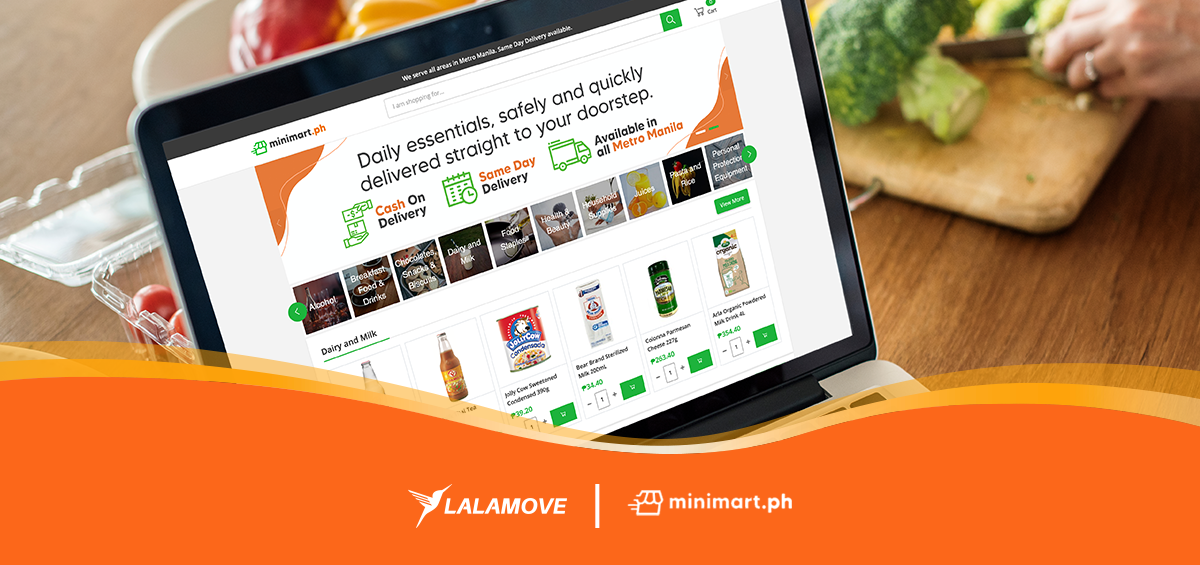 Starting an online grocery delivery business in Metro Manila can be a daunting task, but it's even more difficult when you're doing it in a middle of a pandemic. However, that's just exactly what Minimart.ph did. We spoke with LA Pabalan, Logistics Manager of Minimart.ph, about their story and how they were able to launch, scale, and deliver possibilities to their online grocery delivery business in just a month!
| | | |
| --- | --- | --- |
| | | |
| 4-wheel delivery options for efficient bulk delivery | Multistop delivery cut logistics cost by more than 30% | Good & long-lasting relationship with a trusted 3PL provider |
Minimart.ph is an online grocery delivery provider in Metro Manila. They're an offshoot business of the Philippines' #1 online flower delivery store, and long-time Lalamove corporate client, Flowerstore.ph. Despite being a new player in the online grocery delivery business, Minimart.ph has surely seen a lot of growth, and LA says it's thanks to their team's grit, reliable suppliers, and efficient 4-wheel delivery service.
"Through this (Lalamove's multistop delivery) Minimart's able to save up to one-third of our logistics cost, kaya sulit talaga kada-delivery!"
- LA Pabalan, Logistics Manager, Minimart.ph
THE CHALLENGES
Minimart.ph was a business born out of serendipity. At the onset of COVID-19, the Philippine government mandated that only essential items were allowed to be delivered, which had a big negative impact to the business of Flowerstore.ph whose main products are gifts and flowers. To soften the financial blow, they've added essential grocery items to their gift baskets — which surprisingly became a hit. The gift baskets full of grocery items were selling well since many wanted to stay safe and indoors to avoid spreading the virus.
What started as a raft to keep the business from drowning became a surf board that let them ride the turbulent waves of the economy. Flowerstore.ph decided to create a dedicated platform for their growing grocery delivery business, thus Minimart.ph was born.
However, the growing demand also posed many logistical challenges. At the beginning, the team had to personally buy the products themselves from big grocery chains. Not only was this operationally inefficient, but it was also costly as they had to take multiple trips in order to fulfill demand. On top of this, delivering the items to the customers had to be done with extra care as the government rolled out strict movement restrictions, so their team couldn't simply move around to deliver. Their growing online grocery delivery business faced a lot of roadblocks that have been made even more difficult by the pandemic.
THE SOLUTION
As Minimart.ph struggled with their logistics problems, they turned to their parent business' (Flowerstore.ph) 3PL provider — Lalamove. To solve the efficiency challenges of reaching customers, Minimart.ph started using Lalamove's trusted MPVs to deliver bulk grocery items to their customers, and get supplies from suppliers. As the leading on-demand delivery provider in Metro Manila and all of Asia, Lalamove has been given clearance by the government to deliver essential items, which has helped solve the problem of Minimart.ph on movement restrictions. To make each Lalamove business delivery more efficient, Minimart.ph used our multistop delivery feature so that they can reach up to 20 customers in a single booking.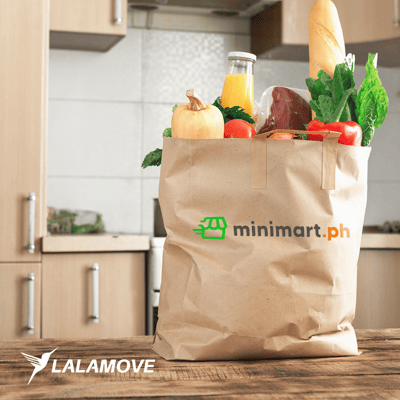 With Lalamove's delivery vans & trucking service, they were able to make bulk grocery delivery easier and simpler both for them and their customers. By solving their logistical challenges through the help of a reliable delivery partner such as Lalamove, Minimart.ph had more time to focus on providing better service to their customers.

THE RESULTS
Through the use of Lalamove's 4-wheel delivery vehicles, matched with the cost-efficiency of multistop delivery, Minimart has saved up to 1/3 of their logistics cost vs. competitors or in-house delivery. LA told us that they've even tried delivering to 15 customers in a single MPV booking — now that's unparalleled delivery efficiency!
Minimart.ph's story is that of a business seizing opportunities, building great relations, and harnessing the power of technology to move forward. The pandemic has been a challenging time for each and every MSME, but in times of crisis, businesses like Minimart.ph turned to innovative solutions in order to rise above the challenge.
We're excited for more businesses to experience this, which is why here's a short video of LA Pabalan, sharing the story of Minimart.ph to inspire more entrepreneurs to take the leap and deliver possibilities to their business!
Would you like to explore new delivery solutions for your business?