Why Ecommerce and Delivery Go Hand in Hand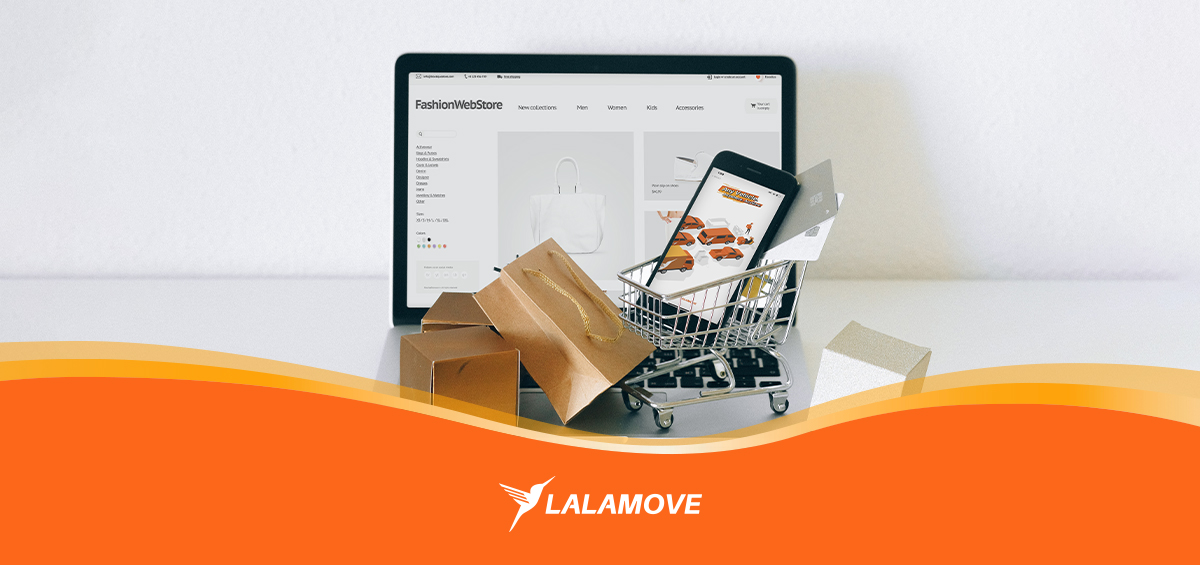 Can 4 wheeler trucks be the solution? The growth of e-commerce is showing no signs of slowing down across the globe. This will directly affect the transport and logistics industry, as these two are closely linked. Locally, we have witnessed the increase of MSMEs, particularly online sellers on Instagram, Facebook Marketplace, Shopify, and WooCommerce.
To answer to this need, Lalamove's e-commerce delivery in as a reliable service that entrepreneurs need now more than ever. Here's why:
The value of delivery service in e-commerce
Running an e-commerce business entails many things, one of which is delivery. One major outcome from the pandemic is having everything delivered straight to the consumer's doorstep.
What makes delivery essential?
With e-commerce, the way a package is delivered can make or break a business. One problem in terms of logistics can already leave an unpleasant memory about a particular brand.
Speed
Before, consumers are used to waiting for their orders for 7 to 10 working days. But with new delivery methods, many customers actually expect the feasibility of next-day or even same-day deliveries.
Having limited delivery options can result in losing potential customers. But with the right delivery partner, the more delivery options a business has, the better for the consumer. That is why fast on-demand delivery matters a lot.
Coverage area
Another pet peeve of customers is reading "not available in [insert location]". This frustration is seen as a limitation by customers, and a missed opportunity for a business.
Don't let the unavailability of a product or service leave a lasting impression on customers. Instead of missing out on a particular market, go for a trusted delivery truck partner that caters to many serviceable areas across Luzon and Cebu.
How to improve delivery services
To make delivery services better for an e-commerce business, here are three focus areas every entrepreneur should start with:
1. Different delivery options
It is important for customers to have options to choose from. Next-day delivery has become more of the norm than one of many options, so be sure to offer this. Better if the choices include same-day and even long-distance.


2. Delivery rates
Affordability is always a plus for customers. With the right courier, customers will be more drawn to keep buying from a business. Make value for money one of the best things they can get.
3. Tracking parcels
With delivery options and affordable rates in place, real-time tracking is another thing that customers will appreciate. Having visibility on where their orders are once they have been sent out gives them peace of mind.
Choose the right delivery partner
Reputation is everything in e-commerce. One instance of poor quality delivery service can result in negative repercussions that can last for a long time. That is why one costly mistake in shipping is having the wrong courier for e-commerce last mile truck delivery in the metro. Don't just go for affordability. Choose a logistics company that offers all three components mentioned above. Doing so will help manage customer satisfaction and eventually boost sales.
Do not give customers any reason to post a bad review about one delivery. Prevent this from happening by going for a trusted partner that provides a hassle-free delivery experience.
Benefits from Lalamove's Long Haul Delivery
Business growth entails servicing more clients. Reach more customers with Lalamove's expanded coverage across Luzon and in Cebu. Whether for same-day, next-day, scheduled, or long-distance and last-mile delivery, Lalamove provides business owners access to:


Pick the right vehicle type
Choose from Lalamove's fleets: sedans, MPVs, L300, and trucks. No matter how big or small the items are, rest assured that our vehicles can accommodate your deliveries.
Go for cost-efficient deliveries
Lower business expenses with affordable delivery rates and the option to deliver with up to 20 drop-off points in one go. Last mile delivery is cost-efficient because it reduces the hassle of dispatching multiple drivers daily. Plus, it's an eco-friendly delivery option because one vehicle is needed, which in turn reduces a business's carbon footprint.
Safe and secure packages
Transporting your goods is seamless with Lalamove so entrepreneurs don't have to worry about packages getting damaged on the road. Business owners can rest assured that Lalamove's professional and reliable partner drivers are trained for the proper handling of packages, whether light, heavy, or in bulk.
Lalamove for Business
Looking for third-party logistics and solutions to meet the needs of customers? Lalamove for Business provides a variety of benefits, including:
Route optimization
Proof of delivery
Exclusive monthly rebates
Flexible pricing
Multiple touch-points
A dedicated account manager
Kickstart business expansion with the leading third-party logistics solutions provider, Lalamove. Download the app or sign up here.
Long Haul Delivery Vehicles & Rates
Choose the courier services that would best fit your need with the help of this quick guide to the 4-wheeler delivery vehicles available in Lalamove.
Vehicle Type

Dimension

Vehicle Capacity

Rate Starts At

200kg Sedan

L: 3.2 ft

W: 1.9 ft

H: 2.3 ft

200 KG

From Manila/Pampanga:

P100 Base Fare

In Cebu:

P102 Base Fare

300 kg MPV

L: 4 ft

W: 3.2 ft

H: 2.8 ft

300 KG

From Manila/Pampanga:

P115 Base Fare

In Cebu:

P120 Base Fare

600 kg MPV

L: 7 ft

W: 4 ft

H: 3.5 ft

600 KG

From Manila/Pampanga:

P225 Base Fare*

In Cebu:

P225 Base Fare

1000 kg Small Truck

L: 7 ft

W: 4 ft

H: 4 ft

1,000 KG

From Manila/Pampanga:

P340 Base Fare*

In Cebu:

P310 Base Fare

2000 kg Medium Truck

L: 9 ft

W: 5 ft

H: 5 ft

2,000 KG

From Manila/Pampanga:

P1,650 Base Fare*

In Cebu:

P1,450 Base Fare
Whether for lipat-bahay services to deliver fragile items or to bring products straight to customers (B2C), Lalamove is ready to deliver. Easily book truck for delivery via the desktop or mobile delivery app whenever, wherever. Try it today, and stay ahead of the game to #LalamoveItToWinIt.
Keep winning with Lalamove!