Lipat Bahay Delivery Truck for Rent in Metro Manila (5-Star Review)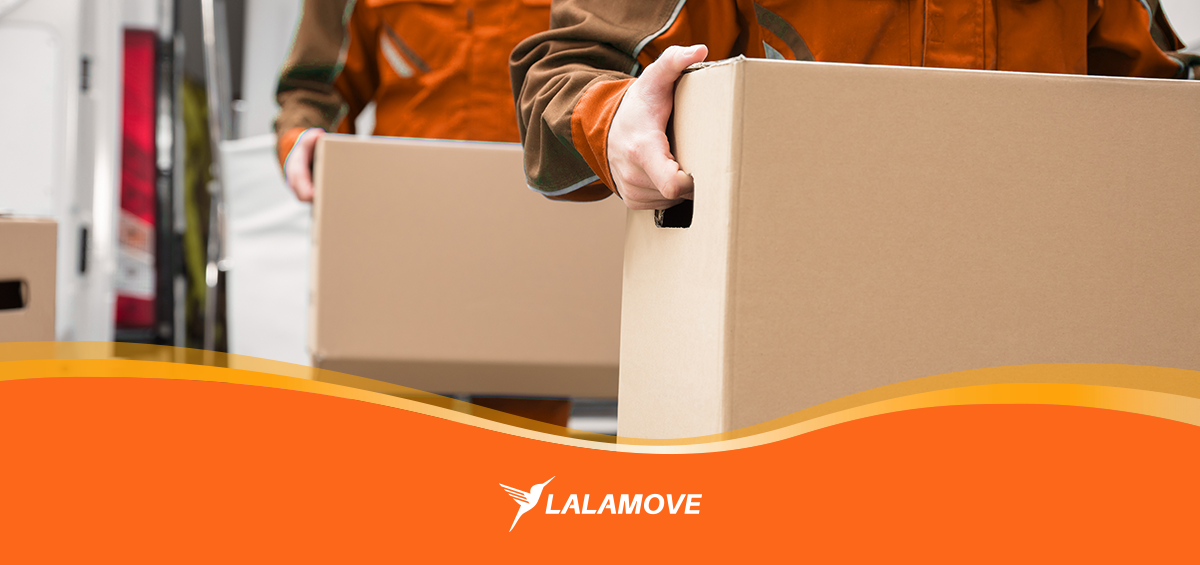 Lipat bahay or "moving" can be tedious, but with a reliable and affordable delivery truck for rent to help, it can be made simple! Lalamove, who offers the cheapest on-demand delivery vans and truck for rent in Metro Manila, is the perfect delivery app for this kind of task.

To show how Lalamove's lipat bahay service is, YouTube family vlogger #TheClingyFam, used our Light Trucks and here's their review of our service:
Anyone who has ever moved to a new home can surely share how the experience has been nothing but chaotic. Boxes and boxes of assorted household items. Bulky, yet fragile appliances that need careful attention. Furniture that weigh a ton a piece. And the carrying... Oh, the non-stop carrying and transporting of objects from old house to the moving van or truck, to new house. Just reading all that must have been pretty exhausting on its own.
That's why the couple Omni and Bryce, the quirky parents of #TheClingyFam, decided to use Lalamove's lipat bahay service, and they loved it for the following reasons:
Variety of Options for Delivery Van & Truck Rental
Omni and Bryce needed a big vehicle that can move their home items easily, which is why they opted for Lalamove's 1000 kg Light Truck! The best part here is that they were able to book this lipat bahay delivery truck through our mobile app available on the Play Store and App Store. With this, they were able to load and deliver big items such as beds, refrigerators, and washing machines all with a simple delivery app!
Aside from Light Trucks, Lalamove also has other 4-wheel delivery options that can be used for lipat bahay and big business deliveries such as the 300 kg MPV, the cheapest 4-wheel on-demand delivery vehicle in Metro Manila! Check out Lalamove's delivery and lipat bahay rates here:
DELIVERY VEHICLES
PRICING & RATE PER KM

PERFECT FOR

300 kg MPV

Base fare ₱250
+ ₱20/km

Fragile items such as cakes, plants, and vases. Small to medium appliances such as microwave ovens and desktop computers

600 kg MPV

Base fare ₱350
+ ₱25/km

Furniture such as cabinets, bookshelves, and chairs fit perfectly in this vehicle. Items for the office such as tables, swivel chairs and office supplies

1,000 kg Light Truck

Base fare ₱480
+ ₱30/km

Move home items such as couches, beds, refrigerators. Big boxes for the delivery of supplies and other raw materials.

2,000 kg Light Truck

Base fare ₱2,000
+ ₱50/km

Biggest vehicle option, great for moving offices. Bulk items for retail, events, and construction are great, too.
To know more about these, visit the Lalamove pricing page.
Convenient Driver Assistance
Carrying and loading items is one of the most difficult things about moving, however, Omni and Bryce got the help of helpful Lalamove Partner Drivers who they booked with the Driver Carriers feature! With it, lipat bahay becomes easy and they didn't have to wonder if Lalamove Partner Drivers would be able to help them carry items.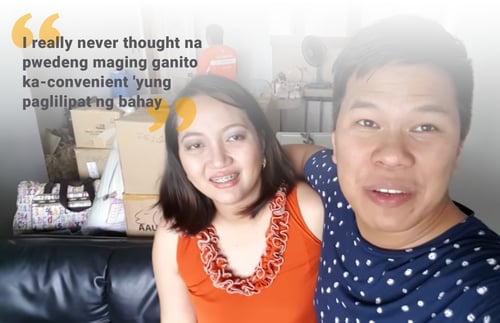 To do this, Omni and Bryce tapped the "Driver Carries" option found at the Additional Service section of the booking page. With this, the Lalamove Partner Drivers made the lipat bahay easier for the couple — talk about convenient delivery!
Fast Delivery of Appliances and Furniture
Lalamove's promise to deliver items fast and easy don't just stop with our popular motorcycle vehicles, because this still holds with our bigger delivery vehicles! From the lipat bahay experience of Omni and Bryce, Lalamove's 4-wheel vehicles were able to deliver their stuff incredibly fast, it arrived at the destination before them!
Our delivery app does this by matching orders quickly and having professional Partner Drivers who are trained to handle all kinds of deliveries, from lipat bahay to the logistical services (3PL) needed by many businesses.
Safe and Secure Delivery
Lalamove understands that choosing a truck for rent for your lipat bahay means that you have to trust your delivery provider, that is why our app has a built-in GPS tracking feature that shows where the delivery is in real-time! With it, our customers can have peace of mind knowing that their delivery is being handled well and safely.
This promise of a safe and secure delivery is what Omni and Bryce loved most when they chose Lalamove as their lipat bahay service provider! With Lalamove's reliable Partner Driver and the convenient tracking feature, Omni and Bryce knew that their important household items such as furniture and appliances were safe and secure.
Catch the full video of their lipat bahay experience with Lalamove ⬇️
And at the end of their lipat bahay, the prize was the look on the faces of their two daughters who were so happy with their new house — definitely, a 5-star moment right there! And we at Lalamove are just so happy to be part of that 😊
Want to book a delivery van or truck for your lipat bahay?