Affordable Long Haul Delivery across Luzon and in Cebu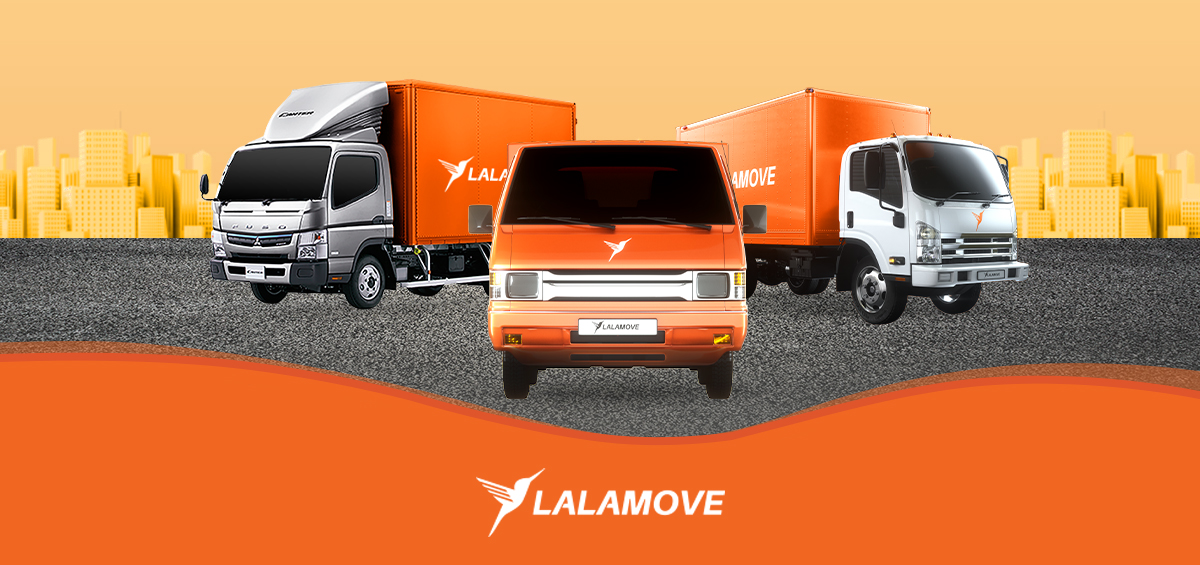 Looking for long-haul delivery trucks across Luzon and in Cebu? Look no further because Lalamove is here to deliver business supplies to any point in our serviceable areas. Let our wide variety of fleets help you with the logistics operations of your business with affordable rates and quality service from our partner truck drivers.
Check out our affordable Lalamove rates here:
Long Haul Delivery Vehicles & Rates
Vehicle Type

Dimension

Vehicle Capacity

Rate Starts At

200kg Sedan

L: 3.2 ft

W: 1.9 ft

H: 2.3 ft

200 KG

From Manila/Pampanga:

P100 Base Fare

In Cebu:

P102 Base Fare

300 kg MPV

L: 4 ft

W: 3.2 ft

H: 2.8 ft

300 KG

From Manila/Pampanga:

P115 Base Fare

In Cebu:

P120 Base Fare

600 kg MPV

L: 7 ft

W: 4 ft

H: 3.5 ft

600 KG

From Manila/Pampanga:

P225 Base Fare*

In Cebu:

P225 Base Fare

1000 kg Small Truck

L: 7 ft

W: 4 ft

H: 4 ft

1,000 KG

From Manila/Pampanga:

P300 Base Fare*

In Cebu:

P310 Base Fare

2000 kg Medium Truck

L: 9 ft

W: 5 ft

H: 5 ft

2,000 KG

From Manila/Pampanga:

P1,410 Base Fare*

In Cebu:

P1,450 Base Fare
Need long-haul truck delivery services?
Here's 20% off on 2 truck deliveries (max. PHP 250 OFF) from Manila or Pampanga to anywhere in Luzon!
Just use the promo code LALAHAUL.
Lalamove is the trusted logistics partner for SMEs because of our long-haul delivery services. Our commitment has always been to deliver your products on time through a hassle-free experience with the help of our partner drivers.
Real-Time Tracking
Lalamove general users and corporate clients can make use of a web and mobile app-based Global Positioning System (GPS) that allows you to track the current location of your package. With this feature, the sender can keep tabs on the progress of their delivery, and even share the tracking details with the receiver (or recipients) of the package. There will be no need to jot down the tracking number for any transported goods!
Loading and Unloading
The country's leading trucking and logistics solutions provider knows that delivering packages involves loading and unloading needs. That is why Lalamove's professional partner drivers are ready to conveniently deliver your long-distance delivery by providing an additional assistant when you load or unload your packages. Users have the option to add an extra helper if necessary.
Additional Stops
There's more to Lalamove's long-haul delivery service: users can add up to 20 stops along the way. For business owners who need to transport tons of items to their customers, this feature is essential and cost-efficient. You can book from Makati and drop off up to 19 stops along the way, from Cubao, to Quezon City, to Bulacan, Pampanga, Bataan, and even Olongapo. No need to make multiple bookings with this option!
Customer Service support
Should there be any hiccups on the road -- on, during, or before the pick-up or drop-off of goods -- Lalamove's customer service support is here to heed the call. As the leading trucking and logistics solutions provider, we aim to help our users in any way we can by answering your queries and resolving your concerns as soon as possible.
Business Benefits from Lalamove's Long Haul Delivery
Business growth entails servicing more clients. To reach more customers, Lalamove can help with our expanded coverage area not just across Luzon, but also in Cebu. Managing your own fleet is good, but with the help of your trusted delivery partner Lalamove, you can focus on other matters without having to spend time preparing routes, scheduling deliveries, and coordinating with three or more drivers. For same-day, on-demand, or scheduled short- and long-distance, or mid-mile and last-mile delivery, Lalamove's wide-ranged fleets and long-haul trucking services in Cebu and across Luzon are ready to deliver.
Pick the right vehicle type
Businesses of all sizes across various industries have a variety of vehicle requirements. With Lalamove, you can choose from our sedans, MPVs, L300s, and trucks. No matter how big or small the items are, rest assured that our vehicles can accommodate your deliveries.
Go for cost-efficient deliveries
Transporting raw materials or finished products to customers, manufacturing facilities, and distribution centers is one of the most integral parts of business operations. Buying a truck for logistics is one option, but it entails costs for insurance, maintenance, parking spaces, and the fees for the driver. To lower your business expenses, Lalamove is here to provide the outsourced third-party logistics solutions you need. With our affordable long-distance delivery rates and professional partner drivers, convenience is basically what you will be paying for.
Safe and secure packages
In Lalamove, we ensure that transporting your goods is seamless so you won't have to worry about your packages getting damaged on the road. Our professional and reliable partner drivers are trained and well-known for the proper handling of packages, whether light, heavy, or in bulk.
A report by the Department of Trade and Industry shows that MSMEs (Micro, Small, and Medium Enterprises) account for almost 63% of the country's total employment. With their top activities ranging from manufacturing, retail trade, and food service, a trusted third-party logistics provider like Lalamove is needed to fulfill their delivery requirements.
For business owners looking for logistics solutions that meet the needs of their business and customers, Lalamove for Business offers a variety of benefits, such as:
Route optimization
Proof of delivery
Exclusive monthly rebates
Flexible pricing
Multiple touch-points
A dedicated account manager
Start expanding your business with the leading third-party logistics solutions provider, Lalamove. Download the app or sign up here.
More about Lalamove's Long Distance Delivery Services & Other features
Need vehicles for personal use? Our delivery vans and trucks are great for lipat-bahay services to deliver fragile items. Online sellers can also use our trucking service to deliver products straight to their customers (B2C) or to send over supplies to other businesses (B2B) as their third-party logistics (3PL) provider.
Choose the courier services that would best fit your need with the help of this quick guide to the 4-wheeler delivery vehicles available in Lalamove. Plus, we have hidden gems in the form of promo codes and discount coupons! Not sure how to avail them? Here's a simple guide:
Whatever your delivery needs are, Lalamove has long-haul delivery vehicles that you can easily book via our delivery app whenever, wherever. Try it today, and stay ahead of the game to #LalamoveItToWinIt.
Need a long-distance delivery vehicle now?
(Paalala: Ang service fare ay base sa iba't ibang bagay, tulad ng sitwasyon ng traffic, order volume, availability ng partner drivers, applicable toll fees, surcharges, at iba pa. Dahil dito, ang total service fare ay maaaring mag-iiba. Ang fare na naka-display sa oras ng request ay maaaring hindi kapareho ng nakasaad kung may pagbabago sa mga detalye ng order.)