Lipat Bahay Delivery Truck for Furniture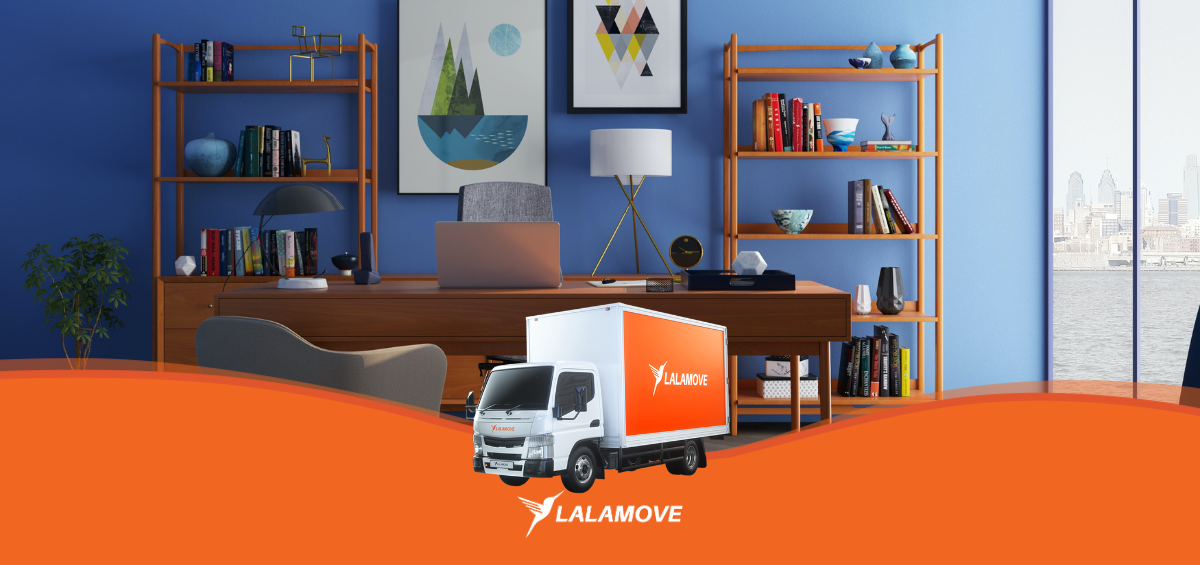 Lalamove's lipat bahay delivery at your service! As a business owner, ensuring the secure and prompt delivery of furniture can significantly enhance customer satisfaction.

By offering to meet their demands, you demonstrate your commitment to customer care. Lalamove makes it simple – you can either book a delivery truck on the spot or schedule a delivery at your convenience, right to your doorstep.
If you're selling household goods, furniture, or bulky items, offering Lalamove's lipat bahay delivery trucks can prompt immediate purchases, as customers appreciate the convenience of not transporting their orders back home.

At Lalamove, our goal is to achieve local deliveries within a swift 55-minute timeframe, ensuring efficiency and customer satisfaction. Our services encompass a variety of options, including convenient door-to-door delivery and flexible cash-on-delivery arrangements. Discover How to Use Cash On Delivery (COD) with Lalamove for smooth transactions.

Here are more reasons why you should go for Lalamove's efficient furniture delivery!


BUSINESS LEVERAGE FROM COMPETITORS

The advantages of a lipat bahay delivery service for furniture are undeniable. This round-the-clock service offers unparalleled convenience to customers, ensuring that they can have their furniture delivered at a time that suits them best.

Whether it's a last-minute purchase, a sudden relocation, or simply a need for immediate delivery, our lipat bahay delivery trucks are ready to accommodate. Especially our small trucks, see Best 1000kg Lipat Bahay Delivery Truck (5-Star Review) for proof! This flexibility not only saves customers time but also minimizes the stress associated with coordinating delivery schedules.

Furthermore, it enhances business operations, as companies can cater to a broader clientele by offering anytime delivery options. Another factor is that Lalamove now has wider reach! Check our Serviceable Areas here to see how far we can accommodate your deliveries,

Lalamove's Multistop Service streamlines deliveries by consolidating multiple stops into a single, cost-effective order. You can easily add up to 20 drop-off locations, and with the web app's "optimize" feature, your route is automatically fine-tuned for maximum efficiency and cost savings.

With this service, the barriers of time and availability are broken down, providing a seamless solution for all furniture transportation needs.
SAFE & SECURE DELIVERY
.
Safety and security in furniture transportation via lipat bahay delivery trucks is paramount for any business.

When it comes to moving bulky and valuable items such as furniture, ensuring their protection during transit is of utmost importance. Lipat Bahay trucks are equipped with trained drivers who understand the importance of careful handling and secure transport.

These vehicles are designed to provide a cushioned and secure environment for your furniture, preventing damage or breakage. Check out which logistic courier is the Safe Delivery Service for Metro Manila Businesses now. Moreover, the convenience of real-time tracking in Lipat Bahay services allows businesses and customers to monitor the movement of their items, adding an extra layer of security and transparency.

With these precautions in place, businesses can trust that their furniture arrives at its destination in the same condition it left, reinforcing customer satisfaction and maintaining the integrity of their valuable assets.
TRUSTED TRUCKS FOR FURNITURE DELIVERY

Lalamove's extensive fleet of vehicles is specifically designed to accommodate furniture delivery of all sizes and types. Whether you need to transport a single, delicate piece or an entire household's worth of furniture, we have the perfect vehicle for the job.

From a compact sedan ideal for small furniture items to a spacious 10 wheeler truck capable of handling large, bulky pieces, we provide a comprehensive range of options to meet your specific needs. See Fast & Easy Furniture Delivery via Trucks by HMR Philippines for more information.

Our vehicles are meticulously maintained and driven by skilled professionals who ensure the safe and secure transportation of your furniture. With Lalamove, you can trust that we have the right vehicle for the job, making furniture delivery as seamless and stress-free as possible.



| | |
| --- | --- |
| DELIVERY TRUCK VEHICLES | PERFECT FOR |
| 1,000kg Small Truck | Big & multiple boxes for the delivery of supplies and other raw materials. |
| 2,000kg Medium Truck | For heavy-sacked goods, a refrigerator can perfectly fit here too. |
| 3,000kg Large Truck | Good for lipat bahay delivery and bulk delivery. |
| 7,000kg Large Truck | Best for warehouse distribution for business. |
| 12,000kg Wing Van | Biggest 10 wheeler truck for cargo freight distribution. |
Need long-haul lipat bahay truck services?
Here's 20% off on 2 truck deliveries (max. PHP 250 OFF) nationwide! Use the promo code LALAHAUL.
For comprehensive insights into our service offerings and pricing details, we invite you to explore the Lalamove Pricing Page.

When it comes to delivering furniture, you can trust Lalamove to make the process exceptionally smooth and worry-free.

Our lipat bahay delivery truck for rent is more than just a vehicle; it's your reliable partner for all your furniture transportation needs. We understand that furniture moving can be a cumbersome task, involving heavy lifting and intricate logistics. A 1000kg lipat bahay delivery truck, l300, or even a 10 wheeler truck that specializes in business can greatly help you.

However, with Lalamove, you can rest easy, knowing that our dedicated team and specialized lipat bahay delivery vehicles are here to alleviate the burden, providing you with a seamless and efficient furniture delivery experience that exceeds your expectations. Sign up for Lalamove for Business now and experience #LongerReach!