6 Reasons why Kim Chiu loves the Lalamove app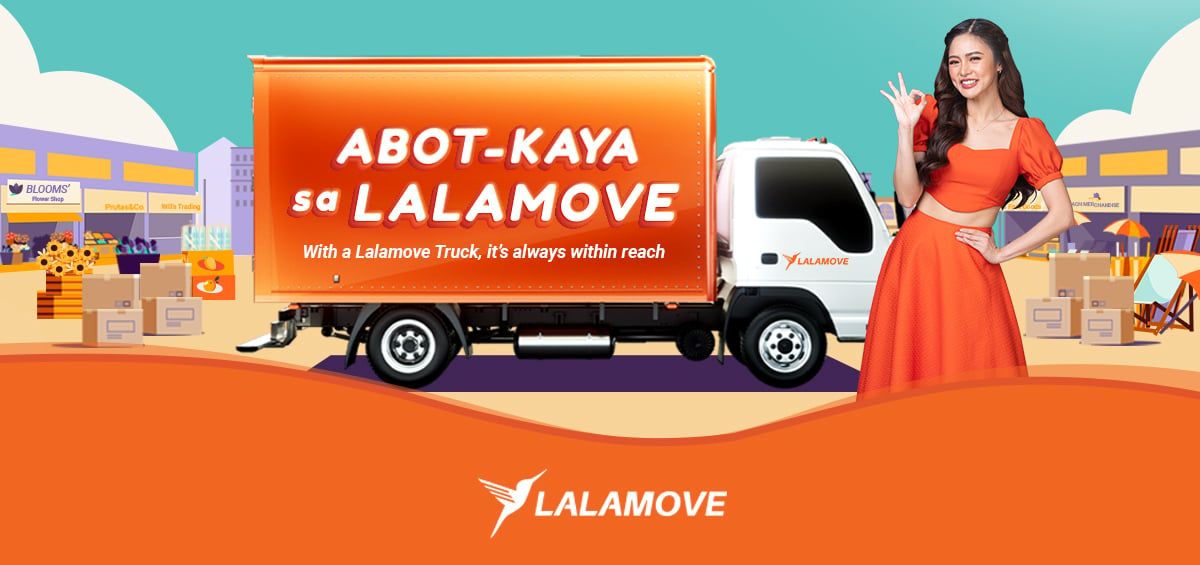 Like many people, Kim Chiu has a lot to say about the Lalamove app. Does she love it? The quick answer: yes!
We talked to her about what it is exactly about the same-day truck delivery app that she adores. For anyone who needs convincing about what's there to love about the Lalamove app, this is a must-read for you.
Here's what we found out:
1. Fast delivery
"Whatever I need, wherever I need it, Lalamove is always there to save the day. What's not to love? If I have sudden midnight cravings, I just book Lalamove's motorcycle delivery. Friends also know the app best for lipat-bahay trucking services," she shared.
As the CEO of House of Little Bunny, Kim also appreciates the quick door-to-door delivery of their customers' orders. "Across Luzon and in Cebu, we can rely on Lalamove's same-day delivery," she shared.
She added, "Same-day delivery is actually one of the things that set our business apart from the others: Not next-day. Not 5 to 7 days shipping -- same-day. In short, express delivery because it's fast," she explained.
Many of our loyal clients also prefer Lalamove because they can get their orders within 55 minutes.
That's also why, according to Kim, they -- and their House of Little Bunny patrons -- say "I'll Lalamove now" instead of "I'll book a now" because the name has become synonymous to fast, whether for motorcycle, sedan, MPV, or truck shipping services.
Also read: Lalamove's newest further empowers SMEs with same-day truck delivery
2. Affordable delivery truck rates
Lalamove remains unrivaled when it comes to cheap delivery and shipping rates, especially for delivery trucks. This is another thing Kim Chiu appreciates about the app.
If you haven't seen it yet, here's our latest campaign "Abot-Kaya sa Lalamove" with Kim Chiu!
"The [delivery] fees are really abot-kaya if I compare Lalamove with other couriers. That's why the campaign made so much sense as it resonated with me, a business owner. With the rising costs of food and other commodities, there's no denying that Lalamove is on top of their game," Kim admitted.
She added, "Plus, for business deliveries, many business owners such as myself look for truck for hire options, which is not always cheap. That's also why Lalamove is the House of Little Bunny's go-to app when we need 4-wheeler trucks for bulk deliveries," she shared.
Curious about how low Lalamove's lipat-bahay truck rates can go? Visit our pricing page.
3. Wide reach across Luzon and Cebu
In terms of reach in the Philippines, Lalamove reigns supreme according to Kim.
With 48 serviceable areas, Kim relies on us to deliver basically anything under the sun.
Whether for fast delivery across Luzon or lipat-bahay trucks in Cebu, Lalamove is ready to deliver.
"Last Christmas, I got to use Lalamove A LOT of times -- suki levels -- to fulfill House of Little Bunny orders during the crazy Christmas peak season and to deliver my personal gifts to my loved ones. Whether it's in Manila, in Central or North or South Luzon, and even in Cebu, Lalamove was such a big help," said Kim.
She also noted that it was such a relief because Lalamove removed the burden of having to go door-to-door and talking to so many people because of the multi-stop feature.
"Imagine, I only had to book one order and send out up to 19 gifts last December. Lalamove's island-wide coverage in Cebu and across Luzon for motorcycle, sedan, MPV, to trucking services are much appreciated!" she exclaimed.
Looking to deliver across Luzon and Cebu?
4. Wide-ranging delivery truck fleet
From motorcycles to 4-wheeler trucks -- and even 6-wheel to 10-wheel wing vans, Lalamove has an array of lipat-bahay trucks for rent!
Kim Chiu is thrilled that Lalamove has an array of delivery vehicles that can readily move items of any size.
"I can remember how fast our Bunny bags got sold out, especially last November! So what did [Ate Kam] and I do? We booked Lalamove same-day truck delivery!" she recalled.
Her advice to business owners who always run out of stocks: "Download the Lalamove app and you can maximize the day and replenish right away!"
Here's that time Kim called our 4-wheeler truck service for help.
4-Wheel Truck Delivery Vehicles & Rates
Looking for the right vehicle for your deliveries? Here's a quick guide on our 4-wheeler delivery vehicles.
Vehicle Type

Dimension

Vehicle Capacity

Rate Starts At

1,000 kg Small Truck

L: 7 ft

W: 4 ft

H: 4 ft

1,000 KG

From Manila/Pampanga:

P340 Base Fare*

In Cebu:

P310 Base Fare

2,000 kg Medium Truck

L: 9 ft

W: 5 ft

H: 5 ft

2,000 KG

From Manila/Pampanga:

P1,650 Base Fare*

In Cebu:

P1,450 Base Fare
Lalamove is ready to deliver, whenever, wherever, whether it's to bring products straight to customers (B2C) or to book lipat-bahay services to deliver fragile items. Try it today and easily book a truck for delivery.
5. Professional Partner Drivers
There's only one thing that entrepreneurs look for in their business partners: trust.
For Kim Chiu, this is non-negotiable, which is why she considers Lalamove as her trusted delivery partner for House of Little Bunny orders.
Just like many business owners, their top priority is to make sure their customers get their orders in great condition.
The House of Little Bunny CEO further explained, "We love Lalamove Bossings! They're so easy to work with, they're kind and respectful, they safely handle our items upon pick-up and drop-off, and they really do deliver and get the job done!"
What also completes the package for Kim is the real-time tracking feature of the Lalamove app.
When asked why, she answered, "It's really the peace of mind plus the ability to do other things while my order, or even multiple orders, are ongoing."
Want to be a Lalamove Bossing?
6. Promos and rewards
Apart from the bags, it's the surprise free delivery weekends that the House of Little Bunny fans adore about the business.
"Our patrons deserve a treat, and we've made this possible with Lalamove's help! So our Bunnies better watch out because there are more free delivery weekends coming their way," remarked Kim.
The icing on top for Kim is that Lalamove has always been rewarding, thanks to Lalamove Rewards.
"Every Php 10 spent on deliveries equals 1 LalaPoint? Ang saya 'di ba (That's awesome, right)?! And have you seen the discount vouchers that you can get in exchange for LalaPoints? Kaya ang satisfying makatapos ng Lalamove truck delivery orders; may rewards na babalik (That's why it's satisfying to complete Lalamove orders; you get rewarded for them)," she explained.
All these reasons make sense not just for Kim Chiu, but for many of our clients who continue to trust Lalamove. Thanks for the stamp of approval, Kim!
Try it for yourself and see what Kim Chiu's talking about the Lalamove app!
Use the code LALABOTKAYA to get Php 795 OFF on 5 deliveries!
Lalamove for Business perks
More than the leading on-demand delivery platform in the Philippines, Lalamove offers a range of benefits to business owners like Kim Chiu. One of the biggest perks of using the delivery app is getting to streamline and optimize your logistics operations through Lalamove for Business.
Just like the House of Little Bunny, if your business has an e-commerce platform, easily install the Lalamove API plug-in and you're all set.
Schedule deliveries from cart to shipping and track your packages in real time through the app. This gives you the assurance that your items reach their destination on time while being able to monitor their delivery progress.
Additionally, as Kim mentioned, we have a wide range of vehicle options suitable for your delivery needs. From motorcycles to sedans and MPVs, down to vans and trucks, you can quickly choose the best vehicle to transport your goods.
Need more convincing? The on-demand delivery platform proudly dons a user-friendly interface, which Kim confirms as one of her favorites about the app. The app is designed to be easy to use and navigate by users – even for those who are not as tech-savvy. This can help entrepreneurs save time – and frustration – in booking orders. Check out the Lalamove app and see how it can help you focus on other important aspects of running your business.
On top of this, another major advantage of signing up for Lalamove for Business is the platform's competitive pricing. With Lalamove, pricing is not only affordable – it's also transparent. Rates are actually lower than those of traditional logistics companies.
So what does this mean for you? Big savings on delivery costs, which – let's be honest – can be a significant expense for businesses that rely on traditional logistics to transport their products.
The best part: the flexible payment options. This includes cash-on-delivery, cashless payments, and invoicing, making it easier to manage your logistics expenses while staying on top of your budget.
And if you encounter any hiccups on the road, you have an account manager (aka logistics consultant) that you can count on. Plus, the on-demand delivery platform's customer support offers 24/7 customer support to SMEs, ensuring that any issues or concerns can be addressed quickly and efficiently.
This is particularly valuable for businesses that depend on time-sensitive deliveries. After all, any delay and issue can have a significant impact on business operations. Reach out to the customer support team through the in-app Live Chat and get in touch with a customer service representative to help you deal with your concerns.
To sum it up, signing up as a Lalamove for Business corporate client can greatly help your business because of the following reasons:
API plug-in
Wide range of delivery vehicles
Competitive pricing
User-friendly app interface
Account manager & 24/7 customer support
Overall, these things add up and prove why Kim, and we, are confident to say that Lalamove is an excellent logistics solution for businesses of all sizes in the Philippines, especially those looking to optimize their delivery operations and reduce costs.